Our world revolves around data. Data science, machine learning, and AI have become some of the most critical technologies and industries in the 21st Century, penetrating almost every aspect of our lives, including fitness and well-being.
On the consumer side, this technology triumvirate helps us determine the next movie we'll likely want to watch on Netflix, the products we might enjoy from Amazon, and how a Google Home smart speaker recognizes and replies to our spoken questions.
On the supplier side, AI is considered a top strategic technology trend, according to Gartner. And according to a report from ResearchAndMarkets (COVID-19 Growth and Change), the global artificial intelligence market is expected to grow more than twice in just a couple of years – from $40.74 billion in 2020 to $99.94 billion in 2023.
While all three technologies have been shown to improve almost every aspect of healthcare – and provide patients with unparalleled advice and results – let's focus on how data science, ML, and AI are being used in the fitness industry and what the future holds.
Read also: Examples of responsible AI
The current state of data science, machine learning, and AI in fitness
Consumer apps
The global pandemic has caused a massive increase in the use of fitness apps as a way for people to both relieve lockdown boredom and to provide instruction and inspiration while gyms and personal training sessions are unavailable.
Whether it is the increased use of online training programs or virtual fitness studios from traditional gyms, fitness apps' download and usage metrics have increased dramatically. According to an article published in the World Economic Forum in September 2020, the global downloads of health and fitness apps increased by 46%. The growing awareness regarding health and wellness is also driving the market.
And at the center of many of these apps is AI and all the technologies related to it.
Read also: How to create a bulletproof fitness marketing strategy?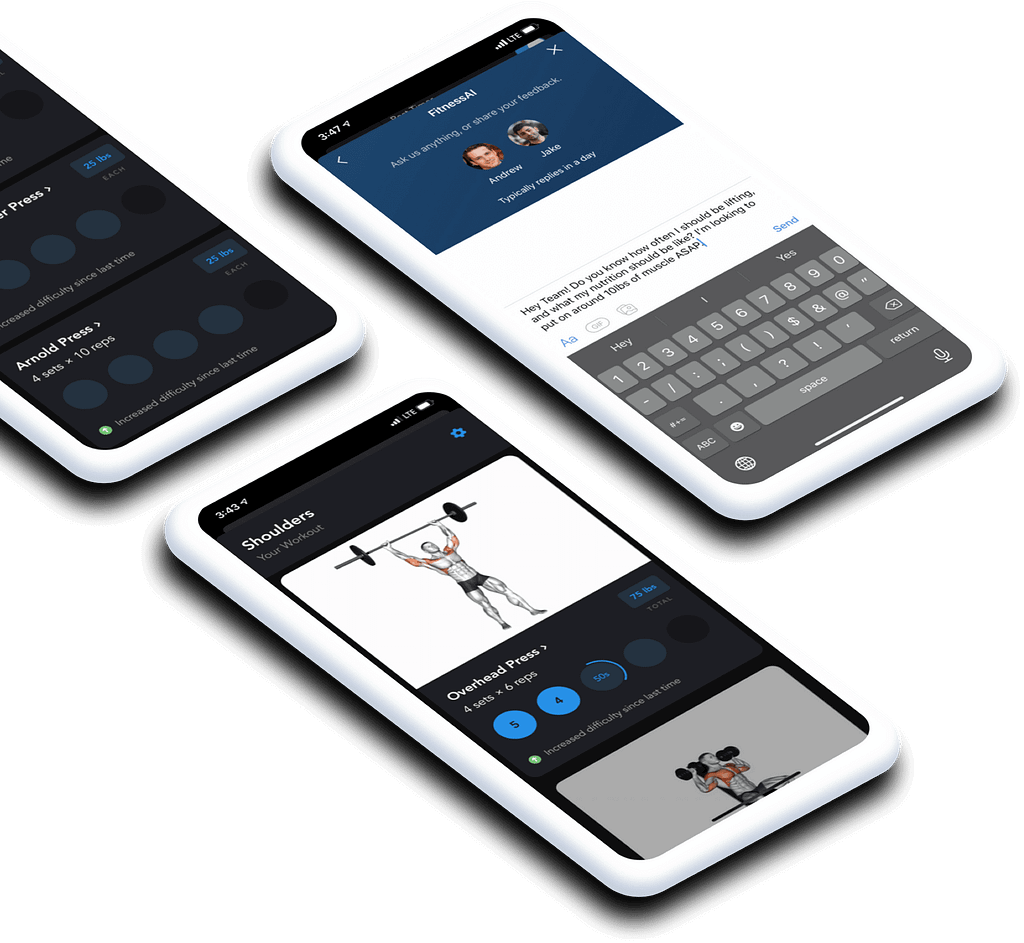 FitnessAI
FitnessAI provides simple exercise tracking to pinpoint your strengths and weaknesses and work towards getting better in the areas that need attention. Your trainer uses this information, and the AI-powered recommendations, to inform you of the best exercises and routines for your specific needs with step-by-step tutorials on how to stay safe. With fitness data from more than 6 million workouts, the algorithm gives its users a tailored workout plan.
Aaptiv
Aaptiv includes a virtual AI fitness trainer, plus personalized workouts from real-life trainers. It takes data from eating habits, workout performance, fitness goals, your current fitness level, and information from wearable devices. A personal trainer in your pocket, it provides you with daily, weekly, or monthly personalized exercise plans to achieve your goals.
In addition to these, many of the long-established, big-brand fitness apps use some level of predictive analytics, data science, machine learning, and AI to personalize programs, including those from Nike, Adidas, Samsung, Under Armour, and Google.
But not all AI fitness apps are smartphone-based. A new breed of services and products entered the scene recently: custom hardware.
Tempo
Tempo is an AI-powered personal trainer with a large screen, a raft of sensors, and a collection of weights. Looking a little like a cabinet with a TV on top, the built-in 3D sensors alert you any time your form isn't correct, and the subscription delivers classes that help you get in shape and increase strength. Like Peloton and Mirror, Tempo joins the category of AI fitness solutions that include custom hardware purchasable through monthly finance.
Read also: 6 ways workout apps help gyms successfully bounce back to normal in 2021
Dos and don'ts of building online fitness applications
See how top custom e-fitness applications solve their users' problems
Get your free ebook
Gyms, studios, and personal trainers
In a recent speech at World Health, Fitness & Wellness Week 2021, Harry Konstantinou, CEO and managing director at Viva Leisure, explained how they use data science to optimize its 100+ gyms.
Viva Leisure's data showed a gym that had significantly more females as members than males. The company aims to have 45-55% equality between genders.
"When you have a club that has 70% females, you're going to have the males following at that club," Konstantinou said. "We made a quick change. We moved the cardio area out of the strength area. And we added more strength equipment in."
That brought the numbers more in line with the company's goals. It is now at 58% to 42%.
"We didn't lose female members; we gained more male members," Konstantinou said. "A $500k upgrade, once-off, created $500k in new yearly recurring revenue."
Viva Leisure also uses technology to monitor each section of their gyms with its app and IoT beacons, giving them a "hot mapping" capability that helps them to optimize each studio to improve services for its members and increase gym revenues.
And solutions like Egym provide a mixture of gym management, smart devices, and white-label fitness apps to help you run a more efficient, profitable studio and customize workouts for every member to help them reach their personal goals.
Along with an array of off-the-shelf data analysis tools and custom-built solutions (Viva Leisure, for example, has an entire department dedicated to data science and analytics), it's clear that the future of gyms lies in data analysis and insight creation.
Personal trainers are benefitting from these innovations too. Trainerize, for example, allows personal trainers to manage every aspect of their offering and analyzes user data at an individual level to provide a better, more personalized service. It connects to consumer apps like Mindbody, Evolution Nutrition, Fitbit, and MyFitnessPal to gather client performance information usually reserved for big-ticket gym management software.
Read also: What's the cost of artificial intelligence in healthcare?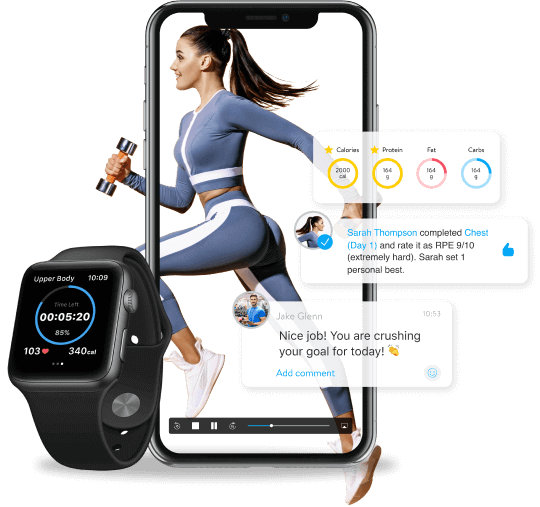 The future of data-based fitness
In every category, and for individuals, gym owners, and personal trainers alike, a new breed of apps, software, sensors, and hardware is on the horizon.
Computer vision imitating real-life experience
Several AI coach apps are being developed for imminent launch that promise they will create the same customer experience as having a trainer right next to you. Instead of pre-recorded workouts or access to trainers via video calls, these apps will use AI to develop – in real-time – programs that not only push you to your limits and help you hit your goals but that adjust to your performance within that workout.
In other words, you might be doing the same workout as your friend, but these apps will instruct you differently based on fitness data captured from smartphone sensors, computer vision (using the phone camera to determine form), wearable devices, spoken feedback, and more.
Speaking of computer vision, it will become commonplace for our smartphones, laptops, and custom hardware solutions to use "human pose estimation." This branch of AI assesses your skeletal system, contours, and volume, giving the ability for fitness products to help correct your form and measure your body shape. While there are a few examples of this technology in use now – such as in the yoga app Zenia – you can expect almost every fitness app and gym equipment to feature human pose estimation soon.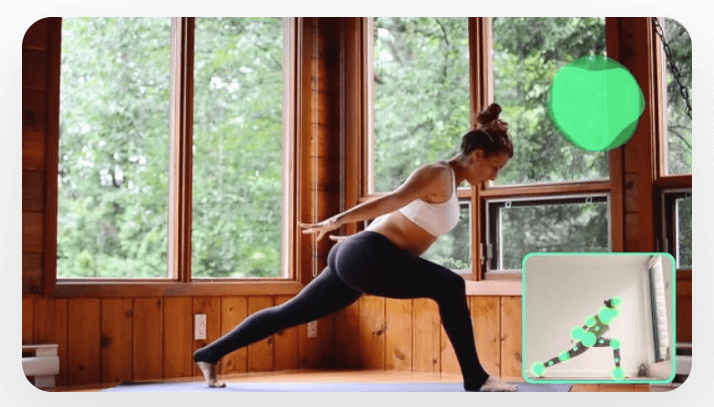 Computer vision won't stop there, either. While there will need to be serious consideration regarding data privacy and security – hot topics when dealing with something as personal as health information – regular cameras are already being used for gym entry via facial recognition. It isn't a giant leap of faith to see a future where everything from an in-studio camera to a high-quality, street-installed CCTV is used to measure your fitness activity and feed that data into your choice of app.
Wearables
We also see a significant increase in the production of wearable devices designed to be worn like regular clothes but that feed information into fitness solutions throughout the day. While smartwatches and fitness trackers are now commonplace – from manufacturers such as Fitbit, Apple, Huawei, Samsung, and Oura – the future promises smart jackets, legwear, and hats.
Purdue University has developed a method to transform existing cloth into a wirelessly chargeable wearable, resistant to stains and laundry. One application of this spray is to include a miniaturized cardiac monitoring system capable of monitoring the wearer's health status in everything from a sweatband to a vest.
Read also: What are the most important benefits of AI in the healthcare industry?
The future
In addition to these more obvious uses of AI and benefits of machine learning, we'll see everything from new supplement and drug identification to improve performance, medical imaging (which is already in use with professional athletes but will filter down to regular consumers), and even voice analysis to understand how well you're responding to your training and whether you are picking up ailments from over-training.
One thing is sure. The future of fitness, both on the consumer side and for those running wellness companies, will be data-driven. Artificial Intelligence, machine learning, and data science will become utterly ubiquitous in the industry, and any fitness solution that doesn't focus on big data will become obsolete within the next five years.
Learn more about the AI-powered digital fitness
Watch the webinar with Olivia Milne and see how you can use AI-powered fitness solutions to automate your sales process, increase your revenue, and improve customer retention.
Watch the webinar