It's no exaggeration to say that the online fitness business market is soaring. According to research by the World Economic Forum, fitness apps have grown by nearly 50% in the first six months of 2020 alone – and there are no signs of stopping. The global market size is expected to keep growing at an annual rate of 21.6% at least until 2028.
Needless to say, if you've been thinking about entering the space of virtual fitness, the time is now. In the following article, we'll help you understand the pros and cons of two options – going with an off-the-shelf solution and building custom software.
The pros & cons of off-the-shelf software
The option you choose should reflect your needs and goals. However, to make this decision a little easier for you, let's take a look at the pros and cons of bespoke software and software off the shelf.
Dos and don'ts of building online fitness applications
Discover best UX practices used in the top custom e-fitness applications
Pros
Lower costs & faster ROI
If you opt for software off the shelf, the initial investment you'll have to make will be lower, as it's usually subscription-based. While you're able to eliminate the software development costs since you're buying a ready-made solution, it's worth keeping in mind that as your user base grows, so does your subscription fee. Choosing an off-the-shelf fitness solution will also help you generate ROI faster as there is a shorter time to market, so if you are just about to validate the idea of entering virtual fitness, it may be a good starting point. Once you get traction, you will get more confidence (and funds) that it's worth building your own app.
Less decision making needed
If you're just starting your entrepreneurship journey or you're new to the field of virtual fitness, selecting off-the-shelf software is simpler as it saves you a lot of decision-making. Simply put, you accept the solution just the way it is, which takes away deciding what the menu should look like, how the user flow should function, how you should set up payments and notifications, etc.
On the one hand, this can be very convenient, as you might not know your target audience or the market enough to decide on all of the above details yourself. However, this might also be a con – we will elaborate on it later.
Quick and easy setup
Ready-made software is quick to set up and use. In case of experiencing any problems, there is usually tech support that can offer you a helping hand.
Might be perceived as less risky
Running any business is risky, irrespective of the software option you select. However, as software off the shelf requires fewer resources initially in terms of time, money, and people, it might appear less risky.
You get access to user reviews
While it can be hard to decide which fitness platform to go for, you can always turn to software review sites like G2Crowd, Capterra, or Serchen. Not only can you read user reviews, but you can also compare different software options and select the best fitting one. Below you can see what users say about Teachable on G2Crowd – while they are pleased with the ease of use, they tend to complain about customer service. Is this a deal-breaker for you?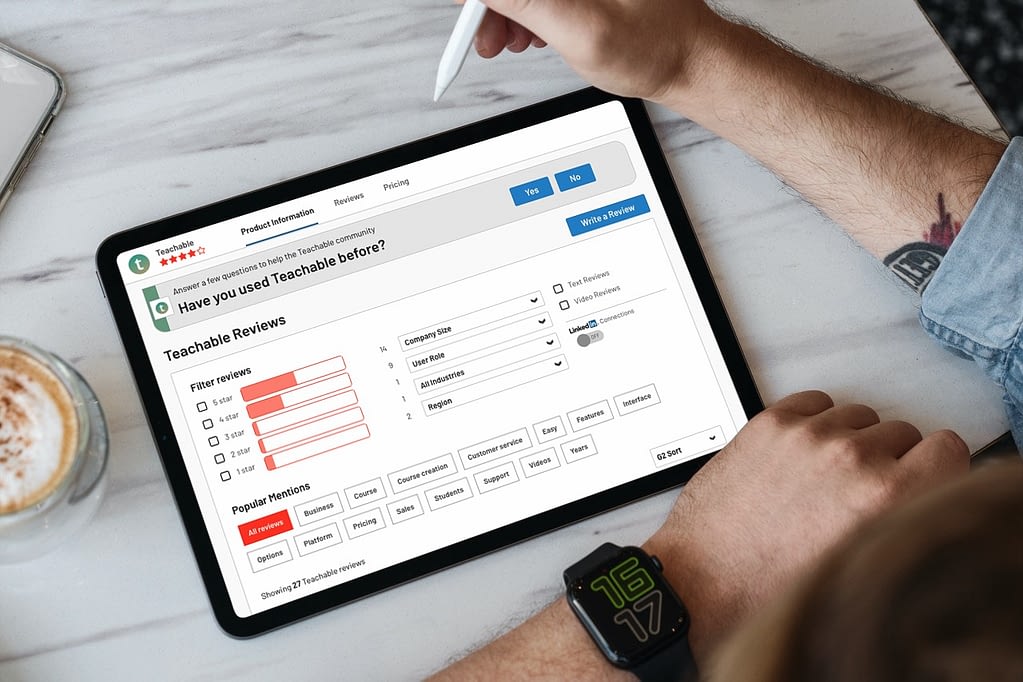 User familiarity
Humans like familiarity, as it reduces the learning curve. Instead of focusing on understanding a new feature, they can focus on solving their problems. If users are familiar with the platform, then they can easily navigate around it;, this, in turn, has a positive impact on user experience and enhances engagement.
You can frequently test it before buying
The ability to test software prior to purchasing is probably one of the biggest advantages of off-the-shelf apps. It gives you the chance to verify if the platform meets your needs. The trial period, however, is usually short and you might not have enough time to ensure it has all the required features. For instance, after 3 months, you might discover that your users would like to participate in live online classes, while your platform doesn't allow it. It's hard to figure it out during a trial.
Convenient initial data safety setup
Off-the-shelf software comes with security and legal compliance features, such as GDPR compliance plugins. This means you don't have to worry about setting data protection-related technology or procedures yourself. You might find this immensely useful especially at the beginning of your online fitness business journey.
Includes updates that might be done automatically
Ready-made apps usually come with regular, automatic software updates, which is handy, as you don't have to involve anyone from your tech team. It will be particularly useful if you don't have such a team yet, as you're just entering the space of virtual fitness.
Cons
While off-the-shelf software solutions have a variety of benefits, overtime, they might prove to be insufficient to keep up with your growth or expansion plans. Things that were minor inconvenience can eventually turn into a major business blocker. Here are a few common disadvantages or potential risks you need to take into account:
Potential scalability issues
When you first launch your online fitness business, ready-to-use platforms might be enough to cater to your current needs. However, as your business grows, your requirements might change. For instance, you may find yourself in need of adding a feature or even an entire module, which won't be supported by your software off-the-shelf provider. At some point, it may also get challenging to manage your content – both from the admin's and the users' side.
Limited branding & usability customization
According to a study of over 200 brand experts, brand consistency has proven, on average, to increase revenue by 33%. Therefore, if you'd like to stand out from competing fitness apps through unique branding or custom UX, you should bear in mind that off-the-shelf platforms won't be able to give you the same degree of customization as a tailor-made solution.
The platform's features don't align with your needs
There might be too many features, which make the platform 'bulky' and could negatively impact the user experience. On the flip side, there might also not be enough. As noticed by one of our clients:
"Teachable doesn't provide users with good filtering options. They can browse videos of a specific studio either by difficulty or by length – not by both. It is also impossible to add videos to favorites (users need to search them over and over again)".
Gets more expensive over time
While you might be able to start off on a very modest subscription plan, as your popularity increases, so will the costs. Depending on the platform you're considering, here are some of the potential hidden fees:
number of users – to accept more attendees, you might need to upgrade to a higher software package
commission – some platforms won't charge you per user but will charge a commission for each transaction
cloud storage – if you'd like to record and store all your classes, you might quickly run out of space (for example, as of March 2021, Zoom's "Pro" plan will only give you 1GB of storage per license). Also, bear in mind, that such video conferencing tools aren't tailored for online fitness businesses (which means even more potential costs spent on other paid tools).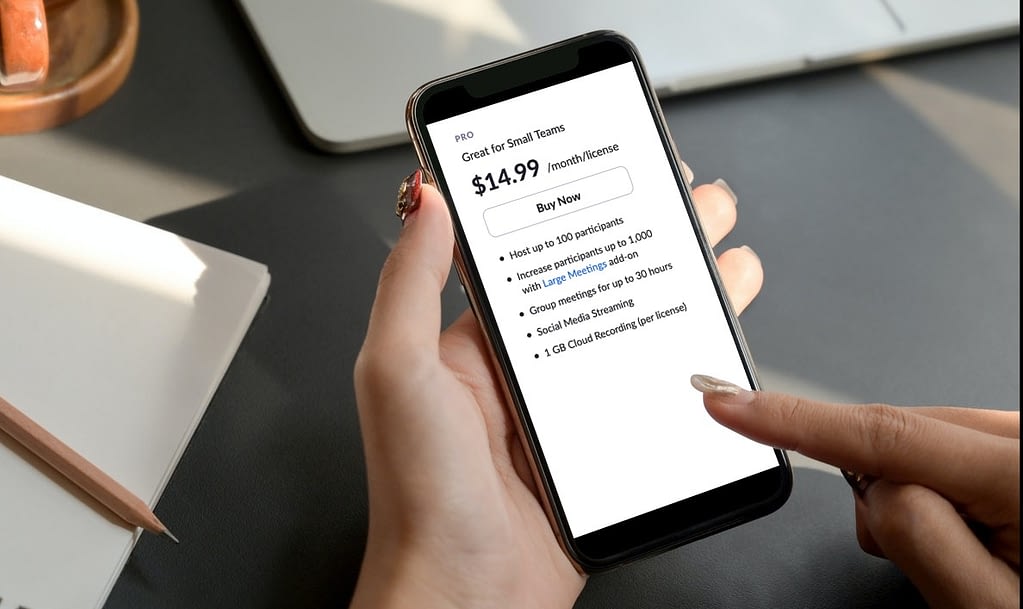 Safety risks
As mentioned earlier, off-the-shelf software operators guarantee platform safety. However, it's a double-edged sword. Due to the vast amount of data they store, ready-to-use platforms for fitness businesses are frequently targeted by hackers. If they do get hacked, you risk losing access to your account or having your customers' data leaked. If the latter happens, your followers won't care that a third-party platform was responsible for data safety. They're likely to point fingers at you, which can jeopardize your brand credibility.
Integration issues
Off-the-shelf platforms are made for the mass market, which means they might not integrate with the tools that you use. If you operate in a niche or want to integrate with less popular apps, think twice before deciding on this option.
Risks associated with lack of expertise
If you lack previous tech expertise or don't know who your audience will be, you might unwittingly decide on the wrong software type. When you work on a custom solution with an experienced product development team, you will be able to leverage their knowledge. You'll also have the opportunity to run user interviews and learn about your target group's needs before making decisions.
Losing your data if the platform shuts down
With an off-the-shelf solution, your business relies fully on an external platform. If the platform disappears, you lose all your videos and users. While it might seem impossible that a solution would disappear overnight, it has happened to large data storage platforms in the past. For instance, a major social media platform in Poland, Grono.net, has decided to pull the plug on its service without warning, irreversibly deleting the profiles, videos, and images stored by over two million of its members. It's easy to imagine the repercussions a similar act would have on the data stored by fully-online businesses! And even if it doesn't happen overnight, vide Endomondo, you may not be given enough time to build your own fitness app after getting a notice.
Dos and don'ts of building online fitness applications
Discover best UX practices used in the top custom e-fitness applications
The pros & cons of bespoke software
Now that we've covered the advantages and disadvantages of off-the-shelf platforms, it's time to do the same for custom software.
Pros
You're independent
As mentioned in the previous section, when using a third-party solution, you must always keep in the back of your head that the platform might instantly change its business model or disappear off the market. This won't happen if you decide to create a custom app, as you own it all – the code, the business know-how, brand, etc.
Scalability & flexibility
Though you'll need to make infrastructural adjustments as the demand for your fitness app grows, your costs won't increase based on the requirements set by ready-to-use platforms. Remember that off-the-shelf solutions make revenue off their higher software packages. Chances are, the more successful your services get, the higher the cost and commissions you'll pay.
Additionally, by building a custom app, you won't be blocked by the lack of a feature, module, or any other aspect of the third-party provider. You'll be able to make your app more future-proof. For instance, even if you don't feel ready to implement AI just yet, having the right infrastructure in place will enable you to consider it in the future – all without the necessity to build a new app from scratch.
Stands out from the crowd
Let's face it, there is a lot of competition on the market. However, if you create a unique experience, you can count on an extremely loyal customer base. 96% of fitness app users admit to using just one app! By using bespoke software, it will be easier for you to stand out and build a strong brand, which contrasts with the experience offered by marketplaces or video streaming services.
Dave Hannum, CEO of Functional Solutions, says:
"the biggest problem I see with everyone embracing tech right now is they are doing it in a very mismatched way. You've got something on the YouTube channel over here, something on Zoom over there. You're sending the user everywhere to consume the content. When it's all inside your app, you can show your clients that you are the ones giving them content, rather than sending them to a place where everyone else has something on the web."
If you manage your entire content within the same platform, you can take advantage of more advanced analytics. Among others, you know which types of content formats are attractive to users and which topics resonate best with your audience. Through such an approach, you don't need to extract data from multiple channels – this is a significant time-saver.
You have a lot of say on product development
If you decide on bespoke software, you will be the decision-maker. If you're new to app development, you might be wondering: "how is this not a con?". Simply said, you won't be left alone. You have two options – you can either hire a full-time, experienced software development team or outsource platform development to an external software agency. In both of these cases, you'll be working with an experienced group of product development specialists who may have even worked on similar products in the past, and who will support you in your decision-making. You can rely on their expertise to gain a comprehensive understanding of each technical option's pros & cons.
If you decide to hire an external software agency, then depending on your agreement, you might also be able to contract the same team to maintain the app once it's brought to the market – meaning, you won't have to worry about onboarding a new dev team.
Integrates perfectly with all your tools
Finally, creating custom software gives you the liberty to integrate with any given software. You don't have to choose from a closed list of options and can build a perfectly functioning integrations ecosystem.
Cons
Higher business risk
Selecting custom software undoubtedly involves more risk as you're the owner of the product in all its aspects. You'll be expected to make a lot of business decisions that require sufficient knowledge of your target audience and the fitness industry. The level of responsibility in terms of product development is much higher than in the case of off-the-shelf software. It's worth remembering, however, that if you decide to cooperate with an external software partner, you'll get a lot of support – both in terms of tech and business expertise.
Big initial financial investment
Custom software requires a bigger initial investment. It's hard, if not impossible, to give you a credible estimate of the development costs you can expect from a fitness platform without discussing your needs and goals first. It can be $20-30K, $100k, or more. The cost will depend on your needs, the time it takes to develop it, the expertise required, etc. All in all, custom software is both more time-consuming and expensive than off-the-shelf solutions – at least initially.
Longer time-to-market
The time-to-market is certainly longer than if you went with an off-the-shelf solution. Not only is the project timeline longer, but if you work in Scrum or another agile methodology (and it's highly recommended as they significantly minimize the risk of failure), you will be working in iterations. This means that the product can be tested continuously with users, at various stages of the development. Oftentimes, you will ask your customers for their feedback even for the single elements.
Keep in mind that the product requirements might – and most likely will! – change after these tests, as you get feedback from the first users. And iIf any adjustments are needed before the feature is brought into the production environment, this will obviously influence the timeline.
Which one should you choose for the online fitness business – custom app or off-the-shelf app?
With all the pros and cons of custom and off-the-shelf software laid out, here comes the million-dollar question, which option should you choose?
Pick an off-the-shelf solution for your online fitness business if:
You are new to the market, don't have sufficient knowledge to make all the decisions to build a successful product and you simply want to validate whether digital space is attractive to your clients
You are very short on time
You don't have a lot of content
You have limited financial resources.
Choose bespoke software if:
You want to upgrade from your off-the-shelf platform and move your business to the next level
You want to scale your business up
You want to implement unique features, branding, and UX to gain a competitive edge
You desire the freedom to grow and customize your app as you please and want to own it legally
You have a lot of content and it's difficult to manage it (or use it – it can apply both to admin's and user's perspective) with the available tools.
Summary
Which software solution is best for you: custom app or off-the-shelf app? Your choice should reflect your business goals, timeline, and your budget. Both of the software types mentioned above come with their own benefits and limitations. If you're leaning towards creating a custom fitness app and would like to consult your idea with an experienced product development team – don't hesitate to reach out!