Artificial intelligence (AI) has revolutionized our lives in so many ways, and that includes the area of fitness, exercise, and physical wellbeing. Technologies previously available to sports teams, gyms, and personal trainers are now available on smartphones. AI even allows exercise and fitness classes that require no person-to-person interaction.
Technology has been altering the fitness landscape for some time. Opta Sports – a platform for professional sports players and teams – calculates valuable statistics from thousands of individual pieces of information. Using various sensors, it measures how many kilometers individual players run and other important information, such as the pass rates and goal-shooting efficiency of soccer players. In leagues such as the NFL, NHL, and NBA, coaches have been using AI-powered data evaluation systems to analyze opponents' weaknesses and develop strategies.
Similar AI-powered solutions are available to everyone, using nothing more than a smartphone and sometimes a wearable device, such as a smartwatch. Freeletics – the training and nutrition app – is an excellent example of how AI helps people stay fit and healthy. Other fitness startups have combined AI, smartphones, and fitness machines to bring the gym to the home, including Peloton and Zwift.
The market has also seen innovation in the space, such as Mirror – an AI-powered mirror that can display exercises for you to copy and use cameras to measure your performance and form. It then uses that data to optimize your workout. Similarly, Tonal is a compact workout machine that includes a screen and uses cameras, with AI helping to analyze the data, ensure good form, and optimize resistance training.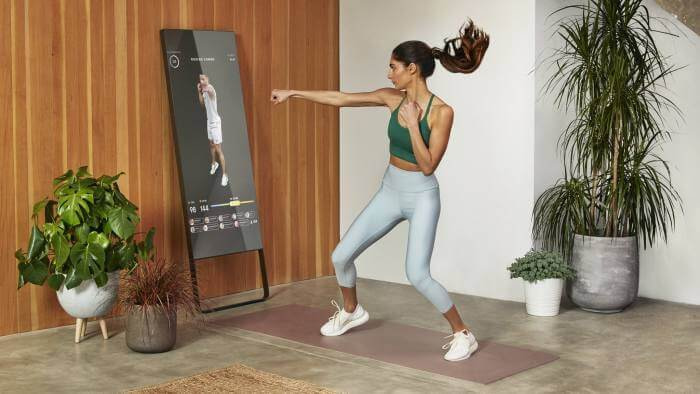 Wearables are even helping to identify COVID-19. The Rockefeller Neuroscience Institute has made a significant contribution to this, analyzing wearable data with AI models. With this method, a corona infection is detectable with 90% certainty three days before the infected person notices the first symptoms.
Accelerated use in extraordinary times
The global pandemic has accelerated the use of virtual training services at a rate never seen before.
Data from Mindbody – a wellness platform that connects consumers to wellbeing services – shows that 73% of consumers use pre-recorded video versus 17% in 2019. In 2019, only 7% of surveyed Mindbody users used fitness streaming services every week. By April 2020, that figure had grown to more than 80%. The pandemic hasn't just changed the way we exercise but also the frequency. 56% of respondents are exercising at least five times per week.
Strava, which now has over 70 million users, reported that an average of two million users every month of 2020 had registered with its app for the first time. Freeletics, which has more than 2 million users in the UK, saw a 50% increase in use between March and June 2020.
And in the US, many popular chains with locations nationwide — including Equinox, Gold's Gym, AArmy, LA Fitness, and SoulCycle — closed their doors to comply with state-level lockdown orders in March 2020. More than 38,000 gyms and fitness studios nationwide remained closed as of late May.
In response, downloads of fitness and health apps increased by 47% in Q2 alone, and many streaming services experienced dramatic increases in demand.
Of course, this accelerated growth is having a positive effect on the market. A recent analysis by research firm Report Ocean found the online fitness market is anticipated to reach $44.7 billion globally by 2026, compared to $6 billion globally in 2019.
Connected fitness equipment is becoming increasingly popular with consumers. In 2015, the category accounted for approximately 2.9% of overall revenue in the fitness equipment industry. By the end of 2020, that figure is expected to exceed 7.5%. The home fitness equipment market is projected to hit nearly $4.3B in value by 2021.
This incredible and unprecedented growth has caught the attention of investors.
Tempo pitched ten investors its $175 million Series A round in early 2020. The company ended up with eight-term sheets, and the startup now counts Founders Fund, Khosla Ventures, DCM, and Bling Capital as its investors.
Signal – an investing network – reports 362 top seed investors in the consumer health and fitness industry, including VCs from firms such as Greylock, True Ventures, Obvious Ventures, and Uncork Capital.
Dos and don'ts of building online fitness applications
Discover best UX practices used in the top custom
e-fitness applications
Get your free ebook
How AI is changing fitness
AI can process incredible amounts of data from wearables, sensors, cameras, and other connected devices – an impossible task for a human trainer. Once processed and passed through various algorithms and when aggregated with anonymous data from users worldwide, it can optimize fitness, workouts, and nutrition plans for every person. Performance level, age, gender, and workout preferences are all taken into account, and the advice from the app or device you're using is personalized to your specific needs and goals.
What's more, it never stops learning. Through continuous machine learning and AI algorithms, personal workout plans become more precise over time.
Read also: How to Choose a Fitness App Development Company?
So what's next for this technology and the industry in general?
While AI is also able to reduce person-to-person communication, it is anticipated by many experts that the need for a personal touch, and accountability, will increase, mainly thanks to the pandemic. However, trainers will serve more clients with optimized workouts than ever before, reducing their time with each client dramatically.
Speech recognition and an AI chat interface will aid this process, allowing apps and devices to have realistic conversations with users. More fitness devices are starting to include smart speaker capabilities, as seen in devices like Google Home and Amazon Echo.
And, while consumers have not embraced virtual reality (VR) headsets in the way the market expected, combining AI VR could lead to a resurgence in VR interest. Startups such as Black Box VR have demonstrated that creating virtual gyms help immerse the user.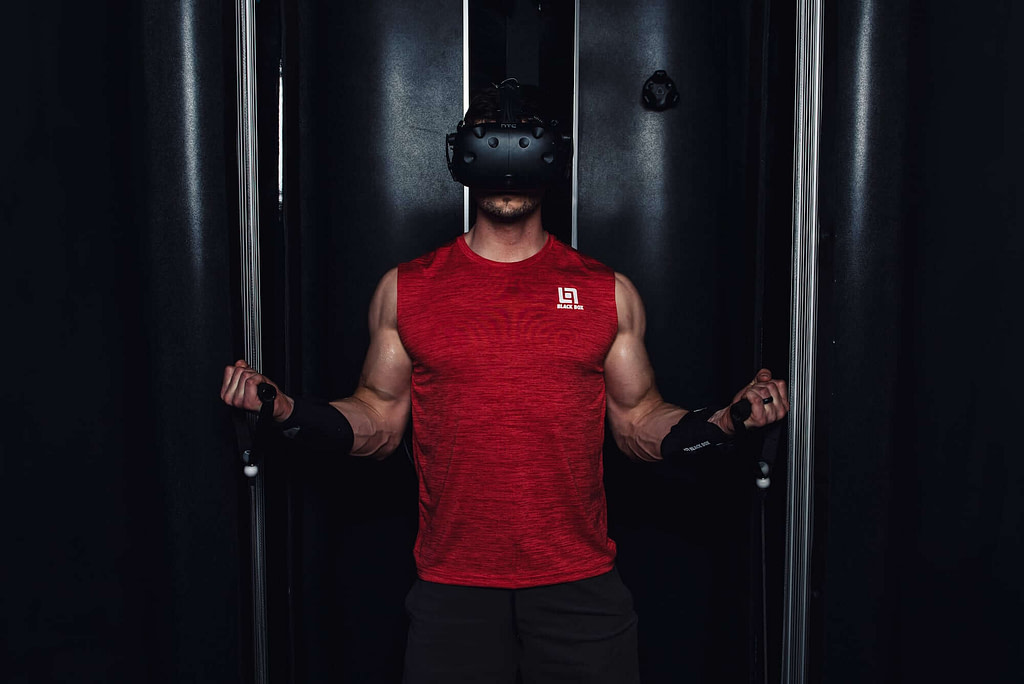 It isn't the only startup combining AI and VR. WalkOVR has created a system of sensors attached to your torso, ankles, and knees, recording lower body movement. This makes it possible to run in virtual environments while staying put in reality.
These solutions will become even more accessible when augmented reality (AR) glasses become available in a form that is closer to the way standard glasses look now. The difference with AR is that you still see your real environment around you, whereas VR (without an external camera) blocks your physical surroundings from view. AR with AI shows a lot of potential since performing a workout does require a level of safety that VR can't provide; it's essential to be able to see the space you're working out in.
VR and AR aren't the only technologies that, when combined with artificial intelligence development services, will change the face of fitness. Products like Mirror are already using cameras to identify when you're doing the correct exercise. Still, even a smartphone camera will be able to determine whether your form is correct when doing bodyweight exercises, weightlifting, yoga, or any workout. By simply putting your phone on a tripod, it will identify your movements and then offer advice on how to correct them for the optimal effect.
The future for AI-powered fitness apps, platforms, wearable devices, dedicated hardware, and gym application development services is exciting. With forced isolation for many, it is set to explode over the next few years. Consumers, investors, trainers, and startups in this field are all set to win, especially as the global pandemic continues.
Data science, machine learning, and AI in fitness – now and next
Read the article