It's safe to say that the COVID-19 pandemic has changed the fitness industry for good. Even though gyms and fitness studios are again fully operational in most countries, people's habits have changed. While some members have missed the sense of community and are willingly taking part in classes, others prefer to exercise at home. The change in fitness habits caused by the pandemic has significantly contributed to the growth of the digital fitness industry.
In the following article, we're going to talk about how workout apps can help your business flourish during and after the pandemic. Let's start with the fundamental question.
Do you still need workout apps to reach your customers when the pandemic is nearing an end?
The simple answer is – yes. We can clearly notice a shift into digital fitness services with homes turning into space for gym operators to occupy. Experts predict that people will continue to exercise at home even after the pandemic ends. What's more, digital fitness has been gaining ground even prior to the COVID-19 outbreak. Think of wearables, personalized health tracking, training videos online, and other digital media experiences. They all represented the beginning of a new trend or even a revolution in the consumer fitness landscape. The revolution that was called digital fitness. The pandemic has simply sped up this transition, as consumers were unable to exercise at the gym, and had to work out at home instead.
That being said, if you've seen the numbers for workout app installs in the first half of 2021, you might have noticed that there's a 24% drop as compared to the numbers for 2020. How can such a decrease possibly speak in favor of developing gym software? In a nutshell, we're looking at the classic "quality over quantity" case. Namely, despite the significant drop in new users, overall workout app sessions have increased by an impressive 31%. This means that despite studios and gyms re-opening their physical doors, people have grown accustomed to at-home workouts. So, if such a large group of users decides to stay in shape beyond your gym's premises, make sure it's possible!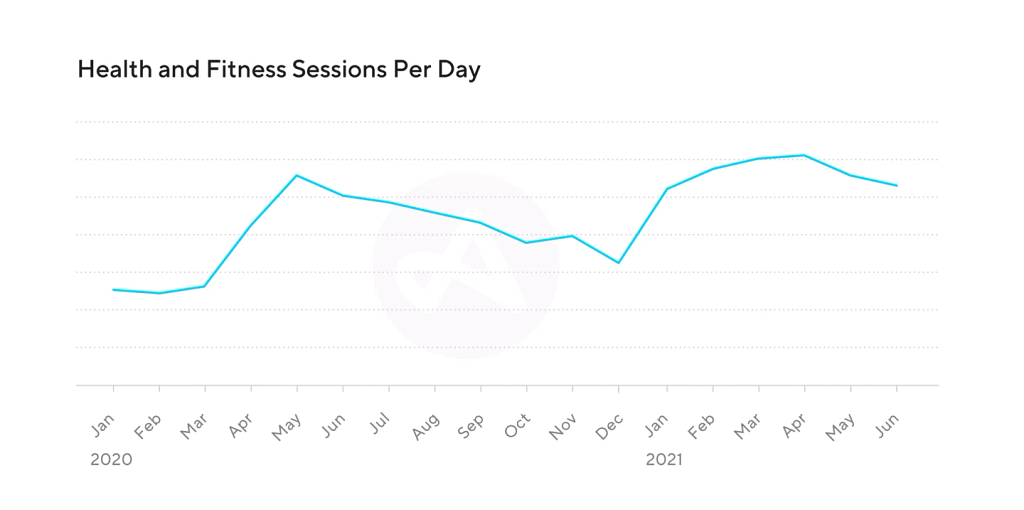 Now that we've discussed the current landscape for workout apps, it's time to look at how they help businesses thrive both during and after lockdown, and what the impact of technology on the fitness industry is.
> Learn more about virtual fitness development solutions
How do workout apps help gyms operate successfully during the pandemic?
Below are some of the top reasons and ways in which gym software currently supports health clubs & fitness businesses. Given the number of loyal app users, we believe that workout app companies will continue to reap the benefits of technology for online fitness well beyond the pandemic.
Let's begin with the first point, which stands behind quite a few workout apps' success stories post-pandemic:
1. A change in mindset & habits
Before COVID, many people were reluctant towards online gym classes (the same way they were towards remote work), deeming it impossible. However, the reality has proven otherwise, with nearly 83% of Americans declaring they're open to virtual workouts during the lockdown. This clearly indicates that there's a massive mentality change, with a new, at-home customer segment emerging on the fitness landscape.
From a gym software company perspective, this change in consumers' approach means two potential benefits:
Opening yourself to a new user base
As we'll discuss further in this piece, workout apps can give your members the option to train at home or offline, depending on their preference. However, they also let studios reach those whom you wouldn't traditionally deem as potential gym memberships' buyers. Think of customers, who – due to the long commute to your location – would never consider joining your club. You can target these potential users with a wholesome online experience. They may not be very likely to be seen as regular attendees at your brick-and-mortar location. They might, however, participate in special offline events, like workshops or getaways.
A new way to boost customer engagement
Some customers who were less attached to the offline feel of the community (for instance, due to your club size and anonymity) might stay on the online channel in the long run.
As Marketing Dive noted in a recent piece, "the key issue going forward for the fitness industry is whether those consumers will come back to gyms that reopen as lockdowns are lifted, or will permanently change their habits". This is a crucial question, especially if we consider that only 17% of consumers in the U.S. felt ready to go back to physical gyms in 2021.
One way of making the most of your remote user base potential is creating an app with features your online studio can't offer. For instance, you could consider implementing a sleep monitoring solution (like 8fit) or some meal plans. Or – if you're ready for bigger CX advancements – you could consider adding an AI module into your workout app (as long as it supports your business goals). While these are just two potential ideas, an experienced web app development partner will help you decide how you can gain a competitive edge and engage (or re-engage) your club members.
2. Integrating online classes helps maintain high customer experience
By integrating online classes into your fitness program you provide a homogenous customer experience and are able to build a loyal customer base.
Let's take OrangeTheory Fitness as an example. As of early-2020, the world-famous boutique studio franchise had over 1 million members, spread across thousands of locations worldwide.
While all of their studios were forced into closure when the pandemic struck, they have still managed to open over 30 new locations throughout Q3 and Q4 of 2020. There are at least two factors that have helped them avoid mass closures. Firstly, it's the mix of their unique philosophy, health tech use, and gamification which has all skyrocketed them into fame. Secondly, there's also the OT Live app.
How to increase user engagement in online workouts? Computer Vision in fitness – examples
Read the article
Users who opt for online training can integrate their wearables, share heart rate data and stay in touch with coaches virtually. This closely simulates the experience club members have in-studio, where everyone's heart rates were displayed on the screen, and colors changed into orange upon reaching the desired heart rate per minute.
OrangeTheory Fitness has also been able to acquire new club members virtually, by offering free access to a different daily workout in their app.
3. Digital fitness content improves customer engagement and boosts revenue
Allied Market Research predicts that the digital fitness market is going to grow at 33% CAGR between 2020-2027. This unprecedented growth is caused by gym and fitness studio shutdowns all over the world, and people switching to workout apps. Considering this situation, it's hard not to take advantage of the potential that workout apps offer.
Providing customers with access to digital fitness content has a positive impact on customer experience and engagement. Users can participate in classes online at the comfort of their own homes, and whenever they feel like it. They are not limited by any schedules or the number of participants allowed, unlike in a traditional gym setting.
If you are a gym owner, then workout apps can be a great alternative revenue source. For instance, If you record fitness classes for your app users to participate in later you will improve the ROI of your offline activities. By helping your customers keep their exercise routines and achieve their fitness goals, you will increase their loyalty and retention.
Peloton, an American fitness equipment manufacturer is a great example of how workout apps can improve customer engagement, and boost sales. After the pandemic struck, their fitness app has risen in popularity. The brand ended 2020 with over 1.09 million fitness subscribers, which represented a 113% rise from 2019. Their users can choose between two types of subscriptions:
Pay $39 per month to sync workout classes with their Peloton exercise equipment
Pay $12.99 and access fitness programs through a phone or a tablet.
Peloton covered all kinds of users' expectations, from on-demand and live classes to watching TV series while exercising. No wonder their revenue and stock size has increased so dramatically.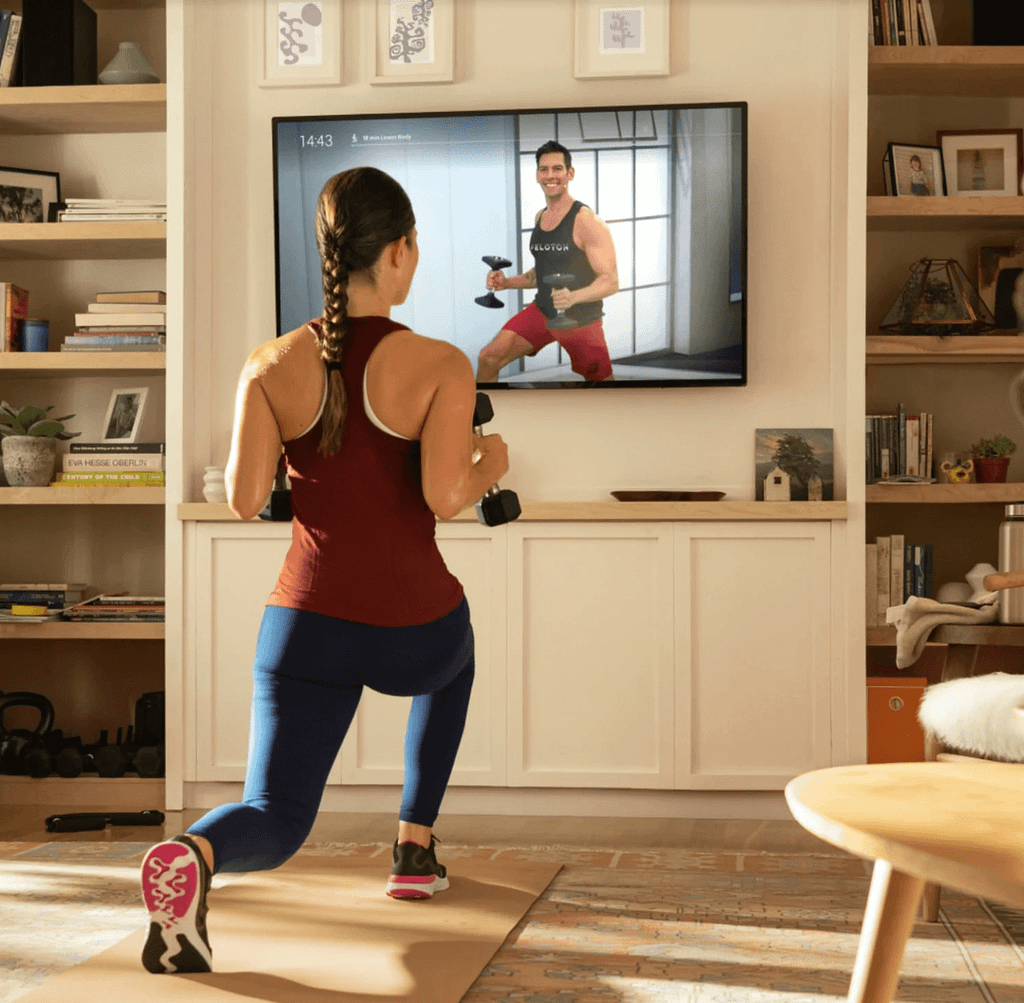 Read also: How to increase gym revenue in COVID-19 era?
4. Improved customer experience thanks to integrations
Providing a great customer experience pays off. In fact, brands that offer great experiences can charge on average 16% more than those who don't; they also experience higher customer loyalty. One of the ways to improve customer experiences is making sure that your app integrates with other gym software. If you manage to create a digital fitness ecosystem, your customers will be able to get more benefits from your app. This in turn will increase brand attachment.
For instance, if you ensure that your gym software integrates with Google Fit, your users will get access to a large volume of health-tracking data. This will help them better monitor their fitness progress and check if the exercising programs you offer bring anticipated results.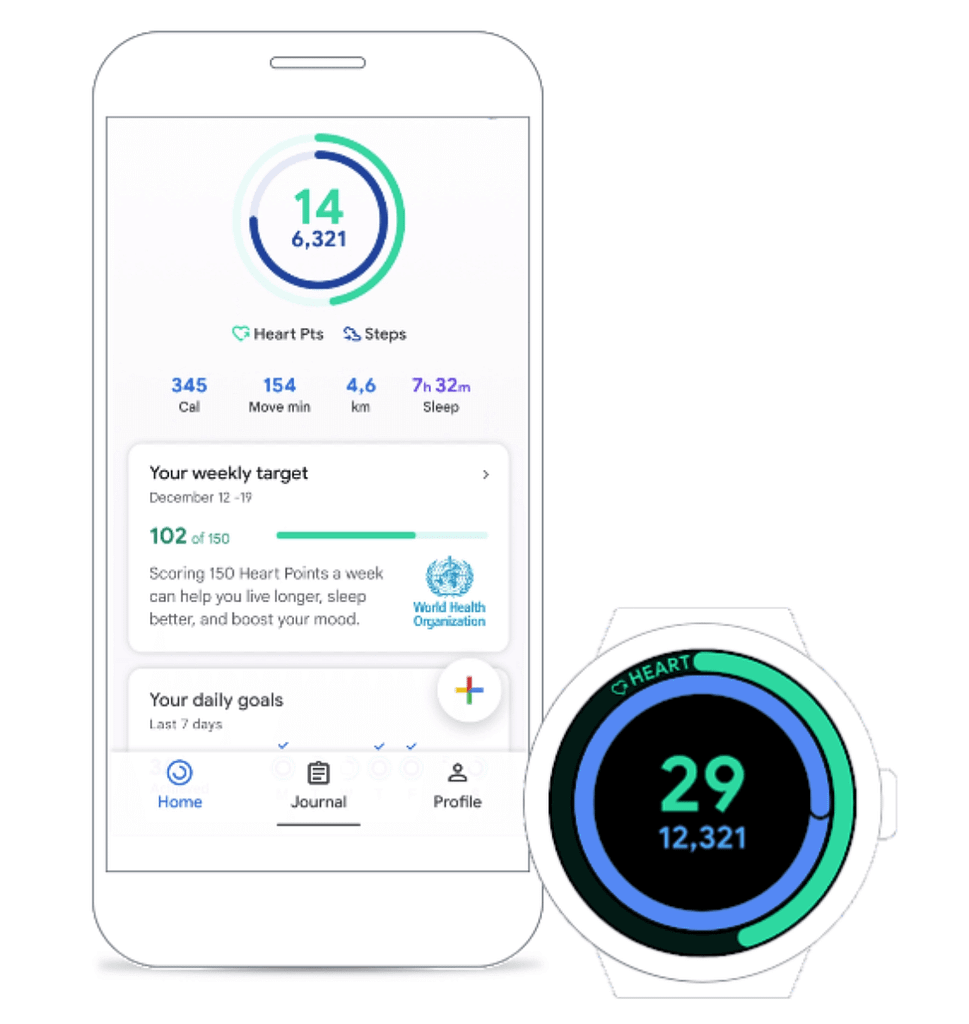 Additionally, those who are Google Fit enthusiasts might only select workout apps that integrate with it. Offering such integration will give you the chance to target people who use Google Fit, which will potentially increase your user base.
Another example of how gym owners can boost their customers' experience is by integrating their apps with social media to add a community aspect.
Read also: How to Choose a Fitness App Development Company?
5. Making sure you're lockdown-proof with your gym software
When gyms were forced to close worldwide as an effort to stop the spread of COVID-19, many studios – including boutique fitness studios – were completely unprepared. Most had no plan on how to retain customers and keep them on their subscription plans. Some have taken to online classes on Facebook and platforms like Teachable. Others have decided to develop web applications dedicated for workout.
Les Mills Core serves as a perfect example of a business that decided on the latter. Despite being a digital service, before the pandemic, the gym software company primarily relied on their B2B collaboration with brick-and-mortar gyms. They offered virtual, live, and on-demand classes, helping studios spread workout sessions evenly throughout the day.
When this source of revenue went dry, they moved their focus to B2C audiences. As of mid-2021, the platform continues to serve both global gym studios as well as individual, at-home audiences. What's more, fitness brands can use their at-home training feature to grow their in-house and remote-based customer base.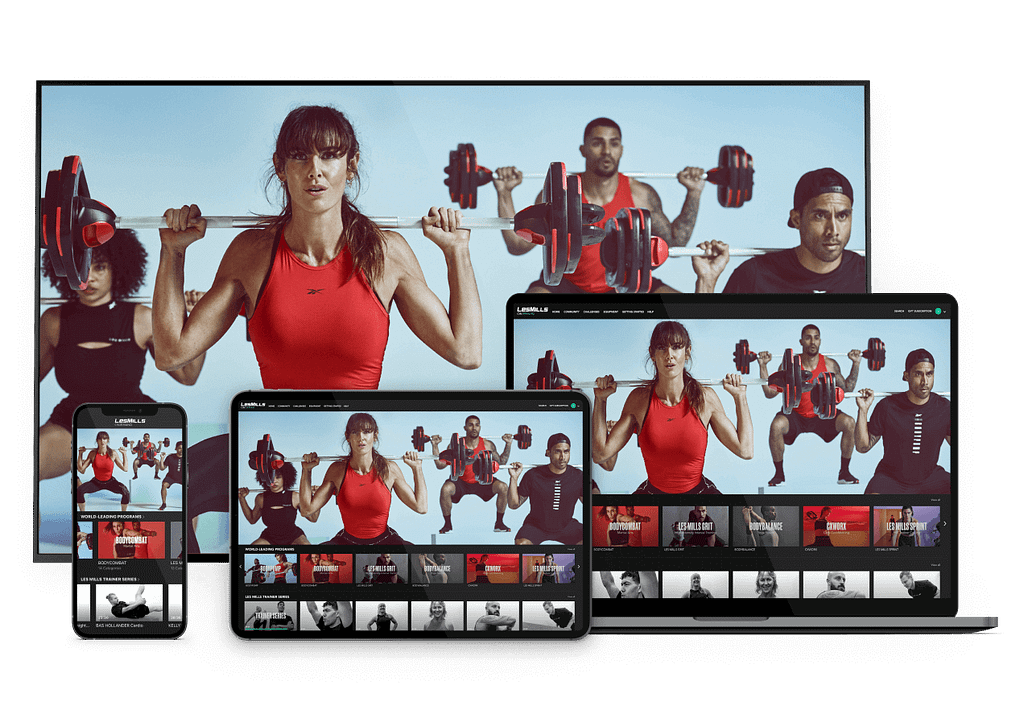 Diversifying their customer base now gives Les Mills Core a more flexible, hybrid revenue stream – with B2B and B2C channels all working in their favor.
Now that we've mentioned remote trainees, it's time to discuss a higher-level factor – the change in customer mindsets.
6. An alternative revenue source
Most of the gyms worldwide have returned to normal operations. This doesn't mean, however, that they managed to retain all their customers. Some consumers are still afraid to resume exercising at the gym (and no marketing campaigns can change that), while others don't want to spend money on a gym membership. And as home has become our wellness hub, more consumers are happy to exercise at home.
For this reason, workout apps can be a great revenue source! Not only can you target those customers who stopped coming to your classes due to health concerns, but you can also get access to a much wider audience! Since you are no longer limited to a certain location. According to Beth McGroarty, vice president of research at the Global Wellness Institute
"The post-virus wellness future will be a 'hybrid' approach for many more people, with consumers making selective trips to gyms, fitness studios or businesses they trust, but otherwise keeping much of their activity online". This only proves that investing in gym software is a good decision!
Summary of the 6 ways workout apps help gyms successfully bounce back to normal
While digital fitness was already a strong trend in the years before COVID-19, the pandemic has only reinforced its role in the future of health & sports. However, this doesn't mean that traditional gyms and fitness studios have now found themselves in trouble. Many businesses, such as Les Mills Core and OrangeTheory Fitness, which have operated at physical locations have decided to embrace a hybrid model. Regardless of where their clients are currently based, they can continue to serve them and offer the absolute best CX. Ultimately, as exercising at home seems to be a part of the new normal, the question is no longer whether you should develop a workout app or not. The question is when and given all the numbers we've shared in this piece, we can confidently say – the time for it is now.