The outbreak of COVID-19 dumped the fitness industry worth $94 billion, ruling gyms, yoga, and spa centers out of business. According to the Deloitte survey, the expected revenue losses in the fitness industry in 2020 will be almost 20% compared to planning, and a further decline in sales is still expected in 2021.
The virus has also catalyzed the digital transformation of the whole fitness industry. With their studios shut down, fitness business owners are adjusting fast by moving all workouts online. Gym members are also getting used to online workouts using fitness apps more often.
According to Forbes, 85% of consumers are using live stream classes weekly versus 7% in 2019, and 73% are using pre-recorded video (versus 17% in 2019). Moreover, almost half of them declare that they want to make virtual classes a regular part of their routine, even after studios reopen.
With people seeing clear benefits of home exercise, gyms will have to complement their brick-and-mortar offer with online workouts. The online fitness applications will have to interpret user data better and offer personalized recommendations to reduce mounting user churn when people start using gyms again.
How the situation is changing for both gyms and online fitness apps during COVID-19?
New fitness businesses reality: from brick-and-mortar to click-and-mortar
Jimmy T. Martin, a Co-Founder of the first and only cool temperature fitness studio, BRRRN based in NY City, sees the future of fitness online with gyms offering both options – workouts in a physical location as well as from home.
Many studios are now in a very difficult position. Here in NY, people are afraid to be around each other. The reopening will not be as quick as people have expected.

The saturation of brick-and-mortar studios has overnight become an oversaturation of virtual opportunities as well. This is going to be a tremendous opportunity for instructors and coaches to understand what value they bring to the community that they serve. And they don't necessarily need brands to extend their reach.

It makes brick-and-mortar businesses consider virtual extensions as a part of their business plan. We are already on our way to becoming what I am calling click-and-mortar studios. We have a physical location, but we also have a way to extend our brands to people at home.

We are focussing on how we can engage people to work at home. It is nothing new – there have been platforms that served people in their homes. With the rise of Peleton and Echelon more brands are engaging in live streaming and on-demand fitness content. Now, during COVID-19 we are looking up to those digital fitness platforms and are thinking about how we can do the same for our gyms.

You can expect that a lot of businesses will go away. The COVID-19 crisis gives us, owners of fitness studios, an opportunity to rethink how we want to pay the road ahead because it is never going to be the same way.

Jimmy T. Martin, Co-Founder of Brrrn Studio
Read also: How to increase gym revenue in the COVID-19 era?
Will online fitness studios stay after the pandemic?
Even though the situation with the COVID-19 pandemic will be resolved sooner or later, digital innovations in fitness are going to stay and help scale local businesses internationally.
Fitness applications will soon see many more competitors fighting for the same customers. With every single app offering online workouts, it is going to be more difficult to stand out. Fitness apps will have to adjust by offering unique workouts and better fitness recommendations than competitors.
On the other hand, fitness studios have started to view technology as a crucial tool to get a competitive advantage in crowded local markets. According to the estimates, 12,000 fitness studios already offer some sort of online workouts.
With workouts becoming more accessible, offline gyms will have to compete with online coaches and fitness apps. Both gyms that are just moving online and fitness apps that want to secure their market positions have to care about a social aspect more than ever before.
Read also: How to build a custom workout app for high user engagement
The online fitness experience has to be based on the foundation of the community, with people connecting and supporting each other on their way to a healthier lifestyle, online.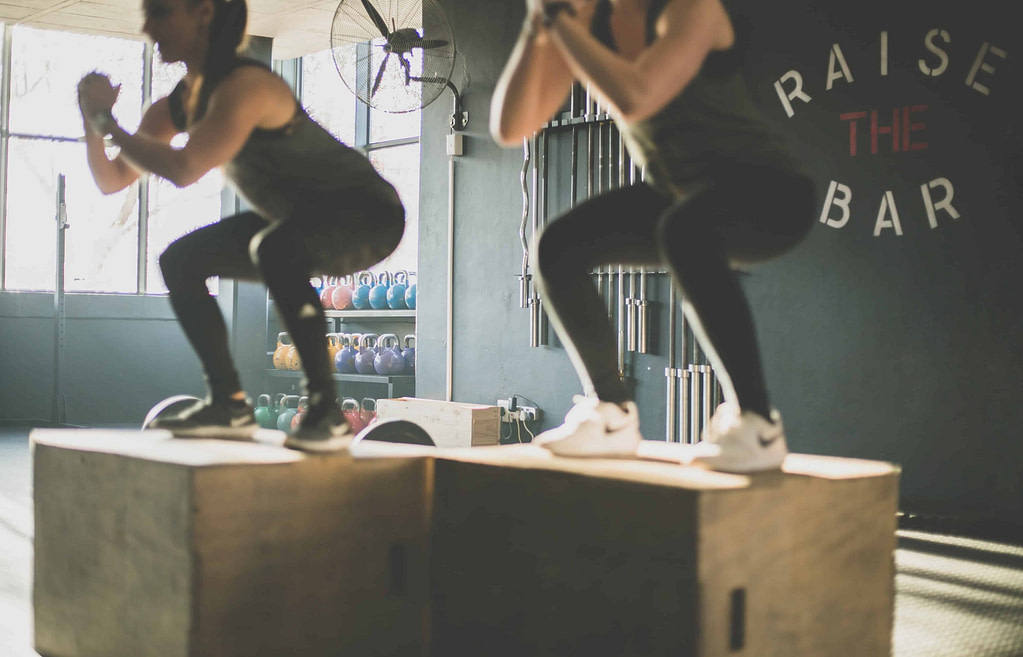 Lauren Foundos, a Co-Founder of FORTË Fit, a technology and subscription streaming platform for gyms, believes creating an online fitness platform is a necessity now as it will take up to 18 months for people to come back to gyms.
I believe the future will be a blend of the two worlds. COVID-19 has forced many more people to try apps probably faster than they would have, and the overall opinion that I am hearing is very favorable. I think this current situation sped up the evolution that was already happening, from both the studio's wanting to create a digital platform to the users demanding that from their favorite brands.

Now, amidst the current environment, I think even more than it is a must that a gym has a digital offering. States are beginning to open, but it is yet to be seen if people will be willing to flock back to the gyms. I suppose the die-hard people will, but there will be a subset of people that will not go back out of fear until this is a vaccine and more concrete plan around mitigating future widespread attacks.

This problem will not be going away for at least 12-18 months, and that is if they succeed in making a vaccine in record time. Therefore, I believe gyms MUST create a digital offering. Zoom, Instagram, and Facebook are great, free ways to connect to your community but they are most certainly not a long-term digital solution. I encourage gyms to begin thinking beyond the short-term and creating a platform that's more sustainable in these uncertain times.

Lauren Foundos, a Co-Founder of FORTË Fit
Let's explore what both gyms and online fitness apps can achieve with technology.
Dos and don'ts of building online fitness applications
Discover best UX practices used in the top custom e-fitness applications
Get your free ebook
Benefits of technology for online fitness
There is a set of technological applications to help fitness studios and fitness applications scale their activity – from acquiring more gym members at a lower cost to providing them with more accurate training plans.
Online fitness platforms are now able to increase the efficacy of home-only exercise and keep users engaged by incorporating AI.
How can technology help gyms and virtual fitness platforms scale revenue during and after the pandemic?
The conventional gym format as we know it will have to adapt to find a place within the future of fitness, moving to digitalize their offerings, to provide virtual classes that can be accessed in the gym and at home. This was a move many were already making pre-COVID, with affordable gym chain 'The Gym Group' working on a partnership with Fiit which would give users access to Fiit in their gyms so that they can take classes with the apps leading trainers, which otherwise would not be available to them.

COVID has forced gyms to rethink how they can reach their members, with many moving to digital propositions in order to continue supplying their content. This movement has simply brought forward the mass success of the Fit-tech industry.

Fiit has seen much commercial success due to the robust offerings provided by the platform which have helped to create a platform like no other on the market. The trainers are recognizable leaders in the fitness industry, who have been specifically chosen due to their ability to teach and inspire virtually. Fiit users are completing on average 3.2 classes per week (higher than the average gym user), which can be attributed to the ongoing class variety, interactivity features, and progress rewards.

The apps interactive live leaderboard creates an unbeatable sense of community with drives users to burn, on average, 22% more calories than an on-demand class, Fiit constantly pushes the boundaries with new class styles, trainers and training plans, meaning users constantly have access to new content, ensuring they continue to feel motivated and achieve fantastic results. All of which is flawlessly delivered with sleek, clear visuals filmed in our state of the art studios in East London.

Ian McCaig, Co-Founder at FIIT
1) Personalize workout plans
By using wearable technology, available both at home and in the gym, you can make use of the information about your members' workouts to prepare workout plans that are suited to the unique needs of each individual.
Fitness apps can use data to offer personalized workouts and nutrition plans tailored to a user's unique needs. This will help keep users engaged and help them reach fitness goals faster.
In both cases, personalization translates into better retention of gym members and app users and a higher client lifetime value.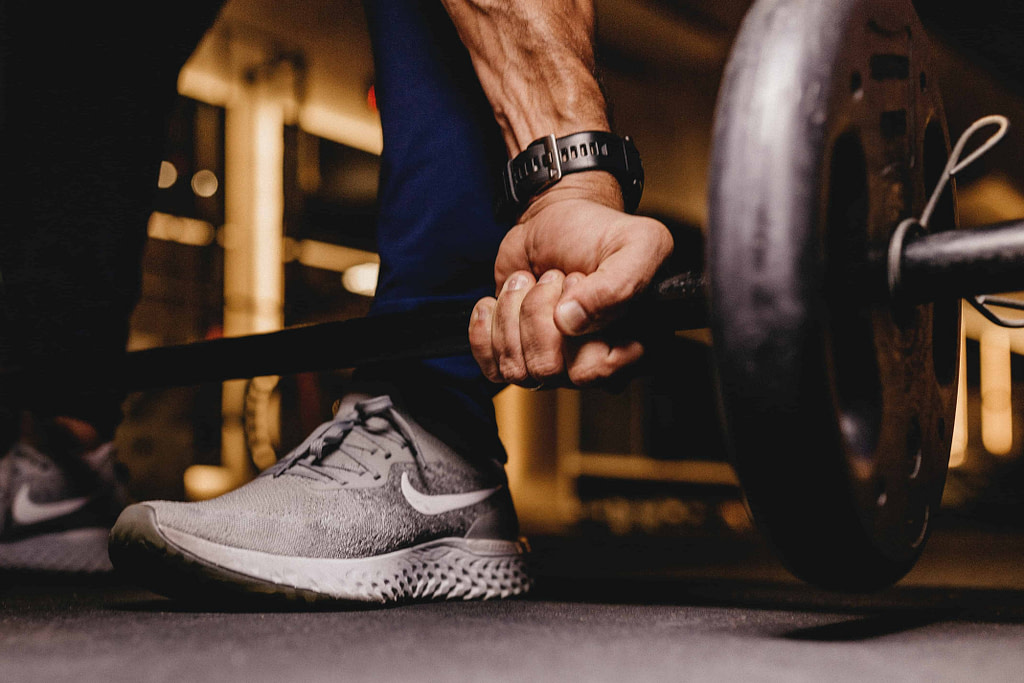 2) Sell more to current members
Having access to the workout metrics of your gym members or app users, information about the frequency of using your fitness studio, and a fitness application, you are now able to craft a better upselling offer for each of them.
The data points out that Sarah M. is doing more cardio workouts than anyone else? The technology can help generate an offer for Sarah that would be personalized to her current goals, referring to her training history and the frequency of attending the gym or an online workout.
3) Keep members engaged
By collecting data on your online fitness platform, you can engage members better by sending some personalized messages, sharing updates, or getting feedback from members or app users, everything in the right time and place – when members are more responsive to the communication.
Prior to COVID-19, we were already in the advanced stages of discussions with Les Mills in order to offer Les Mills On Demand as an additional product for GymNation members. As soon as we knew UAE gyms were going to be closed, we brought that launch forward and immediately offered Les Mills On Demand to all GymNation members and non-members within the UAE.

Les Mills On Demand provides users with a wide variety of 800+ workouts, that can be done from home and streamed on-demand, whenever the member likes.

There are already 10,000+ active users since we launched, and the feedback from these users on the product and experience has been fantastic and enabled people to stay active and healthy whilst our gyms are closed.

This is a trend we had already identified prior to the COVID-19 outbreak. As a predominantly brick and mortar operator, we wanted to ensure that we are not only connected with our members as much as possible when they aren't in the gym but we also provide members with the possibility of being able to exercise when they are traveling for business or leisure.

In partnering with Les Mills On Demand, our members will now be able to work out when they can't access a gym. We see this partnership as being a complement to the live classes and experience that will continue to be immensely popular within the live setting of the physical gym.

Loren Holland, CEO & Founder at GymNation
4) Reduce customer churn
By using historical data about your members and users are now able to identify what is that critical moment when one loses motivation and no longer attends workouts or uses a fitness app.
AI models will provide you with information on clients close to cancelling their subscriptions. Act on it to take more care of such clients by providing them more motivation or modifying workouts.
Read also: How to make a fitness app?
How technology is disrupting the fitness industry
Knowing how technology can impact a fitness business and generate more revenue, you must wonder about how this works and what technology we are talking about. Let's take a look at the two technological aspects you should definitely consider.
1) Mobile and web applications for online personal training companies
You have probably already downloaded and tested some of the fitness applications. However, as you may have guessed, competing with apps that have been around for years is hard. You should also remember people tend to install and uninstall apps.
Having a piece of functioning good-looking software doesn't guarantee that you will get your users to stick to it, use on a regular basis, and be willing to pay for it after their trial ends.
The secret sauce of an application that has millions of downloads is a good understanding of user needs, habits and challenges. Your online gym product should offer ways for people to change their bad habits and get used to new exercises fast – this includes gamification elements, progress tracking, visualization, motivating reminders and more.
No matter if you decide to launch your application only for your gym members or even aim at a global reach – you need to start examining market needs, find out what other apps don't offer, and design a unique yet efficient product that will stick around. You should consider working with a fitness mobile app development company to design a custom application that will account for your unique training formula, your target audience, and changing market needs.
That's why we created ROX Pro, an interactive training experience that uses multi-sensory stimulation via light, sound & vibration cues. We're changing the at-home fitness game by not only keeping our users engaged but also tracking performance in real-time from the comfort of their home via our free app and a cloud-based dashboard.

Our training system brings a greater training value than your average workout by not only working on physical activity but also the brain by stimulating your cognitive-motor senses with our multisensory simulation technology. ROX Pro is unique in a way that brings the fun back into training with our immersive and gamified training approach whether you're working out solo or with a trainer. Choose from over 200+ pre-customized drills or get creative with your own! Direct performance feedback in the ROX app allows you to track scores for yourself and your friends, unleashing the competitive beast in you that always wants to win.

Most recently, we got the opportunity to speak with a lot of avid gym-goers post-pandemic. One thing they really missed is the sense of community while training with others and learning new techniques. We made it our goal to build a bridge between trainers and clients in times when they can not meet in person and that's what inspired us to recently launch our "partner channel" within our app. Our partner channel is a cloud-based infrastructure that delivers your training content virtually!

We allow the trainers to film their own videos and write their own drills, exclusive to their clients' needs. In the partner channel, we keep all of the content private. A major plus is that you can offer instruction and track performances from afar at any time and anywhere. Get confident giving and receiving feedback now that there is no more guessing how your training session is performing in real-time.

We're not sure where we'll be tomorrow but we do know online training is here to stay so why not make it fun!


Kilian Saekel, CEO at A-Champs
2) Artificial intelligence in online fitness business
Artificial intelligence can be harnessed to make more sense of data about people's workouts, previous sports history, health metrics and more. Efficient AI models can give personalized recommendations on workouts and nutrition. In fitness, one size doesn't fit all – everyone needs a personalized approach.
This becomes particularly important when you move your fitness business online. With more users using your online fitness studio on their phone or computer, you can get richer data over time to make AI algorithms even more effective, thus helping users progress with their fitness goals faster.
Read also: What is sports performance tracking and what are its benefits?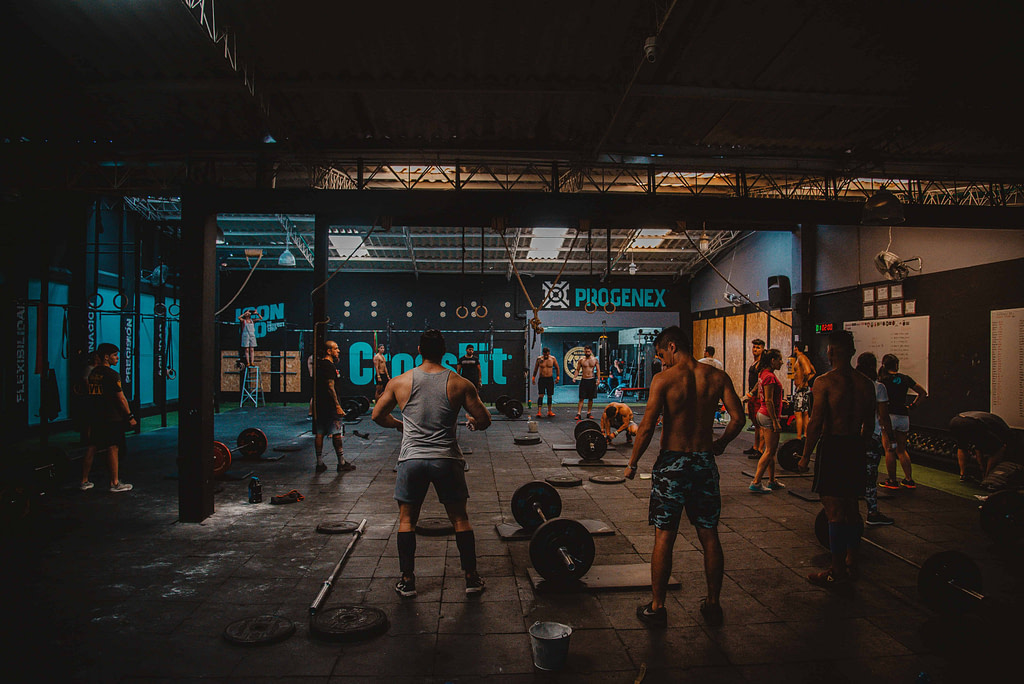 Use cases of disruptive technology in fitness
More gyms are choosing a hybrid formula where technology supports gym members in reaching their goals faster both from the gym and home. In this way, gyms can capitalize on their relations with gym members and keep them more engaged.

On the other hand, online fitness applications, that help people exercise at home are becoming more sophisticated using artificial intelligence. They collect user data and predict when a user is losing motivation and can quickly react to it by modifying a workout – this helps users achieve fitness goals faster and keep using the app.
Tracking progress online is important for both online fitness platforms and gyms. Understanding body metrics and their change over time can help make better predictions of where the next fitness milestone can be achieved and bring gym members and app users the desired effects faster.
So how technology can help gym members reach their goals faster? Here is your inspiration list including both technology used by gyms and online fitness apps that focus on home exercise only.
Get some ideas on how you can better support your gym or fitness platform with technology and discuss them with us – we will help you digitize your idea.
Gold's Gym
Gold's Gym has proved that technology can be helpful in supplementing regular exercises in studios. With their 3D scanner, every gym member can scan their body and track progress over time. Gym coaches can then analyze the progress of each individual fitness journey and with more information in place – provide better exercise and nutrition recommendations.
Equinox Gym
Equinox Gym encourages gym members to use their mobile app when joining the gym for metabolic analysis. When starting the exercise, the app provides members with personalized recommendations and reminds them to get back to the gym, encouraging them to reach their next goals. Using beacon technology, this gym also measures gym members' movements during exercise – this gives an unprecedented opportunity to learn more about technique and provide gym members recommendations on improving it.
Read also: Best gym management software
Mirror
Mirror is a fitness device that looks like a mirror when off but turns into a live trainer when turned on. It provides users with a variety of online classes taught by famous instructors ranging from yoga to cardio and strength training. The classes are well-suited for all users – there are available workouts for both beginners and advanced sportsmen. Wearing an Apple watch and integrating its data with Mirror, the system can collect and analyze data about vitals. The Mirror's device costs $1459 and is offered in a $49 monthly subscription.
Future
Future connects users with a personal coach. After answering a few questions related to health and physical activity, a user can book a 15-minute call with a coach of their choice. After the call, the coach prepares a personalized 1-week workout plan. Future sends a training kit to a user including an Apple watch to track the vitals. If a participant doesn't exercise or skips workouts, a coach will be notified about the changes and will call to provide emotional support or adjust the workout if needed.
Aaptive
Aaptive is a European startup that has over 200,000 members. Over 30,000 Aaptive classes take place every day. This subscription-based business offers users hundreds of audio trainings in different domains – from yoga to strength training with coaches guiding users. This startup has transformed the way people perceive fitness workouts, validating that audio can be a powerful tool to not only guide users through workouts but also motivate them in a more efficient way.
Conclusion
To sum up, fitness studios will have to become click-and-mortar offering both offline and online workouts or lose a market game with more innovative gyms and a myriad of online fitness apps. To do it, they will strongly rely on digital product design services.
On the other hand, fitness apps that are already there will be using artificial intelligence development services more often to understand customers better and offer personalized recommendations.
Ultimately, fitness apps will be competing with each other for user acquisition and retention with app churn rate increasing together with a depleting motivation of people to work out. Those that help users achieve their desired fitness results faster using artificial intelligence will stay in business.
Dos and don't of building online fitness applications
Design a great app that will meet your customers' expectations. Discover best UX practices used in the top custom e-fitness applications such as Yoga International, Freeletics, and AAptiv.
Learn how to build a fitness application