Operating a gym can be overwhelming, time-consuming, and expensive. From hiring the right staff to keeping track of hundreds of members, there are plenty of administrative tasks to be done in a day. Thankfully, by using a gym management platform, gym operators can decrease their workload and costs by having a system that automates and handles administrative tasks for them.
If you're on the lookout for the best fitness software for your business, read on. We'll discuss the six most popular solutions and help you decide on the best option.
What is gym management software?
Gym management software (also commonly referred to as fitness management software) helps fitness businesses manage their studios and centers. It can take care of nearly all operational needs. From managing fitness classes, creating personal trainer schedules, and tracking memberships to communicating directly with clients and processing new members and payments.
Most popular fitness management software
There is an overwhelming amount of gym software to choose from. To help you find the best solution, we've curated a list of seven options that are the most popular. The first four on the list – Mindbody, Mariana Tek, ClubReady, and Zingfit – were voted as the top choice by respondents in a survey by Boutique Fitness Solutions. Next, we feature Glofox and TeamUp, which deserve an honorable mention, as they often come up in online gym management software rankings. Finally, we present building your own app as the alternative to off-the-shelf software, along with a list of potential benefits of going with your own custom-made solution.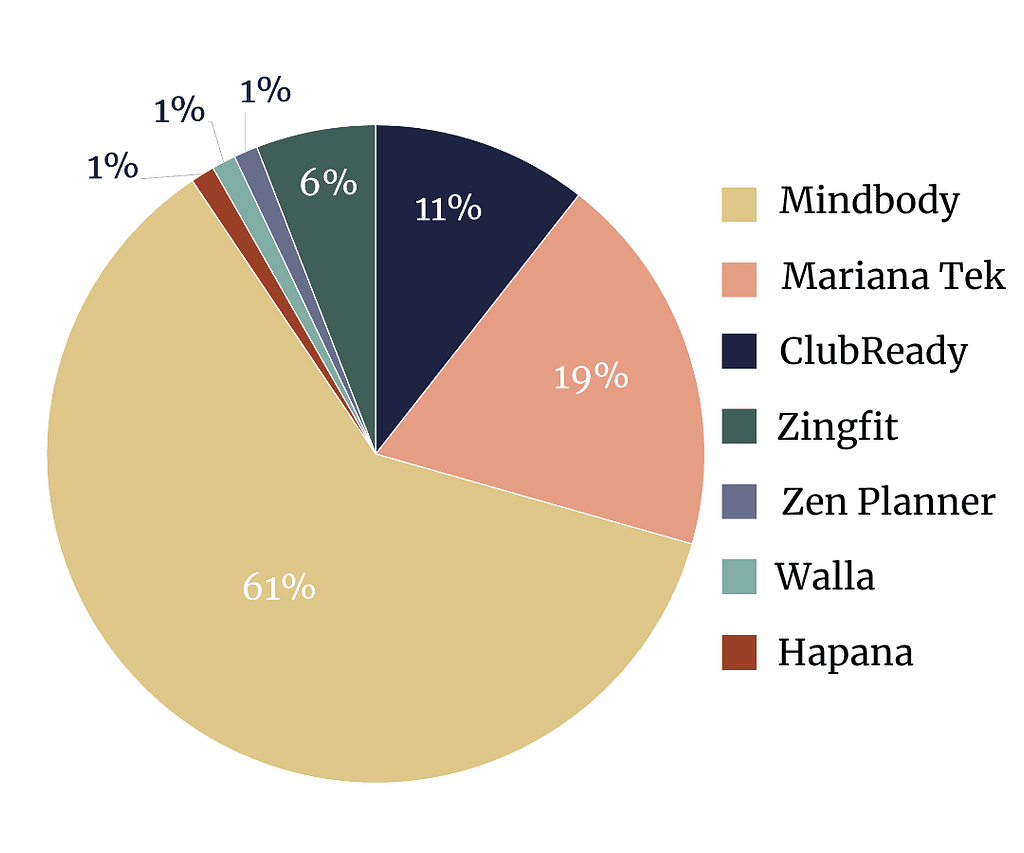 Mindbody
What it is
Mindbody is a fitness software used by many reputable brands in the wellness services industry, most notably Orange Theory Fitness and Burn Boot Camp. It provides not only online scheduling abilities but also acts as a complete business management software.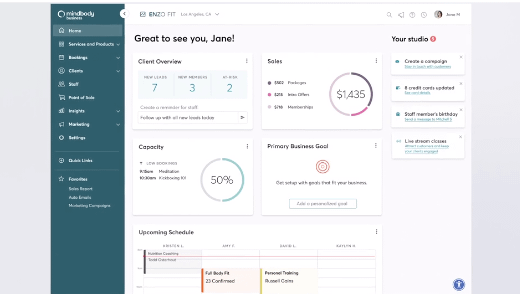 Top Mindbody's features
Self-serve class scheduling – you can build a schedule and direct clients to it on your website, social media, or your app. The schedule updates automatically in real-time, so you'll make sure there's no double booking.
Setting your availability and restricted times for class booking – for example, you may not allow clients to book a time slot less than two days in advance of the session.
Creating an automatic client waitlist that notifies registrants when spaces open up.
A built-in lead nurturing system that tracks, nurtures, and turns sales leads into members of your community.
Human resources administration system (payroll and staff management) – Mindbody automates many of the tasks that would be traditionally done by a Human Resources staff member, such as:

Tracking working hours by letting staff clock in and out.
Calculating pay, including tips and any sales commissions (through integrating with partners like ADP, if needed).
Automating absence coverage – if you have a sick team member, Mindbody will sort through all staff schedules to find availability for coverage, saving you time and money.
Creating employee performance reports – you can track success metrics (such as client acquisition and retention) and reward your team members for their hard work. These reports can encourage staff to give work their best and, as a result, create the best client experiences.
Automating inventory management – you can take a look at your inventory to predict product stock shortages, track inventory shipments to ensure accuracy, know your up-to-date profit margins, and get real-time inventory quantity and value updates.
Pros
According to user reviews, the Mindbody app is loved for:
Being a user-friendly and intuitive platform.
Data insights that can be used to make business decisions (for example, deciding which staff to assign more classes to, given their high client ratings).
Great technical support.
Cons
Occasional technical glitches.
The need for email integration improvements. If you have your own email service, you'll need to hire a programmer to integrate it since Mindbody has its own service that is difficult to integrate with other solutions.
Mariana Tek
What it is
Mariana Tek is a gym management platform designed with boutique fitness brands in mind. It caters to their unique needs by providing marketing, client communications, class bookings, Point of Sale (POS), and other administrative features – all in a compact platform. Administrative processes for all studio locations are centralized on a single dashboard for easy access to top business metrics.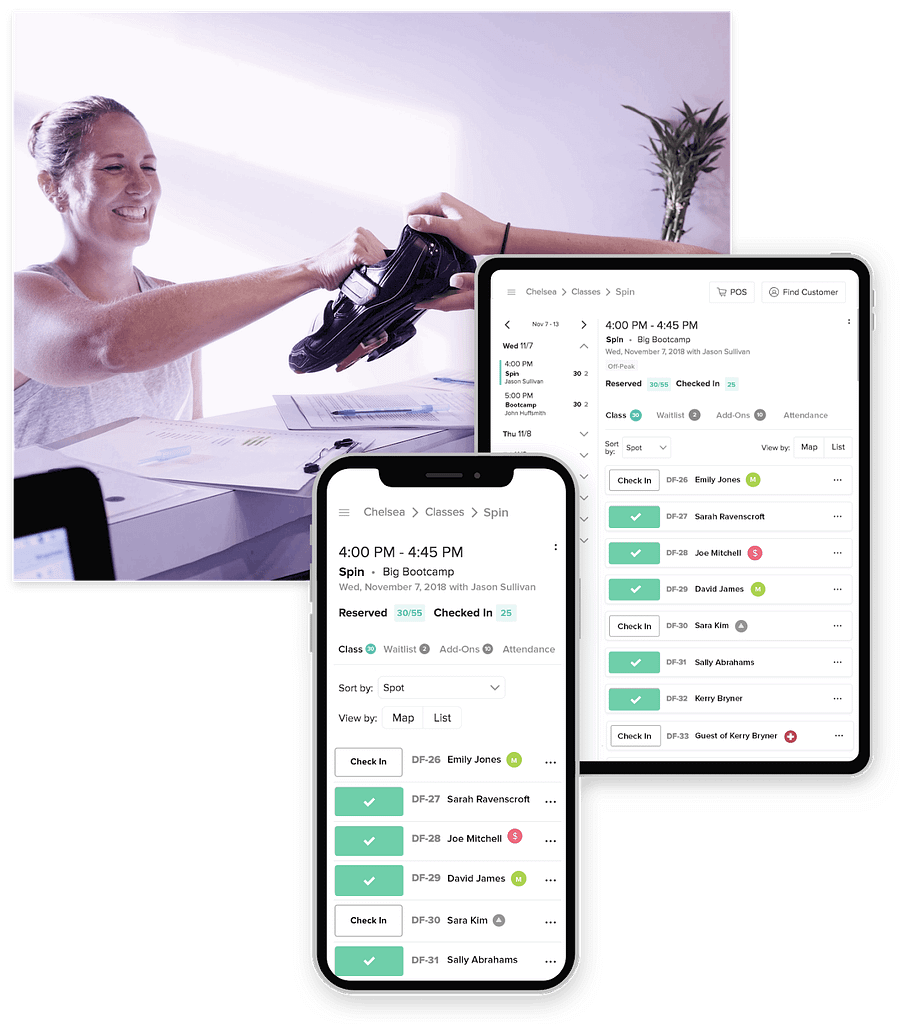 Top Mariana Tek features
Designed as a mobile-first app, but one that is also desktop-friendly – Mariana Tek prioritizes the mobile experience, given that most clients manage their gym affairs through their smartphones. However, they also ensure desktop-friendliness.
Customer and staff attendance tracking.
Comprehensive financial management – including the above-mentioned payment processing, billing and invoicing, and Point of Sale (POS) modules.
Membership management – particularly the option for easy new member onboarding, tracking members' attendance, terminating memberships, etc.
The ability to create and manage special gym events.
Pros
Users report that they appreciate this fitness studio software for:
Good integrations
Studios that require integrations and need an app that gives their clients control to create and manage their accounts find great value in Mariana Tek. Once you set booking restrictions, client tagging, and account settings, scaling becomes smooth.
Visually appealing and user-friendly interface
Aesthetics mean almost everything for user experience, and Mariana Tek does not disappoint in this area. Their simplistic, modern, and elevated look gives your studio an edge and makes an immediate impression on customers. Not to mention the user-friendliness and additional features that other platforms are lacking.
Cons
No online class options
This may be a significant downfall for studios that relied on online classes to stay afloat during the pandemic and have integrated this into their business model.
Hard to find reports
User reviews mention that it's challenging to find reports and that they must pay an additional fee for CRM software. If you're in search of fitness studio software that allows built-in texting and emailing, you'll have to look elsewhere or outsource these services.
No tech support
When implementing the gym software, there's no technical support available through Mariana Tek, you'll need to outsource if needed. In addition to this, membership data from your old fitness management software will not be transferred to the new system, it will have to be manually entered.
ClubReady
What it is
As a web-based gym and fitness management software, ClubReady handles a club's entire operation on a single platform. This includes staff management, business operations, automation, and membership management.
The gym software features an AI-powered feature called Performance IQ and a trends & predictions' module, iKizmet, which gym operators can use to increase member engagement, improve retention rates, and, overall, make data-informed business decisions.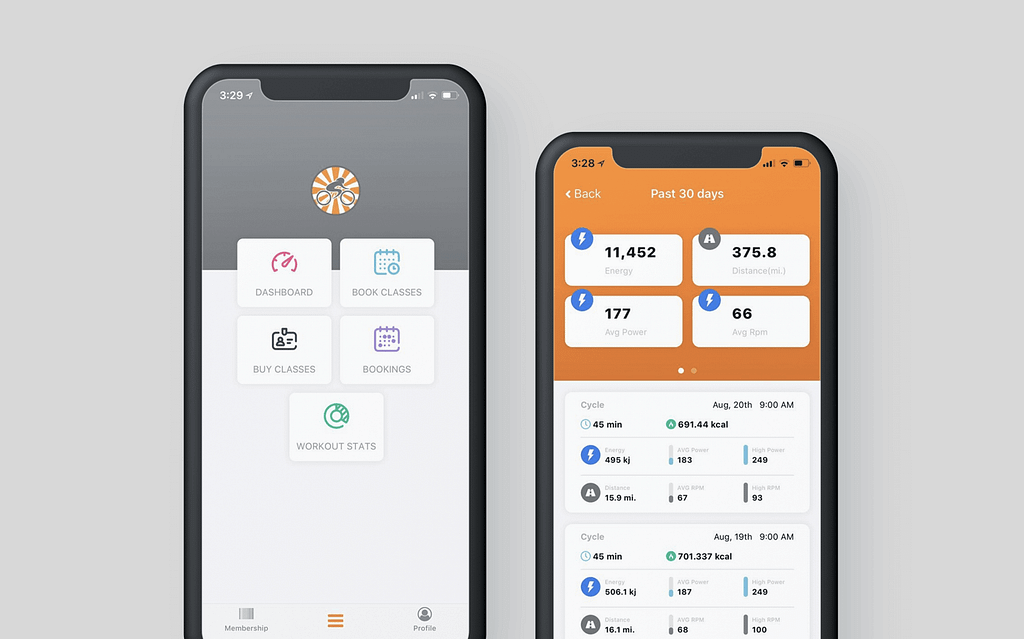 Top ClubReady features
Real-time performance tracking – you have the option to show metrics on your gym screens to encourage some friendly competition and create fitness challenges to boost engagement (for example, you can show members' intensity rates, calories burned, etc.);
Sales module – can help convert leads into clients through email marketing and encourage current gym members to attend more often;
TEAM mode – instructors can use this option to quickly create teams for each class (for example, they can choose to separate by left vs. right side or males vs. females);
Challenge module – you can create custom challenges to engage members and then use the metrics and run reporting for future classes (for example, you want to see intensity rates for members in a specific class to understand how to improve the next class);
Attendance tracking;
Payment, billing, and invoicing.
Pros
An easy learning curve for all studio/gym sizes.
A great payment module that handles payments billing, and invoicing.
Customized modules are available for every studio specialty (yoga, spin, Pilates, and more).
Cons
Users mention that the UX is obsolete. Among others, they name the lack of reminders, a communication portal, or social media integrations.
Some reviews mention that customer support is lacking in timeliness and consistency.
Without corporate-level privileges, you can't make changes to standard processes and templates, like sales scripts and agreements.
Zingfit
What it is
Zingfit is a fitness studio software that offers many innovative scheduling and engagement tools that help businesses grow. It also allows for high branding customizability, so that each studio they serve can maintain a cohesive visual identity.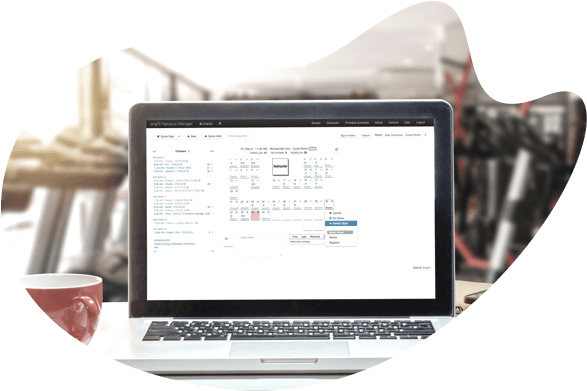 Top Zingfit features
E-commerce and marketing – the platform allows brands to enhance their customer experience by automating emails that target specific user segments.
Online scheduling – Zingfit offers auto-enrolling waitlists. This fitness studio software will move clients into empty seats when these become available. It also allows gym clients to sign up for classes themselves (whether for a single class or ongoing events).
Spot scheduling – to optimize the client experience, Zingfit allows fitness studio clients to book a specific 'spot' in the class. If it's a spin class, for example, they can reserve their favorite seat, improving their experience and satisfaction. You'll need to set up a map of the classroom space prior to opening class booking.
Point of Sale – This fitness software supports payments for both in-person transactions at the studio and online. It offers inventory tracking so you can know when to place your next order and also upsells to clients to help increase the average order value.
Payment, billing, and invoicing.
Client management – you can easily track customers through their CRM options by creating profiles that store all client information (for example, transaction information and class details). This can then be used to create a custom loyalty program.
Reporting – Zingfit can generate a variety of reports to help you better understand your business. These reports can be customized and consolidated into one master report if you have multiple locations.
Pros
Since Zingfit is specifically designed for boutique fitness studios, they hit many of the marks and needs of smaller businesses;
They offer beautiful aesthetics and great branding to align with the overall brand strategy;
Users mention that the platform is self-explanatory and intuitive;
Quick onboarding for employees due to its user-friendliness;
There is an extensive online help desk with plenty of articles and support guides.
Cons
There are reports of glitches and crashes that can be difficult to troubleshoot on your own;
The online help section doesn't provide a live support option with a Zingfit team member;
The debit payment option is not available in certain countries, like Canada.
Glofox
What it is
This gym management software is specifically designed for fitness entrepreneurs. It handles bookings, payments, memberships, and new leads for studio and gym owners by addressing many of the nuances that pertain to class-based fitness management. Ultimately, it helps fitness entrepreneurs build a community of customers from onboarding to the loyalty stage, i.e., all stages of the customer life cycle.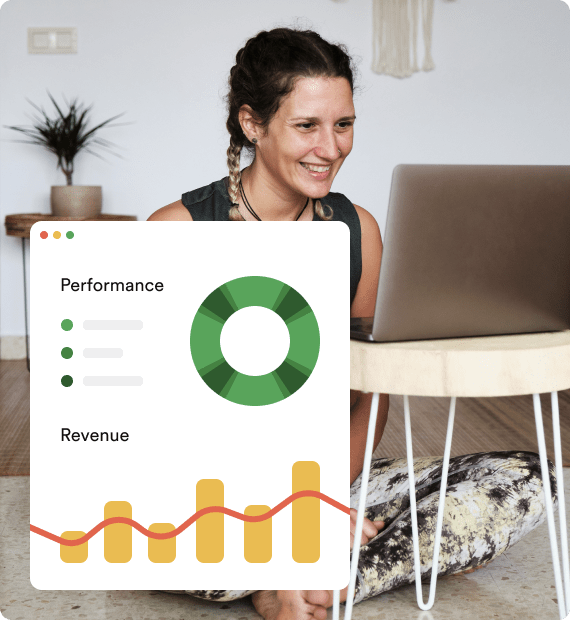 Top features
Scheduling – you can set up class schedules and availability and allow members to book directly.
Membership management – easily create and manage new memberships.
Global payment processing – Glofox allows users to accept payments internationally, which increases their potential customer base and simplifies the payments process for customers.
Reporting – this fitness software offers various reports that help clients make better decisions and boost their business strategy.
Website schedule – the scheduling module can be integrated into the studio website.
Self-serve check-in – members can book and check into classes on their own.
Interaction timeline – Glofox lets gym operators know whom they've talked to online, how they've engaged with their studio, and whether they took any action (for example, created a membership or booked a trial class).
Pros
Easy to use and edit – customers love the user-friendliness of the platform.
Cost-effective – compared to alternatives, this is a more budget-friendly solution.
Continual improvements – it's updated quite frequently with new features.
Good onboarding – communication with the sales team is easily accessible. They offer advice and are very helpful with the onboarding process.
Good reporting – reporting is consolidated into an admin dashboard so users can quickly get an idea of what's happening in their business. There are class schedules, memberships, payments for the date, and member activities – all in one section.
Cons
Can be slow, at times – users mention that the system can be very slow even after trying it on different devices and browsers, so the issue is not on their end.
Poor booking options – only subscription members can book ahead of their next booking period, which causes confusion for members billed weekly. Members can book a minimum of 1 week and a maximum of 2 weeks in advance.
Customer support could be improved – aside from onboarding, there is not much customer support. Users report that they expect more dedicated care for software they pay a fee for. They mention sending many emails only to not get a response.
TeamUp
What it is
TeamUp is an all-in-one management software for independent fitness businesses such as studios, gyms, trainers, and big box gyms, and their communities. All basic TeamUp features, including bookings, customers, memberships, payments, reporting, and a robust feature-set of business management, are included right from the start. TeamUp also offers a 30-day free trial, free import service, and unlimited customer support.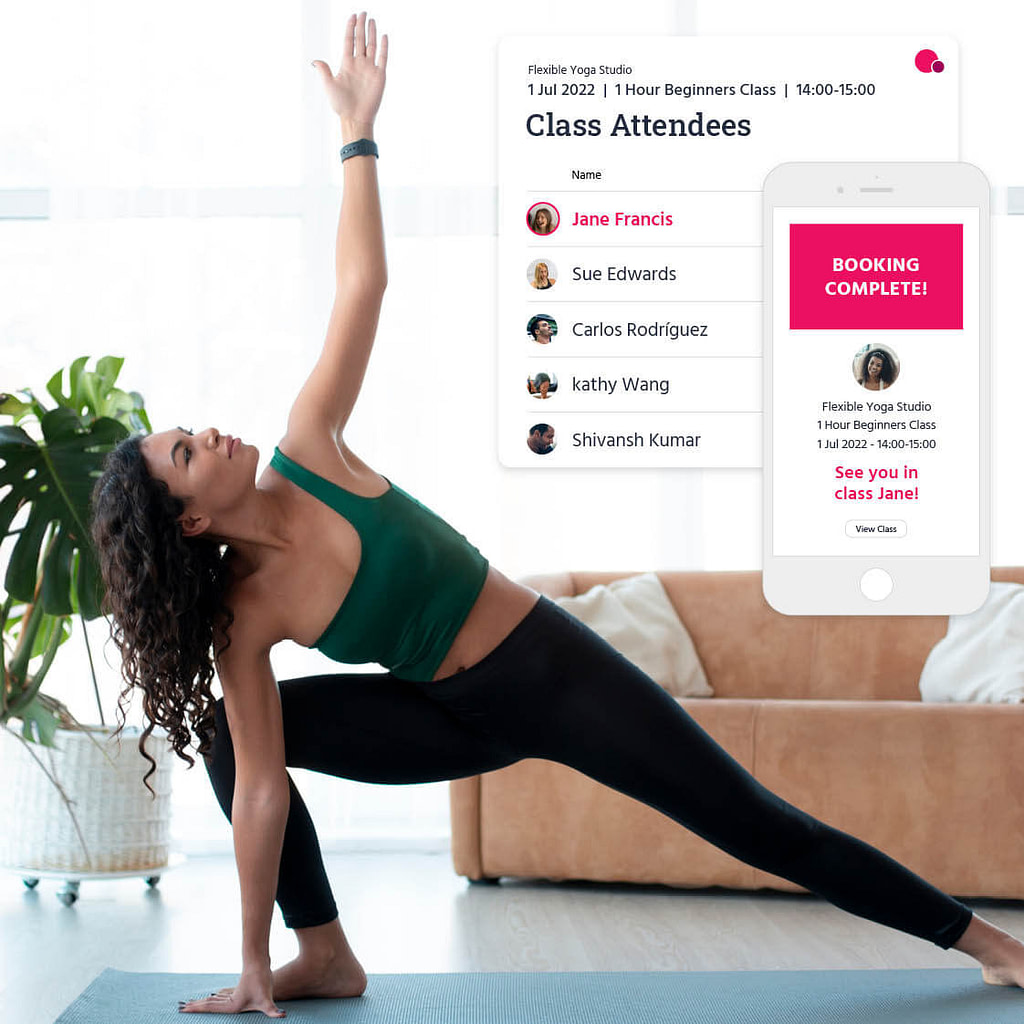 Top features
Class and appointment bookings for group and one-to-one offerings, as well as both for online classes as well.
On-demand to help you offer an additional class service to your members.
Customizable memberships so you can offer your members exactly what you want.
Staff and membership management with individual multiple instructor availability schedules and family plans.
Payment integrations with payment processors GoCardless and Stripe.
Detailed dashboard and reporting for full business insight.
Access control built-in with the Kisi integration for facility access management and security.
Member app for customers to be able to make bookings and manage their memberships on the go.
Web-based, so TeamUp can go with you anytime anywhere.
Pros
Free import service if you're migrating over from another software.
Customisable and flexible – you can make requests regarding new features and watch their progress through TeamUp's development funnel from your dashboard.
Tools for in-person, online, and on-demand services give you broad flexibility over how you run your business.
Integrations with Zapier, Kisi for Access Control, Classpass, BoxMate for performance tracking, MoveGB, OpenActive, Mailchimp.
Unlimited customer support – according to TeamUp, you can count on their support every step of the way.
Free 30-day trial to help you ensure TeamUp is the right fit for your business.
The company states there are no hidden fees and no upsells, so you see exactly how much you'll pay monthly using their pricing scale.
Cons
Some of the users complain about the difficulties in finding some features, as well as learning how they work.
Several reviews mention that the colors assigned to the employees in the calendar are too similar, so it is hard to tell which calendar belongs to who at a glance.
There are some reports of occasional site breakdowns and the app not syncing properly in poor service areas.
A few reviews pointed out the necessity of refreshing the desktop calendar frequently to see updates that were added through the app.
Custom-made gym management software
What it is
As an alternative to ready-to-use solutions, custom-made platforms help you fill the gaps and address your specific needs that are not accounted for in off-the-shelf platforms. Custom software allows you to create your own system for your gym business model through a third-party development team or by hiring in-house developers.
Top features of a custom GMS
Complete freedom to build your app – since you're creating the app from scratch, there are no limitations. All the functions you need for your business model and to set yourself apart from competitors can be included by the fitness app development company you work with.
Hyper-personalization – you can use your members' information to provide them with tailored recommendations that will improve their experience and increase loyalty, while also boosting your business growth. This can be in the form of valuable content, training module, and general advice and tips.
Social elements and community options – most online training enthusiasts are from the millennial and Gen Z generations. For them, the 3Fs are key – namely: fun, friends, and feedback. You can integrate these ideas into your app through friendly competition, challenges, sharing of experiences, etc.
Pros
Support for maintenance and bug fixing – no more hunting down a support member for technical glitches or issues. When you work with a tech partner, you'll rest assured that you will get support when needed and that your case will always have high priority.
Scaling and adding new features – you can add new features at any time without restrictions. Meanwhile, third-party apps only add new features once they have proven market demand and at their own convenience.
Maintaining the premium level – offline gyms that branch out into the digital world can lose out on their premium level experience. By implementing a custom solution, those gyms can maintain their premium feel through custom UX features and branding.
High integrability – with custom solutions there are much more options and fewer restrictions when integrating your other platforms. You can integrate premium solutions with your fitness app to mimic the feel of real-life training (such as XTRA).
Cons
Takes longer to build – building custom software takes longer than purchasing an off-the-shelf solution. To address this, you can build the app in phases and roll out the most urgent and functional features first, and focus on the bonuses later. You can also use a third-party solution while you build your own app.
Large capital investment – you might be wondering how much does it cost to make a fitness app. On the one hand, to build a custom-made platform, you need a large upfront investment, which isn't suitable for all businesses. That being said, it's worth noting that many ready-to-use solutions also get more expensive over time. If you find yourself in need of integrating off-the-shelf software with your own tool stack, the difference may ultimately not be as large.
Read also: How to sell gym memberships?
Which gym management system is the best?
At the end of the day, deciding whether to choose a ready-made gym management platform or to build a custom-made app requires evaluating your business needs and resources. For those making a slow transition into the digital world and who don't have proof of concept, starting with a pre-made app and building your own solution as you grow may be reasonable. This is also the case for companies that don't have the required upfront capital investment.
For businesses that have their bases covered (for example, their customers have digital training needs that can be met through a great platform, along with the resources), taking the step to build your own solution is best. Custom software can be a differentiating factor to help you stand out amongst the competition, elevate your customer experience, and position yourself as a premium brand, so it's worth the plunge once the time is right.