With 2019 just around the corner, it's time to sum up this year's most remarkable tech moments. The year 2018 has brought some noteworthy events, starting with the successful launch of SpaceX' Falcon heavy rocket, NASA launch of TESS (Transiting Exoplanet Survey Satellite), InSight probe landing on Mars, and a fiasco launch of Facebook Portal.
So many people, so many minds, but we are certain that some phenomena make greater impact than the other. While it does not necessarily have to be a technology to appear during the last year, the impact they make is significant to the current face of the technology industry.
Let's take a look at what technologies flourished in the meantime in the broadly understood IT industry.
Robotic Process Automation
The rise of machines marks the beginning of the 4th Industrial Revolution, bringing a new quality into economic growth. As analytical giants like McKinsey&Company or Deloitte predict, we're currently witnessing the start of the RPA revolution. A revolution that may change the way business benefits from technology, freeing resources to conduct new tasks in a different way thanks to automation of mundane, repetitive duties.
Artificial Intelligence
Artificial Intelligence is on a triumphant march to dominating business, with over 60% of enterprises including AI in their operations. From making hardware more user-friendly to improving HR processes, from identifying, measuring and analyzing biometrics to augmenting e-commerce, AI is gaining strength in a wide-ranging spectrum of applications. Artificial Intelligence impacts various aspects of life and by far it's hard to predict which will be affected the most. However, we surely may expect advancement in areas such as the above-mentioned RPA, Natural Language Processing, speech and emotion recognition, as well as in cyber security, as along with the technology advancement, the threat level grows.
Blockchain
The truly disruptive decentralized technology that allows speeding up transaction processes, eliminating the need for third-party participants in online transactions and enabling huge savings in costs due to increased efficiency and cyber security. Blockchain changes the face of various industries, including finance, healthcare and digital marketing. Being the ultimate nemesis of bureaucracy, blockchain serves the role of a trustworthy intermediary and has its potential to fully bloom in upcoming years, changing the way we think of fast and safe transactions forever.
Programming languages
The StackOverflow report shows the substantial domination of JavaScript and Java in web development, despite both being popular in rankings of "languages we love to hate".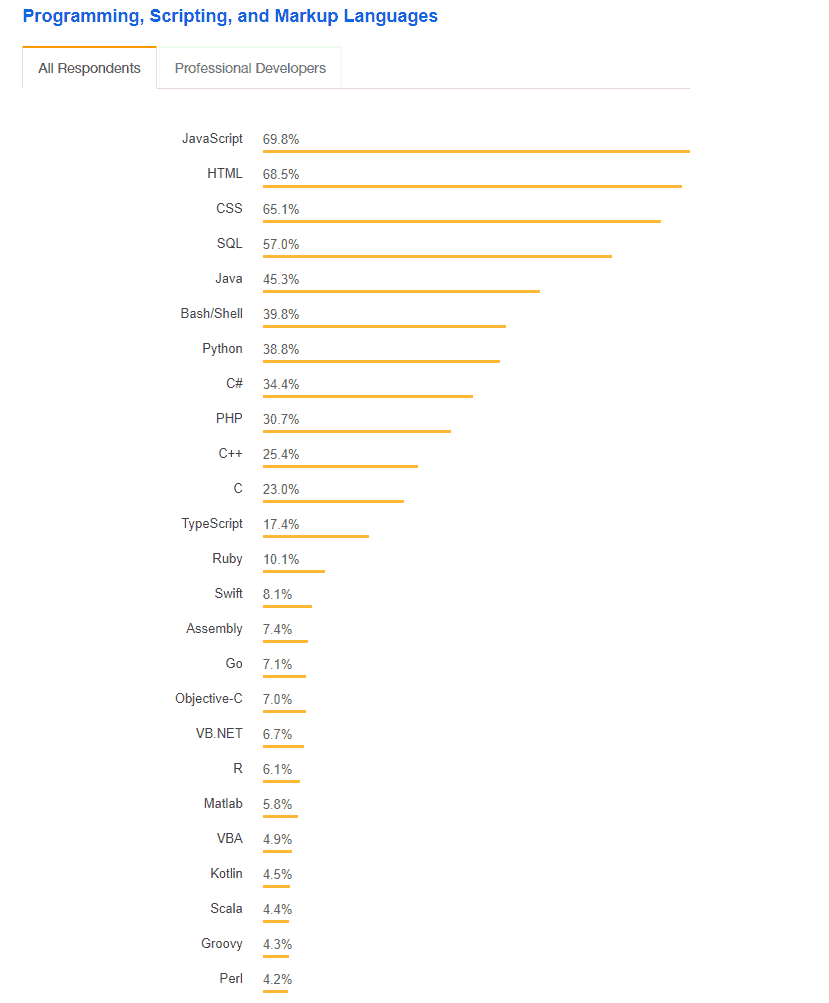 NodeJS
The open-source, cross-platform JavaScript environment released in 2009 is no novelty in the programming world, but its constant growth is a remarkable phenomenon. The NodeJS User Survey Report showed its increasing popularity among developers, and the number of market giants using this technology in their projects is clearly showing Node's importance in modern web development. Also, the recently announced merger plans are a prelude to an intensified development and conquest of both front- and backend JS development.
Julia
August 2018 marked the premiere of long-awaited dynamic programming language Julia 1.0, making it available to the public 6 years after release to developers. Julia is a fast, accessible language enabling easy expressing of various object-oriented and functional programming patterns.
Expectations
The general public, including business, may eagerly await numerous breakthroughs regarding certain technologies, including AI-led automation, quantum computing AI applications, Internet of Things rapid growth due to the anticipated popularization of 5G in mobile technology and connected clouds.
…and a Happy New Year
There may be revolutions ahead, but certain aspects aren't likely to change rapidly.
With the IT industry constantly building its strength up, the year 2019 brings a wide array of tech predictions for the nearest future. The dreaded by many substitution of the human factor by machines looks worse than it really is, as machines will undeniably transform the way we work and, consequently, create even up to 130 million new roles to be served by humans by the year 2022. What is even more important to those not yet contributing to the tech industry, IT absorbs various specialists and everybody who is willing to change their focus to tech can transition their career. Reports show that there are approximately 3x more jobs in the tech industry for non-developers than for programmers, as the number of opportunities for non-technical people keeps on growing. As for tech specialists, the nearest future seems bright, since the demand for numerous experts won't decrease. Various tech jobs are in constant need, as the market still desires full-stack developers, data scientists, engineers, and analysts.