There were times in the past when computer programming was women's work. A 1967 issue of Cosmopolitan features an article "The computer girls" and recalls an era where women in the industry were dominant. The jobs were feminized as their importance was considered to be low and requiring fewer skills. Once computers became irreplaceable in crucial areas, like governmental and military, most female programmers were sidelined. Despite having all the skills, women were replaced by men and turned off computing in the 80s and 90s. Even marketing targeted computers as "toys for boys". The stereotypical programmer is male, antisocial, and has strictly technical educational background.
But when we think about the qualities such as creativity, curiosity, logical thinking, and problem-solving mindset… are not associated with any gender. Luckily, history appreciates remarkable figures, like Grace Hopper and Margaret Hamilton. Here's to debunking myths! (Or just a part of them, as some of us also studied at technical universities.) In the course of celebrating Women's Day, we asked some of our teammates to share their stories of joining the IT and what they like about it. Not all of them being programmers, but all having found their place in the IT industry.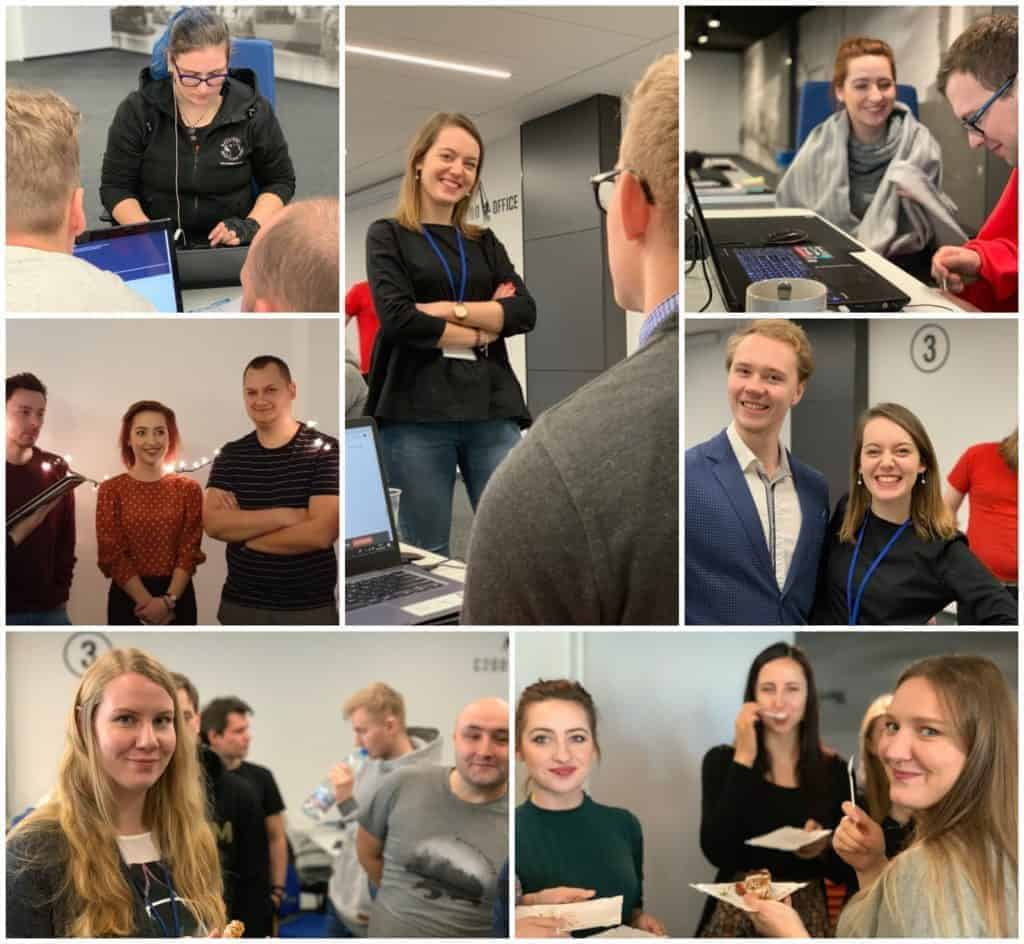 Anna, Software Engineer
Anna is a front-end developer, working mostly in Angular. Her previous professional experiences were related to HR, cooperation with IT departments, as well as project, training and development processes management. Other than that, she gained vast experience in website building.
Even working in non-IT positions, I was able to create user-friendly, modern web designs and cooperate both with machines and tech people. These features, plus multitasking skills and the drive towards lifelong learning, helped me in job transition. What followed were online courses and the pre-intern/intern/junior career path.

I like IT for the number of people truly passionate about their jobs and the open learning society. The number of meetups, workshops, and other events helps to exchange knowledge and experience. The fact that more and more women are successfully growing in this industry is also a good thing. Projects call for a flexible attitude, responsibility, and open mind. Diversity in application development enables applying various approaches towards clients' needs. This results in a better understanding of their business. The best thing? Seeing the results of my work in a project doing great in real life!
Joanna, Software Engineer
Joanna's path to IT wasn't obvious, as it led through marketing in electronic enterprises and the wood processing industry. It seems unrelated, but being responsible for internet marketing, she grew a deep interest in computer graphics and website building at that time. Fast-forward to today, Joanna is a front-end developer, working mostly in Angular. She has experience in such technologies as PHP, Cordova, Laravel, and MySql. Currently, she's learning NestJS and JointJS+.
During management studies, I researched the ease of use of websites and majored in website usability. I learned on my own online and later enrolled in a front-end course, which enabled me the career change. My interest in constant growth and life-long learning is well satiated working in tech. I like the IT industry for the work methods, the planning process with meticulous task defining. What do I wish I had known earlier? What the entry barrier looks like and that IT is accessible also to mortals with no IT major.
Sara, Software Engineer
Sara is a front-end developer, working in Angular and learning React and Vue. She's involved in building a web application for one of our clients and looks forward to building mobile applications.
I'm a management undergrad and my first encounter with IT-related issues took place in middle school. Unfortunately, there wasn't much besides HTML lessons, which weren't really captivating. For a while, I lost hope to grow in this industry and couldn't decide whether I should enroll in any course on my own. Luckily, I learned about the pre-internship opportunity, which led to my current position as a front-end developer. The project I work in now is a huge undertaking and entails not only coding but regular demo meetings with the clients. I value working in IT for how diverse the opportunities are. You can work both with technology and people, plus seeing the effects of my work in the product is truly rewarding. I wish I had known about those opportunities earlier and started the adventure sooner.
Diya, Python Development Intern
Diya is a bachelor in Electrical and Electronics Engineering. Presently, she's studying Automatic Control and Robotics and the Gdańsk University of Technology. As a part of her studies, she's involved in a VR project for Kawasaki with a humanoid robot and building sensors for a racing car.
I'm an intern, learning Artificial Intelligence ways. Besides Python, I have some background in C++ and C#, but all my everyday life is about is pandas, pipelining, Vstat files. My other interests include intelligent autonomous cars and predictive control.

About my career in the IT, I could say I fell victim to some stereotypes in India, where I come from. Being an engineer is, apart from a medical or legal major, one of the possibly acceptable career options. The STEM heritage in my family is strong, and this is a part of why I didn't become a pilot, even though getting already accepted into the flight school! I do not regret landing in IT, as there are so many things happening and it's great to have the possibility to be a part of the tech revolution. There's tech in everything surrounding us and I want to learn everything to keep it in check.
Katarzyna B., QA Engineer
Katarzyna is a manual tester, also writing automated tests in cypress.io. Her duties include elaborating testing scenarios and bug reporting paths. Graduating as a Marine Engineer, she worked before as a Commissioning Permit To Work Coordinator. The job entailed vast technical knowledge in project coordination on oil rigs. The work was rewarding but exhausting and didn't offer good opportunities in Poland, which is why she decided to retrain in IT.
Being a software tester brings various development opportunities and a broad range of possible paths. There are systems everywhere in need of quality assurance. There are options for those who work in a more logical or analytical way, and for those who test hardware technically. I am more on the logical side myself, but still, I appreciate that there are so many opportunities to think outside the box and grow. Creativity and knowledge are the key to unique job experience, and the number of helpful people sharing their knowledge is a huge upside.
Read also: 10 famous software products that were actually built by Polish developers
Katarzyna R., QA Engineer
Katarzyna graduated as an environmental engineer at a technical university. During studies, she gained experience in working with technical documentation and numbers.
As a QA Engineer, I conduct manual tests and learn automatic testing, I also have some experience in Java. As a result of a few factors, including a great interest in IT among friends, I started the testing course. The fact that I was the second-youngest participant reassured me that retraining is an option available for everyone.

Working in IT enables facing different challenges every day. Our tasks require various tools and approaches, even working within one application. The uniqueness is the biggest value, along with constant learning and great satisfaction from work. I wish I learned more practical aspects during the course. Luckily, the internship enabled me to grow when confronted with the testing reality and land the current position.
Katarzyna K., QA Engineer
Katarzyna is involved in the QA stage of software development and deployment. She conducts manual tests to ensure the software created by developers is fit for its purposes. Moreover, she assures that any bugs or issues are removed from the product before it gets deployed to everyday users. Her path to IT led via various steps, as she graduated from a nutritionist major and worked in the health sector.
As a QA professional, I cooperate with developers in various projects, also taking part in demos for our clients. Thanks to convenient working hours at my previous work, I could spend most of my free time on self-development, as my interest in IT grew. The variety of industry meetings, conferences, and workshops, including Geek Girls Carrots, helped to gather knowledge on my own. I started with learning C++, Java, and JavaScript. After all, I consider myself a better fit in the testing area, but having some coding background is a plus.

What I enjoy the most is the opportunity for constant growth and the number of encountered challenges – there is no place for stagnation. Also, the stereotypes about people in this industry are quite far from the truth!
Ariane, Intern Project Manager
Before joining Neoteric, Ariane worked in accounting and sales management. As an intern in Project Management, she learns about all aspects of the software development process.
My work entails cooperation with developers and testers, contact with clients, conducting talks, discussing projects' progress, daily stands, responding to obstacles, project monitoring. I've heard a theory that girls who play video and computer games in childhood are more likely to develop an interest in technology later in life. My childhood memories were highly influenced by my brother, who introduced me to gaming and here I am!

I enjoy the IT industry because of the constant growth opportunities and the opportunity to be up-to-date with all tech novelties. The people are also a great plus, as developers are very helpful and take care of a better understanding of technical issues among laymen.
Monika, Product Manager at Appoint.ly
Monika is a land surveyor by training and an IT-related, marketing career path wasn't an obvious choice. Her path to a more IT-related field led through marketing meetups, workshops, conferences, and industry events.
My position itself is not technical. It consists of mostly marketing activities, product development, along with ongoing customer support. In my work, I am ensuring the proper functioning of the Appoint.ly app. I cooperate with programmers and testers in regards to product building and optimization. My duties include lead generation, acquiring new app users, creating Medium and Quora content. Networking brought me to this new, tech environment. I appreciate these surroundings, as there is no stagnation in everyday work. Since we're up to date with all the novelties out there, the job is also beneficial for my interest in technology in everyday life.
Daniela, Business Development Intern
Daniela learned about the opportunity to come to Poland from Colombia as an intern thanks to cooperation with IAESTE, an international student organization. She combines her knowledge obtained as an International Business student with great interest in sales and business development.
My position entails searching for leads, the people who could be a good match for our business. It requires the understanding on our side of the clients' pains, to which our software can be the right solution. I'm creative, calm, and logical in various circumstances, being also good with people. My previous job was an administrative position and I use those experiences here as well.

The amount of knowledge I gathered here is huge and I learned more about the IT industry from my peers than I could expect. Working in business development doesn't come with much cooperation with developers, but in the office, we're all in this together.
Elizabeth, CEO Assistant
Elizabeth has vast experience in international relations and communication, business development, project management, and sales. She acts as the point of contact among executives, employees, clients, and other external partners. Elizabeth manages information flow and the executive's calendar, supports the CEO in his responsibilities.
My approach towards this industry entails a different perspective than most of the tech people. I focus mostly on communication, public relations, and organizational aspects. Therefore, my skills are also crucial and add values to the IT field, but speaking of the strictly technical background – I can build a website on my own. I enjoy the dynamic environment and wanted to join an IT company to see this industry from the inside. Likely, there is a great Polish startup – Neoteric, where my new journey just started. My current position doesn't require engineering skills, however, it would be helpful to know more about the IT language and shorthands in order to speak and understand the all-present tech jargon, the company's lingua franca.
Jowita, Copywriter
I am more into arts and for years considered myself a bad fit in the IT industry. For some time, I wasn't much into computers and my biggest tech achievement were a few lines in HTML on my blog. A few years ago, I dove into online courses, engaged in the local Geek Girls Carrots community, and started battling code at Freecodecamp.
As a copywriter in a software house, I'm still more on the non-tech side. The position lets me connect my dedication to working with words with the interest in tech. Neoteric consists mostly of technical minds, but our outside communication needs to be understandable not only for other developers but also for those speaking exclusively human languages. This gives me the opportunity to help the software house speak human, not only tech. In the end, I wish I wasn't so hesitant with trying out learning tech-related things outside of my major earlier. The IT industry offers opportunities also for those with split interests like me.