JavaScript changes over the horizon
The two major open-source JavaScript foundations, Node.js and JavaScript, have recently issued an announcement on their merging plans. The information released on the 4th October 2018 sparked a discussion over the communities' future.
The Node.js Foundation and JS Foundation boards have met several times already to discuss a potential alignment of the communities. The Foundation leaders and key technical stakeholders believe that a tighter alignment of communities will expand the scope of the current Foundations and enable greater support for Node.js and a broader range of JavaScript projects. We are very interested in hearing directly from the community and welcome all questions, ideas, and opinions so that the structure aligns with the expectations of the community. For this reason, no formal decisions regarding a merged Foundation and its potential organizational structure, governance policies, technical framework or leadership have been made at this point and will be formalized based on feedback from the community.
says Mike Dolan, Vice President of Strategic Programs, the Linux Foundation.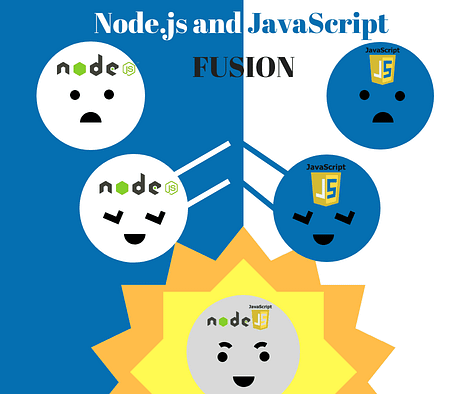 The Node.js foundation is pursuing a mission to help accelerate Node's development and spread its adaptation among users, while the JS foundation supports projects spanning the entire JS ecosystem. Both of said organizations focus on congregating JavaScript environment and are supporting developers worldwide.
Creators on both sides came to a preliminary consensus on consolidation plans. This move is supposed to engage both organizations in a tighter integration, enabling providing better support to the community, as well as a greater scope of JS projects. Said merge was discussed by the foundations' managers and so far, raises mostly positive and anticipating reactions among programmers.
As Kris Borchers, Executive Director of the JS Foundation tweeted, the intent behind the planned merger is to collaboratively support and sustain the JavaScript ecosystem.
The reception of this announcement is positive among developers, as such a move will most probably make working on projects more efficient and user/customer/developer-friendly.
Read also: How to choose the best Node.js development company?
What is the purpose and what does it mean for the community?
The merger agenda includes such goals as enhanced operational excellence, streamlined member engagement, increased collaboration across the JavaScript ecosystem and affiliated standards bodies, and an "umbrella" project structure to tighten the collaboration across all JavaScript projects.
So far, JS environment seemed to fall behind Node.js and the merger could flatten the inequalities for the sake of better efficiency. Although laconic and brief, the news caused enthusiastic feedback among JS users, who so far needed various tools in order to benefit from numerous novelties – the integration should bring an end to such inconveniences, resulting in more compelling work. To some extent, this junction might serve a highly demanded role of the Ockham Blade, reducing redundant tools to a necessary minimum and, consequently, increasing productivity.
The announced plans may lead to extensive benefits for the community, which could in the future translate into measurable gains for companies developing in JS, leading to better efficiency of conducted projects. Node.js is known for its remarkable ability to handle a great scale of projects, as it is used by such giants as Uber, Netflix, Twitter, and 9gag. A recent addition to Node.js enabled multithreading, which is also beneficial for the technology development. Current plans could significantly increase Node's popularity, which may mean the right time to expand existing projects into bigger endeavors. As far as we can tell now, the community and the market will gladly welcome the discussed merge, as it could speed up the development, enable new features, and give a broader, more efficient support.
Read also: Popular companies using Node.js
We need to keep in mind that, as for now, the statement is on an intent to merge, not announcing the actual merge. The board of directors is yet to make decisions on further steps, including formal decisions on the fusion, the possible organizational structure, and technical framework. Since we're all anticipating further details, we're looking forward to the outcome of the Q&A session during Node+JS Interactive, which will be held on the 10-12th of October in Vancouver. Hopefully, the outcome will be beneficial for the whole JavaScript community and bring a new quality to JS development.
Looking for Node.JS developers?
Find out how to get a cross-functional tech team to work on your project
Read the article