Who owns the robots owns the world, as Richard Freeman, a professor of economics, stated in his article published in the Harvard Magazine. However, there are robots and there is RPA. While Robotic Process Automation doesn't mean building an actual bot – it's a process, engaging the machine in mimicking human behavior – robotic solutions in business are the next step in optimizing everyday work on a scale bigger than ever. The race against time began a while ago and RPA is the next level of automation in business processes. Present automation solutions have outgrown the "mistakes of youth" of its predecessors, including the necessary human intervention in order to successfully perform certain tasks.
What can the robots do for you?
All repeatable, manual tasks performed by humans can be executed by dedicated software due to implementing automated abilities. Learning and repeating actions of a human conducting certain tasks is possible through observing how the user interacts with software using Graphic User Interface (GUI). RPA solutions do not require special APIs; instead, the software examines users' actions on the screen – what the human writes and clicks. The previously-used computer mouse movement marking already went by the wayside and issues related to that topic are not a thing anymore. Nowadays, the possibilities provided by the GUI make user behavior tracking more efficient and user-friendly, enabling working on Virtual Desktops. Robotic automation solutions are nowadays often equipped with selected AI and machine learning mechanisms (RPA II), which results in a wider scope of application.
Implementing robotic process automation creates a digital workforce by freeing manual workers from their most dull, automated duties. The robotic automation software is complementing the existent software, it doesn't replace nor modify it. Instead, the systems integrate with the present software running in the specific environment. What is also worth mentioning – RPA doesn't require the user to possess coding abilities! Moreover, once the automation is set, you do not have to hire an additional developer to watch over the process.
The robotic process automation market revenues in 2021 are forecast to exceed 2 billion dollars worldwide, meaning an almost 10-fold growth in comparison to 2016. PwC estimates possible savings in global workforce cost to exceed $2 trillion and as much as 45% of work activities to be automated in the near future. Savings due to the implementation of RPA consist of people cost and other, non-employee related costs, such as operating expenses, technology, and facilities. Moreover, RPA ensures further benefits as a result of error-free task execution and improved service delivery. Due to the aforementioned savings, robotic process automation has a relatively short payback period, as the initial investment recovers within 6 to 9 months from the implementation.
How to determine if you can benefit from RPA?
If your business has several systems to be handled, task execution is time-consuming to an extent level, there is no actual dependency on human evaluation, loads of used data need to be compared or transformed, and the tasks are repetitive – your enterprise can benefit from implementing RPA.
The list of areas benefiting from robotic business process automation covers numerous industries, and the possibilities keep on growing. No matter if it's real estate, marketing, sales, accounting, resourcing – scalable RPA solutions can carry out operations and speed up your process.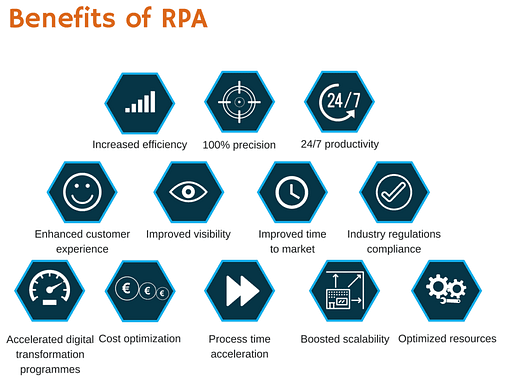 Rule-based tasks without human intervention
Now think about dull, mundane duties executed manually in your enterprise. Each day, every day, 9 to 5, Monday to Friday, 40 hours a week, 56 weeks a year. Think about all these mindless actions that consume time and energy. Imagine your employees engaged in repetitive actions which after all do not require human touch to be executed properly. Imagine the potential and workforce being wasted on things that could be done by a machine. When you assign these task to RPA, humans can focus on what actually does require wits and human touch. Clicking the same checkbox, manually filling the same form, adding the same value over and over again. Heck, even befriending people on social media or searching for a perfect job candidate can be assigned to a proper algorithm to conduct it for you. After all, the people you hired are capable of more than just clicking the same button over again, and when the button is clicked by a machine, humans can engage in more responsible actions. Automation lets you work nonstop, giving your business 260.000 error-free working hours yearly, nearly 7 times more than a regular employee.
Marketing and recruitment automation
Alior Bank, a leading banking services provider, introduced the "Digital Disruptor" strategy for years 2017-2020, aiming at the cost optimization leader position. Within the mentioned strategy, the bank implemented Dronn – a communication tool based on AI, biometry, and speech analysis to handle customer inquiries in a smooth manner. The tool was integrated with a statistic calculation and result visualization environment – a solution that enables real-time modeling in order to proceed with the conversation based on data retrieved from the customer. Said tool is used in several operations, including marketing surveys: the Virtual Advisor carried out over 1.3 million conversations in the customer segmentation process in one year. Moreover, the bank admits having recognized over a hundred processes as suitable for robotization in upcoming years. Recent actions performed by Alior resulted in record performance and achieving the second position on the national market.
Repetitive work automation
RPA is an excellent tool for the finance sector and the example of process automation in one of the British banks shows hard data. Before automatization, every transaction lasted approximately 30 minutes. The repetitive tasks were delegated to robots, as the robotic developer mapped the processes and programmed the robot in the implementation phase. The implementation of robotic process automation resulted in reducing the human transaction time to 10 minutes and achieving 80% ROI within 6 weeks of operation.
Offshore business processes
The Global In-house Centres (GICs), being constantly pushed to achieve expected results along with cost savings, are an excellent environment for implementing RPA and can fully benefit from its range of features. RPA brings a new quality to the traditional offshores and significantly improves the process speed, quality, and security. Depending on multiple factors, such as the recurring cost of RPA implementation and potential extent of automation, the GICs are able to achieve annual savings up to 40%. The number of FTE's (Full-time Equivalent, a unit that indicates the workload of an employee; used to track cost reductions) replaced by robotic process automation can even reach 3-4 FTEs.
Creating reports
Assigning report creation to machines gives you the confidence that the required analyses or summaries will be done timely and error-free. Automation solutions can work in this case both on-demand and scheduled, resulting in reports being always prepared when they are needed. The software keeps track of all performed activities, acknowledges data changes and comes as a great aid during audits.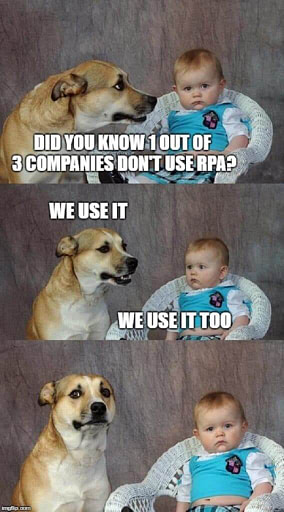 To do or not to do?
Think about robotic process automation as a lever to bring your business to another standard. Current estimations show that 2 in 3 companies are introducing or considering the implementation of RPA. If you do not want your company to lose the competitive edge, that's the last call to jump on the bandwagon and stay ahead of your competition. Improve your customer and employee satisfaction, enhance compliance, and accelerate productivity by letting the robotic software work for you.
Find out how we can improve your process with RPA!