It's no secret that the COVID-19 pandemic has initiated many challenges for brick-and-mortar-style fitness facilities. Whether they have experienced less demand due to customer fears of getting sick, or people simply not wanting to abide by pandemic-related protocols, traditional-style gyms have faced major challenges. Ironically enough, as many people have become more self-conscious of their health, they have a genuine desire to get and stay healthy.
So, if fewer people have been training in gyms, where exactly are they getting their workouts? Simply put, many gym & studio attendees have transitioned to fitness apps during the lockdown to maintain optimal health without the additional risk. Over time, they have realized that this new method of staying in shape was both fun and convenient, thus leading to the skyrocketing growth of fitness technology. With that in mind, let's start off this piece with a question:
What is fitness technology?
Most of today's fitness tech trends lie within one of the following categories: smart home gym equipment, wearable devices, smart scales, and apps.
Apps are one of the fastest-growing fitness industry trends because they are cost-efficient and typically very easy to use. Most fitness apps will fall into one of the following classifications:
Diet and Nutrition
Activity/Workout Tracking
Workout Fitness Apps
Meditation
Today, fitness technology is being heavily influenced by the sports industry. Technological advancements that were previously only available to professional athletes through AI development services are now available in commercial fitness apps. This creates plenty of opportunities for sports amateurs, such as gaining access to personalized training recommendations and exercise instructions, without the need to cooperate with a trainer at a brick-and-mortar gym.
Read also: Branding for fitness: how can a custom gym management software enhance your brand identity?
How is technology changing the fitness industry?
Fitness tech trends have spread like wildfire across the fitness industry since the pandemic began. Users see value in online training because it is entertaining and gives them lots of new opportunities, like exchanging their experiences or competing with other app users.
Additionally, these solutions leverage real-time data, which allows them to track progress. Consumers love it because it gives them something to work toward, such as new training milestones. Additionally, it's convenient to be able to work out with the app – from home or any other place they want.
While some people have transitioned entirely to training online, some use a hybrid approach. This includes working out partially at the gym while also taking time to work out with the app.
Hybrid fitness tech trends include two primary services offered by the same provider: at-home and in-club workout routines. The hybrid approach initially picked up steam after COVID restrictions shut down gyms leaving fitness club members with no other option but to work out from home.
These last two years have shown gym owners how important it is to be flexible in order to avoid losing clients who prefer hybrid or online workouts.
Read also: How to create a bulletproof fitness marketing strategy?
Are traditional gyms a thing of the past?
It's important to know that fitness tech trends have not pushed traditional gyms out of the door. These facilities still have supporters, but more and more people prefer the flexibility that a hybrid approach offers. They want to be able to utilize both options.
Owner-operators of traditional-style facilities can retain more customers by implementing a hybrid approach consistent with the newest fitness trends. It's a sure-fire way to improve a loss of revenue situation. In fact, exercise and media equipment company, Peloton, has been reported to increase its revenue and stock size to $98.61 billion thanks to the implementation of digital apps. At the time of the report, that was the highest Peloton had ever reached.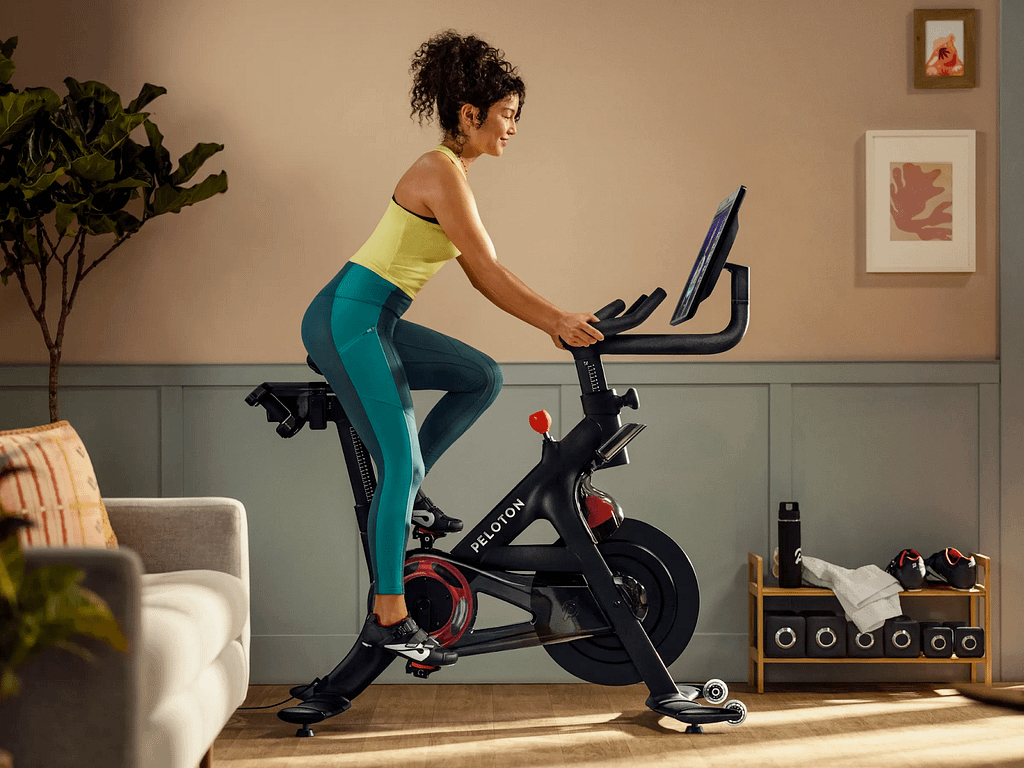 Examples of top AI-powered fitness solutions
AI-powers digital fitness – there's no doubt about that. Let's take a look at some of the AI-powered solutions on the market, which show some of the most exciting developments in the fitness industry.
Athlete tracking systems
Athletic tracking systems have been around for some time now. In 1999, the Australian Institute of Sport produced a GPS tracker that, for the first time, could be used outside of laboratories. As the product evolved over time, it eventually became a wearable device that was placed on the backs of athletes. Over its evolution, inertial sensors (accelerometers, gyroscopes, and magnetometers) and heart rate monitors were added to improve the product.
Fast forward to today, wearable devices still commonly operate through inertial sensors and GPS trackers along with Gyro sensors. Gyro sensors are incredibly useful for highlighting a variety of data points such as speed, direction, and even body angles.
One reason that fitness trends related to wearable devices are incredibly popular is that their data can be integrated with fitness applications. These integrations allow fitness data to be utilized to make personalized exercise recommendations along with related content.
A prime example comes from the Ironman triathlon competition, which is said to be one of the world's most challenging one-day sporting events. It allows tracking of each participant's location throughout the entire competition. This includes tracking their elevation level, pace, and ranking among other participants.
Computer vision: pose estimation and movement recognition
What in the world is human pose estimation, you ask? Human pose estimation is a technology that is currently gaining wide popularity in sports. By leveraging computer vision and 'seeing' the user's body orientation, the app can understand whether the trainee is positioned correctly and provide posture improvement instructions, if necessary. A similar fitness trend includes movement recognition, which is the process of analyzing human gestures and converting them into comprehensive mathematical algorithms.
These are especially handy because they use computer vision technology to facilitate effective workouts with humans. It's basically like having an online personal trainer on standby 24/7. In addition, these technologies aid humans in maintaining proper posture and technique which results in fewer workout-induced injuries.
Read also: What is the cost of fitness app development?
Computer vision: real-world examples
Infigro is a computer vision software that can be accessed directly from a mobile phone. It uses real-time applications to coach and evaluate its users. Then, once it has made a concise evaluation, the software makes suggestions for improvement.
On top of its advanced training features, Infigro also offers a mental health module (one of the differentiators from similar solutions) and nutritional suggestions along with meditation techniques.
Another popular computer vision software is Asensei. It is a fitness coaching platform found on the iOS app store, which lets users access the same programs leveraged by professional rowers, including Olympians. The software helps guide its users through motion vision sensors that are found in wearable devices.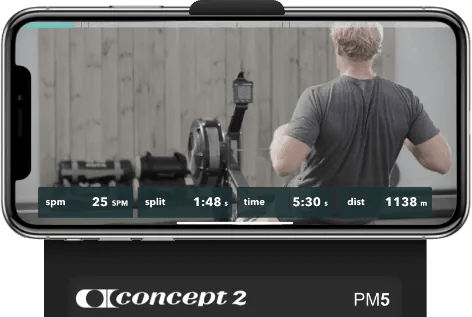 If you're interested in how these and similar fitness apps are being created, be sure to read how to build online fitness applications in our dedicated ebook.
The main technology trends in fitness apps
If you're planning to build your own fitness app, then here are a few fitness industry trends you should be aware of before deciding on its functionalities.
Wearables becoming part of the fitness mainstream
It may come as no surprise that one of the primary fitness trends in fitness apps is related to wearable technologies. While their accuracy has faced scrutiny in recent years, wearable devices have remained the #1 fitness tech trend. In fact, wearable tech is currently estimated to be a $100 billion industry.
Wearable technology includes everything from GPS trackers to smartwatches. It's trendy because of its convenience. Users can track their heart rate, calories, sleep, oxygen levels, and even check for heart arrhythmias on certain devices. Wearable devices have made such an impact that life insurance underwriters now use their data to influence their decisions.
Neoteric's Fitness Tech Advisor, Tomasz "Johny" Hencel, discussed fitness trends related to wearable devices saying:
"A wearable device may predict when users should move, eat, drink water, etc., based on their parameters and activity during the day. Data from wearables can be used by personal trainers who will get more insights on how to work with a specific customer.
On the other hand, customers can get recommendations of the right group classes based on set metrics. The same set of information can be shared with an app and presented to the user. Long-term predictions based on historical data create a strong value that will increase customer engagement."
Online coaching
Personal training is another among the top technology trends in fitness apps. In fact, it has been cited as the 6th most popular fitness industry trend in 2022. For this reason, fitness app creators have taken notice and began producing their own online coaching platforms.
Proving users with their own virtual coaching professional strengthens the bond between users and their applications, making these platforms very successful.
VR and AR entering the fitness space
Similar to an online coaching experience, virtual trainers are part of the major fitness industry trends as well. Virtual trainers are so effective that users often say they're close to having a live, in-person trainer. The main aspect that sets them apart from a typical trainer is that a broader audience can be reached all over the world.
New-found gamification interests
The Welltodo 2022 Consumer Wellness Trends Report has highlighted fitness industry trends but speculated that they must adhere to Gen-Z standards to remain afloat. Further, it's worth noting that fitness trends can be heavily influenced by millennials as well. In fact, 75% of gym memberships are with the Gen-Z and millennial generations.
One of the most interesting trends, which is especially popular among Gen Z and Millennials, and is something they expect to see in fitness apps, is gamification. In fitness, gamification is the process of using game-inspired elements in training. If you've ever seen a treadmill or ergometer that lets you compete with a person on the equipment next to you, then you've experienced it first-hand. It's also extremely popular outside of studios, in fitness apps. A prime example of gamified fitness software is Zwift, which is heavily influenced by the metaverse – a trend that has, in its own right, become all the new hype in recent months.
Read also: Best gym management software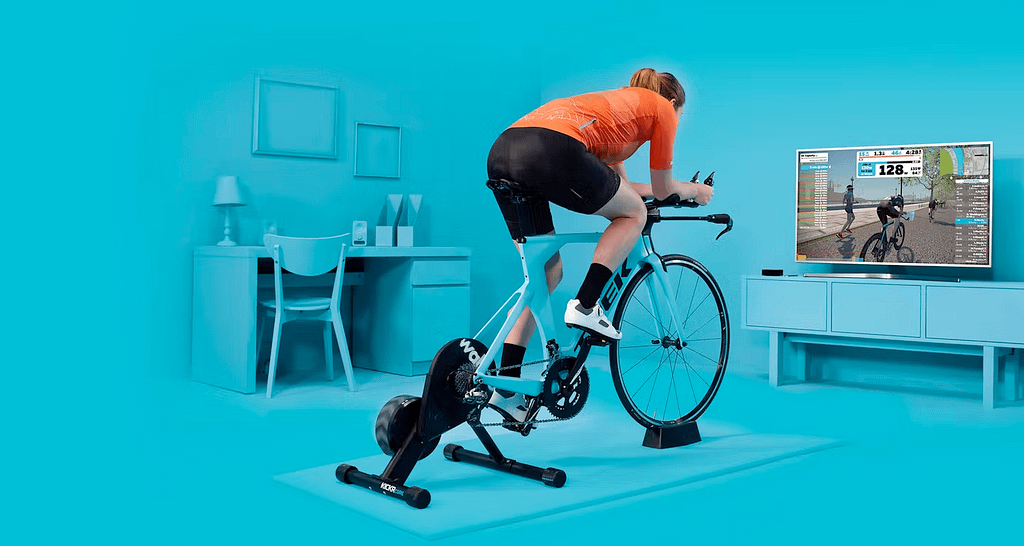 Enhancing your digital fitness products and services
The above-mentioned applications and features are a great way to enhance a fitness project. From increased engagement to longevity, fitness apps are a step in the right direction not just for startup founders looking to benefit from the latest fitness market trends. They're also a perfect solution for studio owners, looking to supplement their standard, brick-and-mortar service. Ultimately, entering the world of fitness apps is a great way to ensure customer loyalty and long-term client satisfaction. Also, to appeal to people who train regularly and seek solutions that will make their workouts more fun and exciting, all the while motivating them to perform better, even if they exercise on their own.