Slack vs. Rocket.Chat, HipChat, Ryver, Workplace by Facebook, Hangouts Chat, Fleep, Bitrix24… These are only a few of a large variety of team communication tools. They come in free, freemium, or paid options, and they provide various functionalities.
Among all these tools, in Neoteric we've been using 3: Slack, Rocket.chat and Hangouts Chat. Here are their pros and cons that we noticed during the periods of tests and using them in everyday work.
At the end of the article, I present a table gathering functionalities that you can find in each tool.
Methodology
The pros and cons are based on the research conducted with our team. To focus only on the most important ones, I only go through the ones that were pointed out by more than 2 people.
Each tool has its Neoteric rate, which is an average rate based on the 24 responses collected during the research conducted with our team. The rate falls between 1 and 10, where 1 is for "It's awful, I hate it!" and 10 is for "It's awesome, I love it!".
Slack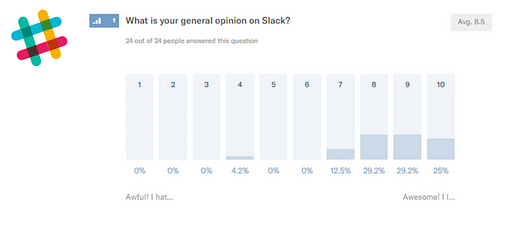 The most popular messaging app for teams. In 2017, Slack passed 6 million daily users and 2 million paid accounts.
Pros
Design and UX
As we can read in a case study by MetaLab, who helped Slack design the app:
"Throughout the entire product, everything seems to playfully jump around and pop off the screen. Each of these interactions is designed not only to help the user understand what's going on, but put a little smile on their face."
Differently than in other business tools, every element of Slack is an opportunity to be playful – and it applies both to the pretty, bubbly interface, and the pieces of copy.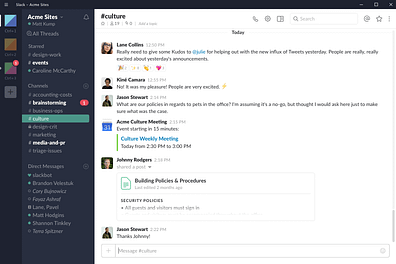 Integrations with other tools
The number of integrations, apps and bots available in Slack is impressive. JIRA, Trello and other project management dashboard? Checked. Github, Gitlab and other developer tools? Checked. Sales and marketing tools? Checked. Customer support? Checked. Supporting team culture? Checked. Video calls? Checked. And the list is still growing! In the Slack's App Directory, you can find all the apps that can be easily integrated with this tool! If you don't feel like exploring yourself, there are a lot of lists, such as Marketing Slack Integrations or Slack Apps That Will Make Your Team Even More Productive.
Custom emojis
Making emojis with the pictures of your teammates is not only fun, but it also creates a pictographic ethnolect of the team, which enriches its culture and builds its sense of community. Although we weren't really using those back when we were using Slack (the fun started with Rocket.chat), this feature is definitely considered as a huge advantage now.
Mobile app
It's well designed, it works fine. It does everything that one may be expecting from such an app.
Push notifications
It is a standard in such tools, but with Slack, they work really well – in the desktop app, web app, and mobile app.
Reactions
You will never fully appreciate them until they are lost. Emoji reactions can be used to respond to any message and for various purposes: voting, checking off to-do items, showing excitement, or just for fun.
Self-chatting
A new level of solitude. However, when you think about that, it's quite a useful option that allows you to save an article to read it later, make a short note or check how the image in the link displays.
Syntax highlighting
If you put your code in a snippet, you can select the language you'd like to format it to, and Slack will do all the magic, making your code easier to read for your teammates.
SaaS model
No need to provide your own hosting. Although this solution has its opponents (we'll get to that later), it may be an advantage as it doesn't require you to maintain your own servers. You simply pay for the right number of accounts (or use the free option) and enjoy the app.
Cons
Price
The biggest disadvantage of Slack is definitely its price. $6.67 per user in the standard plan may not be that much when you have a small team, but when your team grows, it may get to the point when you start to look for a cheaper option! Even though you can use the free version, you should be aware that after reaching the limit, the old conversation will vanish from the archive. And again – the bigger your team is, the more serious issue it becomes.
Mobile app
Even though the majority of our team consider it rather as an advantage, it has its opponents, too. Some of the users complain about the gallery or about its overall performance.
Rocket.chat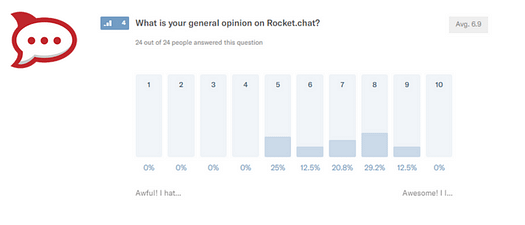 They introduce themselves as the leading free open source team chat Slack alternative. With 16.7k stars on GitHub and more than 850 contributors across their products, they are the largest and most active open source team chat solution.
Pros
Custom emojis
The era of Rocket.chat was when we started using custom emojis… And I can tell you that reacting with your teammate's funny face is way more amusing than reacting with an ordinary emoji!
Price
If you decide to use Rocket Cloud and your team is over 50 people, it's $200/month. You have backups twice a day, you have 1 TB of storage, but still – it's not cheap, considering that it is only a team chat, without any other tools.
Self-hosting
Even though in our case this was one of the most important reasons why we left Rocket.chat, self-hosting turned out to be an advantage for almost half of the responders. If you're ready to maintain the server (perhaps you need it for more reasons), it allows you to use Rocket Chat without extra payments.
Reactions
Emoji reactions make communication easier. Do you need to pick a date for a team party? Let the team vote with different symbols. Panda goes for Friday, snake goes for Saturday. It's much more convenient than asking each team member separately. Checking off to-do items? Picking a check symbol is much easier than writing a message "done". And it doesn't spam the channel. Showing your reaction to a message? No problem – there are dozens of emotions that can be expressed with a single click. And… it's fun.
Design/UX
Quite similar to Slack, which makes it rather easy to switch from one tool to another. It may not be the most beautiful app you've ever seen, but it's fine. And they are constantly improving it.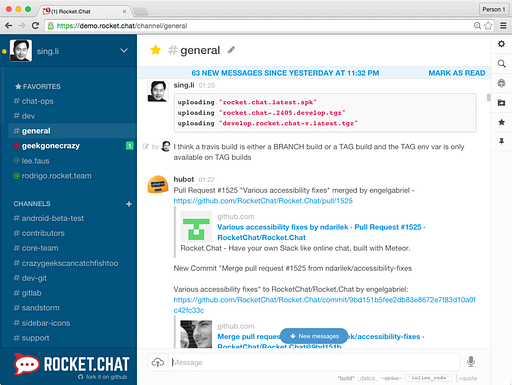 Self-chatting
Need to check how the miniature of the image displays? No problem. Want to save some article to read it later? Or make a short note without opening another window? It's all here.
Integrations
There are not as many integrations as in Slack, but you can use webhooks of 25 apps, including Zapier, Github, Gitlab, Jira, Trello, and Giphy.
Push notifications
Even though they sometimes lag, especially in the mobile app, it's good to have them.
Cons
Mobile version
Unfortunately, the mobile app is one of the weakest points of Rocket. Even though Rocket.chat+ works way better than Rocket.chat, it's still far behind the Slack app or the Hangouts app.
Design/UX
The design of Rocket.chat has both its supporters and opponents. If compared to Slack, it's easy to notice its manquements. But don't worry – using it on a regular basis will not cause any serious trauma.
Support
Support is a premium functionality. However, it is worth noting that Rocket has a helpful community around – they are easy to reach at the official forum, or via Facebook and Twitter.
Self-hosting
If you don't need to maintain your own servers for any other reasons, it's a huge disadvantage of Rocket. However, it is worth noting that there is Rocket.chat Cloud as well. It's a paid option ($50/month for teams up to 50 users and with 50 GB of storage) but you don't need to worry about the maintenance of the chat.
Hangouts Chat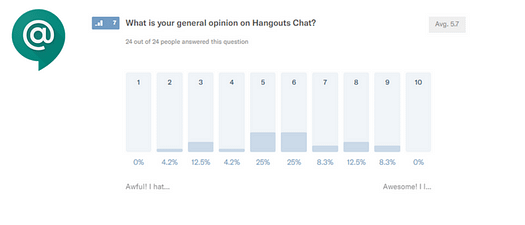 Launched on 28th of February 2018, Hangouts Chat is the youngest and the most unique tool in our set.
Pros
Logging with Google
Yup, there is no need to create another account and worry about another login and password to store. You simply log in with your Google account. Could it be any easier?
Mobile app
It works smoothly and looks good, it's not very heavy. Push notifications work fine as well. Basically, it's a good mobile app.
Bots
Disco bot (which can be recognized by Slack users) to give your positive feedback to your team, Meet to schedule meetings with your teammates, Giphy, and other chatbots are definitely an advantage of Hangouts Chat. And you are able to easily create new ones!
Bots may not be a new thing, we had them in Slack and we had them in Rocket.chat, but it's good that Google decided to use them in their chat as well.
Integrations with other tools
You've got the whole G-Suite, all in one. Meet bot will go through your calendar, you can start a video conversation with Hangouts Meet, and Google Drive will help you send large files.
Push notifications
As said before – it's nothing unusual now, but it's good that they are there and that they work well across different devices.
Price
The prices start from $4 per user, and the enhanced office suite with unlimited storage and archiving costs $10. It is not cheap, but unlike the other team communication tools, the price is not only for using the messenger but for the whole office suite. If you use G Suite already, switching to Hangouts Chat may be a smart move.
Price-quality ratio
If it were a separate tool that costs $10, or maybe even half of that price, it may not be such a good deal. But with the whole suite, it sounds rather reasonable.
Threads
I think I would not lie if I said that it was the weirdest thing to get used to when we switched to Hangouts Chat. Organizing discussions in threads has now almost as many supporters as opponents. Theoretically, it should make it easier to stick to the topic. We discuss each in a separate thread. Unfortunately, there are also some disadvantages of such a solution. We'll get to them in the "Cons" section.
Design/UX
Even though it appeared to be the least popular preference in the Neoteric team (6 votes compared to Rocket's 9 and Slack's 19), it has its supporters. It is clear, minimalistic, and it looks very professional.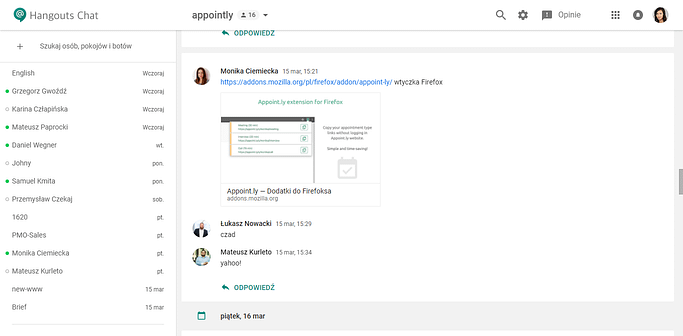 SaaS model
No server to maintain, no problem to deal with. It's all in the cloud.
Cons
The list of channels is not separated from the list of people
It looks rather messy and it's way less functional than separating these two types of conversations. It has some logic in it, it simply shows the most recent conversations on the top, but as you can see by the results of our quick research – it is not very convincing.
No custom emojis
No. Custom. Emojis. Feel this pain of 75% of the responders!
Seriously, we really miss that. Reacting with your teammate's face is way more fun than using ordinary emojis.
Though at the beginning we also suffered because of the lack of emoji reactions to messages, we don't have to suffer anymore! We love communicating with pictograms and we can't help it. They may sometimes be silly but they're also functional. What a relief to have them!
We still miss the custom emojis, though. Not letting that go.
No open channels
Ok, so you create a new channel. You want it to be open so that everybody interested could simply join. But you can't. Instead, you can write that you create such a channel elsewhere and wait for the people to notify you that they'd like to be invited. Moreover, the list of channels is not visible – every channel is hidden. So if someone missed your announcement or there is a new person in the team… Well, it won't be that easy for them to join the room.
No self-chatting
No support for the loners. Or for anyone who would like to use the chat for the purposes described earlier, such as saving a short note or previewing a link before sending it elsewhere.
Threads
Threads probably make the biggest difference between Hangouts Chat and other team communication tools. Every topic has a separate thread where you discuss that topic only, and nothing else. That seems reasonable, right? On the other hand, it's possible to lose one thread and miss the discussion. And it requires some creative solutions in topics such as "Work from home" which are purely informative and don't generate any discussion (HINT: our solution was to start threads where people could write "wfh" without starting a separate thread for each day. It works!).
Design/UX
It is clear and minimalistic, it looks nice and professional, but it simply doesn't bring such positive emotions as the warm and friendly Slack.

Summary
Instead of summarizing, I would like to present you with a short comparison of the chosen features in the presented communication tools:
Feature
Slack
($0 – $12.5 monthly per user)
Rocket.chat
($0 – $500 per team)
Hangouts Chat
($4 – $23 monthly per user)

Real-time messaging

✓
✓
✓

Team channels

✓


(separated from the conversations with single users)

✓


(separated from the conversations with single users)

✓


(mixed with the conversations with single users)

Open channels

✓
✓
✗

Drag-and-drop file sharing

✓
✓
✓

Mobile app

✓
✓
✓

Push notifications

✓
✓
✓

Office suite

✗
✗
✓

Conversations organized into threads

✗
✗
✓

Self-hosting

✗
✓
✗

Logging with Google

✗
✗
✓

Integrations with other tools

✓
✓
✓

Chatbots

✓
✓
✓

Self-chatting

✓
✓
✗

Emoji reactions

✓
✓
✓

Custom emojis

✓
✓
✗
Even though Hangouts Chat appears to be the weakest product in this set, we need to consider that it presents a completely different chat model than the other two tools and it may simply require some time to get used to. First of all, it's not a separate tool – it's a part of G-Suite, and this is way more than an instant messenger for teams. Solutions such as threads, which make it completely different from its competitors, have both supporters and opponents.
Although Hangouts Chat has some serious disadvantages, it is worth to keep an eye on it. It's a new tool (release date: Feb 28, 2018) and future updates may quickly improve its early drawbacks.