Eastern Europe provides five of the top 20 countries listed in AT Kearney's 2016 Global Services Location Index and it's becoming one of the most attractive destinations for companies that want to outsource software development. Poland, ranked at 10th position, is the top one of these countries. It is also the only European country that appears twice in the first 30 of the Tholons Top Outsourcing Destinations for 2016 and the only Eastern European country listed there in the first 10!
If you're a small or medium-sized enterprise searching for a software development agency to work on your product, then Poland is almost certainly the best choice. And here is why:
Polish developers are top software developers in the world
Polish development teams are widely recognized as the best software developers in the world. They get the highest ranks in international programming contests, such as Google Code Jam, Microsoft Imagine Cup, the Central European Programming Contest (CEPC), TopCoder, they are currently ranked 5th in the world in the Top Coder ranking, and 3rd at Hackerrank.
But what does it really mean? Basically, these competitions consist of various algorithmic puzzles that require different programming skills to be solved. They check the proficiency of the developers both at using different technologies but also their problem-solving approach, abstract thinking, and teamwork. The winning teams are therefore considered as skilled to take actual development projects and deliver the results successfully.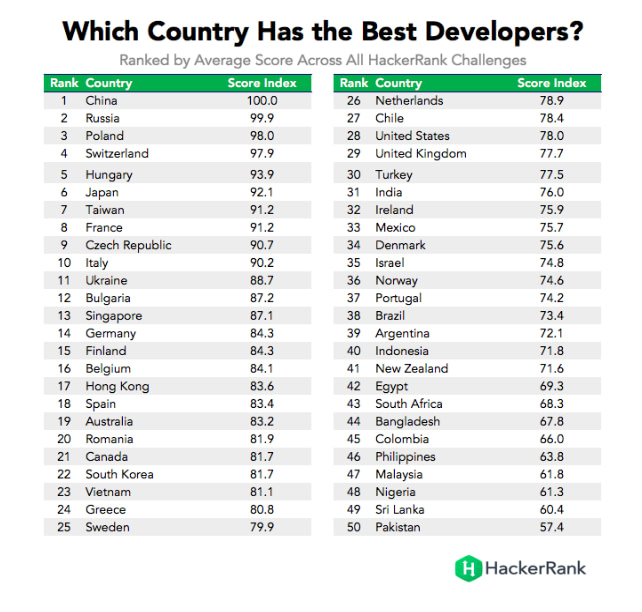 Developers in Poland have a strong educational background
According to New York Times, almost 40% of Polish people aged 25-34 have university degrees. This puts Poland in the second place in that category among the nearly three dozen countries listed. The United States, at 35 percent, ranks 11th. And they make around 10% ICT specialists of all university graduates in the European Union.
Moreover, thanks to the strong educational emphasis on STEM areas (science, technology, engineering, mathematics), the market for software development services is growing really fast there. This translates directly into good capabilities. It is relatively easy to find skilled developers in Poland and build dedicated software engineering teams.
Read also: 10 awesome software products you didn't know were built in CEE
They focus on using cutting-edge technologies that are really up-to-date
The history of software development services in Poland is relatively short. Thanks to that, the majority of software development companies there don't have a strong IT legacy. Unlike some longer-experienced countries, e.g. France or the UK.
They use the latest tools and technologies. They are willing to implement the most innovative solutions. And they care about code quality. In Neoteric, for instance, our fully automated Continuous Integration and Deployment (which ensures the stability of the system) includes Quality Assurance at every step of the development process. Our average code coverage is 80% (compared to the standard 15-20%).
Using the latest tools and new technologies, staying up-to-date with the recent technical trends, the developers are forced to constantly learn and improve their work. But apart from the self-development aspect, it also has a direct impact on the products they build. With every update, they can get safer, faster, and more efficient.
Read also: Software development outsourcing trends
They offer a variety of services – you can outsource software development end-to-end
There are a lot of good software developers in Poland. They are specialized in different areas, and they can support you with different challenges at different stages of your software product development process. They can help you with the whole process of product design and web app development. From ideation, wireframing & UX design, through the early prototype, MVP, to maintaining a fully featured product. Many software development companies can also support you in strategy consulting, digital transformation, or even AI-related areas such as big data consulting or machine learning.
Moreover, with a wide choice of software development companies in Poland, you can choose to work in different outsourcing models depending on your current needs. Whether you build a new team or treat their software engineers rather as a team augmentation, you will surely find your match.
Read also: Software Development Life Cycle
They work smart and effectively
Most of the Polish development teams are familiar with the best project management practices. Especially the ones working in a product development company or a software development agency! Working with agile and scrum on a daily basis, they closely align with their clients' teams to achieve the best productivity during the whole process of application development.
By creating multi-disciplinary teams, they have a wide overview of the project. They are also able to focus on its quality, performance, design, user experience, and the process of development itself. Working on numerous projects, they develop the best product development practices that contribute to faster and more efficient delivery.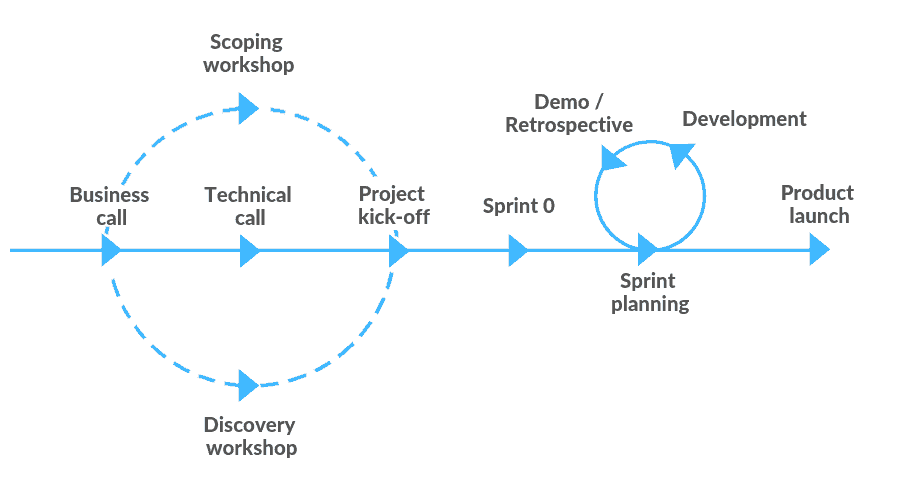 Working with Polish software developers is easy as there is practically no cultural gap
Both cultural differences and language barrier may be an obstacle when it comes to custom software development. Successful communication contributes to successful development, so you should never overlook it. Luckily, if you are from the US or Europe, there are no big cultural differences when working with Polish devs. (As compared to India or China – which are still the most popular software outsourcing destinations). The developers in Poland are used to working with clients worldwide.
Also, you don't have to worry about communication problems. Poland was ranked 9th in the world for English skills in the EF English Proficiency Index 2015, and 10th in the 2016 edition, getting ahead of most Eastern European countries.
The time difference is acceptable
Offshore software development is always kind of a challenge. When working with any remote software development company, you need to make sure that you don't experience communication problems related to a big time zone difference. The bigger gap there is, the more attention you should pay to the transparency of the development process. Having a clear and updated project roadmap, and regular updates with the team are must-haves there!
There is a 9-hour difference between San Francisco and Warsaw. Even when working with a software development company from the US, it is not difficult for companies in Poland to find some time for a call. It doesn't have to be the whole working day. After all, you decide to outsource to be able to focus on your core business, and not to spend the whole team with software engineers, right? For closer destinations, like Western Europe or Eastern Europe, the difference is even smaller. So it's even easier to find some time for a call.
Having clients from different continents, we learned how to deal with time zone differences in order to make cooperation a good experience for everyone. With the right approach, the different time zone really isn't that big of a problem.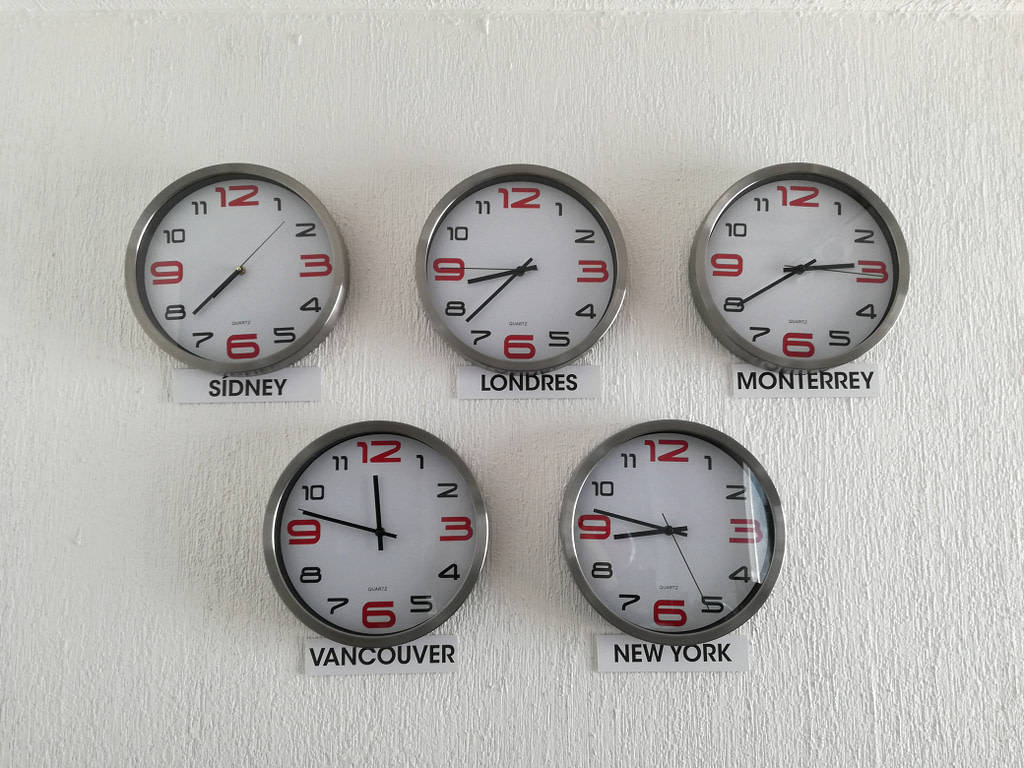 They have high-security standards that fulfill the EU standards
Charles Parks, a partner and outsourcing specialist at Pinsent Masons, says that companies looking for a contractor in custom software development outsourcing should consider issues around data protection. Especially when it concerns customer records or invoice details, he advises choosing countries within the EU – such as Poland or Hungary – which abide by the same data protection legislation as the Western European countries. With the General Data Protection Regulation coming into force, the importance of data protection was brought to everyone's attention. GDPR gives companies guidelines on how they can operate and manage the data.
Their price is relatively low
Although prices per man-hour here are not as low as those found in India or China (in fact, they are often similar to the US or Western European rates), the contractors from Central and Eastern Europe usually provide high-level skills and better product quality than the average software developer. What does it imply? The apps are delivered faster, they are more efficient and performant. Also, the quality of the code makes it is easy to develop the app further by any other web application development team. If you decide, for instance, to grow your own in-house team. According to Dave Hecker:
Most startups want the absolute best developers and they would be willing to pay premium prices, but in reality many startup companies can't afford to hire top U.S. developers – that's why clients go offshore in the first place. For these startup clients who need to take advantage of overseas savings but are still willing to pay rates near the top of the market, Polish software developers can be an excellent choice.
We also need to remember that the price per man-hour is not a quantifiable indicator. It doesn't include the length of a project – which has a direct impact on the final price. Using technologies better adjusted to the project and having proven, repeatable processes may significantly reduce the price. The more complex digital product you build, the more visible will this difference be.
Read also: The real cost of hiring vs. outsourcing in software development
Should you work with a software development company from Poland?
Custom software development is a challenge itself. You have to find (or build) a dedicated team, plan their work, be able to review that during the development process, iterate, at the same time working on your business growth, getting new clients, entering new markets, and making this business more and more profitable. By outsourcing software development to a reliable and experienced team, you can overcome at least some of these challenges and focus on what matters to you most.
There are some issues, however, related to the software development outsourcing model itself. While the average cost of custom product development is $250k, traditional outsourcing companies often focus on delivering tasks rather than commit to product success. Add working in a fixed price model, where it's difficult to iterate and change the scope of the project, and you're on a good way to failure.
Read also: 13 questions to ask your potential software outsourcing provider
On the other hand, hiring engineers to build an in-house software development team does not sound much better. According to the reports published by recruitment agencies, it can cost over $30k and takes 42 days on average to hire one developer. Even if you're not looking for senior developers or a software architect, it's still an expensive and time-consuming process. Apart from the time and money aspect, you are facing rigid competition in the tech talent pool, competing with tech giants such as Google and Facebook.
What's the alternative then?
Tech partner for custom software development
No matter if you want to build complex digital products, a web platform, or just a simple MVP to test your idea on the market, you want to work with service providers who will be able to understand your business objectives in the first place and take responsibility for the results of this project.
When developing digital solutions, you need your software engineering team to feel confident to challenge your ideas & assumptions, to focus on building the right features and testing them with users. To put it briefly: acting as a genuine part of your team.
Kick-off your web app
development project
within 2 weeks
Get access to top web developers, kickstart your project, and grow your product efficiently
Estimate my project