I have first heard about Washington Business Week a few years ago and loved the idea from the first sight. It's a weeklong entrepreneurship and creativity workshop for high school students that emerged from Seattle, USA. I truly believe that our future will be as good as our youth's education – that's why this year Neoteric has sponsored the local program, Gdańsk Business Week, organized by Inkubator Starter.
When we approached Starter in May, they were surprised that we have already made up our minds about supporting this great initiative. Apart from sponsorship, I had a privilege and honor to serve an awesome team of young people as a Company Advisor. It's a coaching/mentorship role that gave me more than I could ever expect.
Let me first tell you about a few key activities that young people take part in:
Hunk of Junk – a creativity/team building experience at the beginning of the week, in which teams, one after another, choose junk from the pile and use everything they take to build an innovative product. It may seem a little silly but it's been a great way to start forming a team; moreover, we've seen some very nice ideas among which my personal favorite was "Jesus feet" – a solar-powered hovercraft.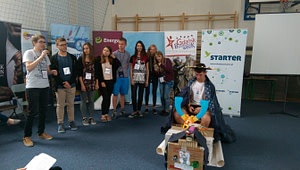 Speed speak – it's an exercise in which representatives from each company present a 3-minute speech on a given management-related subject. I must say I've been very impressed with some of the participants as they all emphasized the role of their team in the successes they presented, gave a clear vision of what they would like to achieve and what has already been done for that to happen. Speeches were very professional, even though some of the speakers had only a few minutes to prepare.
BizSim – this is a simulation game around which the whole idea of Business Week is built. Each team runs a virtual company that competes with other teams on the same market of digital audio players; the teams get reports on production, sales, marketing and market information 8 times and they make decisions based on those reports by deciding to invest in marketing or market research, employ or let go salespeople, pay dividends, produce a certain number of goods etc. Decisions are followed by cashflow simulation and the input is calculated by a simulation program giving the output for the following quarter.
Stakeholders presentation – you may think of it as the final task of the BizSim; the teams prepare a presentation for the stakeholders, to sum up the 8 quarters of running their company. This task's aim is to enable each and every team member to present some part of the company's actions in front of the judges – in these roles you will find respected business representatives that did not work with the kids during the week; among the judges at Gdańsk Business Week 2015 we had such people as the co-founder of UXPin (UX design tools; the first Polish start-up that acquired round An in Silicon Valley of $5M), the managing partner of Inventity Foundation (Seed Fund based in Warsaw), the CTO of Professor Why (augmented reality chemistry educational game; won 2014 start-up contest in Copenhagen), Mick Griffin (Growth Manager at Brand24, previously responsible for business development of GetResponse), CTO, COO and UX/Front-end tech lead from Neoteric. 33 judges divided into 3 groups have scored companies based on how well they presented their 8 quarters of management, justifying decisions and showing how the input inflicted the output and what adjustments were made in the chosen strategy.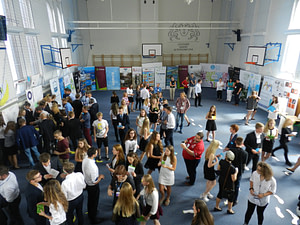 Trade-show – this is another activity that challenged young people to get out speaking to strangers about their vision, their idea and product. During the whole week, each team has developed an innovative product idea (different than during hunk of junk); the goal was to exhibit at a trade-show and attract investors to present the investment opportunity that their virtual company created with the design of a new project along with some key elements of a business plan. I have consulted over 50 start-ups now, advising Seed and Venture Capital funds, and I must say that some of those ideas and business plans were much more impressive than presented by professionals. Among the presented products we've had solar batteries for phones, a smartwatch that monitors health parameters and plays music even under water — this team has even done market research, surveying people before they exhibited, a pill that makes you sober in 8 minutes or a platform with mobile app that organized the trade of fresh eco products on a local market (farmers, SME food-processing companies, groceries, restaurants, individuals). If every start-up had as much enthusiasm as clear vision and was as persistent in approaching investors, it would be not 10%, but 90% of start-ups succeeding.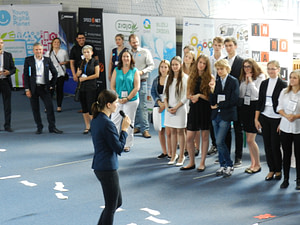 Apart from that, we had a lot of fun with Olympics where teams competed in tasks such as Pictionary, tie tying, or crossword. We had a volleyball match between Company Advisors and CEOs of virtual companies or talent show where anyone could present solo or in any team.
Last but not least, we had some presentations during general assemblies – some of them very impressive. Mick Griffin from Brand24 opened a series with a great story of selling, Patrick Kelly from Coastal Environmental Systems surprised us with the best marketing explanation I've ever heard and I did my best to breathe some entrepreneur spirit in participants, supporting it with my experience of 10 years of ups and downs.
I've spent a week with a great team of 18 business professionals from top local and Seattle companies such as Boeing, Kemira, Starter or Speednet. As we are entering the US market next year with some of our products and services, my goal for personal development during the program was to learn about American business culture and marketing in the US from American CAs. How surprised I was when I found out I've learned even more from the youth!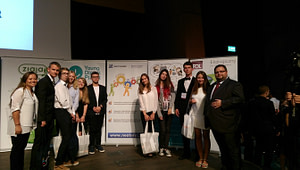 It's been a great pleasure to see how our participants get out of their comfort zone and take risks stepping up to the roles of CEOs, speaking in public or presenting business simulation analysis to stakeholders. I never imagined how much a young person can develop in a week. I really wish I had such an opportunity in high-school.
These young people have more understanding of marketing, product management and business strategy than I have found in most of the experienced CEOs or university graduates I've ever met. Things that we study, analyze and deduct are so deep in their veins that first things they come up with are the smartest, up-to-date, comprehensive approaches you can think of.
One may think that it's very generous to give a week of your life to share your experience with young people. I must say I thought that it will be a way for me to give back to the society. How surprised was I when I found out that once again I was given more than I could offer. I learned a lot about myself, had a chance to develop some skills and eventually I've benefited more than from any course I've ever taken.
Seeing young people who are so smart and objective oriented, who work as a team, help each other and bring great ideas to life, has given me a lot of hope for the future. I encourage everyone to support this great idea – not only will you help the youth getting invaluable experience, but you may learn from them more than you could ever imagine. I must say that Gdańsk Business Week has been one of the greatest experiences I've ever had in my professional life.