Artificial Intelligence is all around us. It keeps on gaining popularity and emerging into more and more areas of our lives. Though some people still associate AI solely with robots and think it's all rather sci-fi, the truth is that artificial intelligence is present in our lives and it can bring business tangible benefits. In this article, we'll have a closer look at how AI affects customer service.
Many companies take pride in providing high-quality customer service. According to Gartner's 2017-2018 Gartner CMO Survey, marketing leaders invested two-thirds of their budget to support customer retention and growth. Spending on activities that focus on existing customers is outpacing spending on new customer acquisition. But are these companies really all that great? Certainly some of them are, but according to Customer Experience Impact Report by Harris Interactive, 75% of customers already believe it takes too long to reach a live agent. Customers want to be served 24/7 and, at the same time, get the help they need right away. A person on the other side, however, can't handle multiple requests all at once. Multitasking won't help, after all, we're only human and our capacity is limited. Artificial intelligence, however, can work non-stop and won't be making mistakes.
Read also: Artificial Intelligence in sales
AI in customer service – benefits
AI in customer support: shorter response time and more reliability
A customer service professional can only handle one request at a time. What happens when your customer base is growing? You need more staff. The more customers contact your helpdesk, the longer they have to wait until they reach the agent.
However, a lot of the agents' work can be automated – chatbots are the answer. Some of the basic questions will be answered by the bot itself and if the question gets more complex, the bot (thanks to natural language processing – NLP) will link the customer with the agent who can handle their particular request. Not only does such a solution cut down on the response time but it also allows to offer real 24/7 customer service, which further translates into improved customer satisfaction.
A study by Zendesk shows that 42% of B2C customers purchase more after a good customer service experience. If they have a bad customer service interaction, however, 52% of B2C customers stopped buying. This clearly shows that the quality of delivered customer service is crucial. But people aren't flawless. We may be late for work, have a bad day, misunderstand something, or maybe phrase something in an unfortunate way and make the customer feel offended. All of that can happen. Artificial intelligence is never late or emotional and thus it doesn't create any room for arguments started by customers. If any negative reaction occurs, it notifies a manager of such an event.
Read also: Machine learning in the telecom industry
Personalized customer experience
AI customer service solutions provide insights into customer behaviours. This information combined with machine learning allows you to build actionable customer service.
Normally, identifying the customer's behavioral patterns and matching them with proper data to predict what the customer will want would be a gruesome (if not impossible!) task. With artificial intelligence, however, it's not difficult at all.
AI can accumulate and study data on the customer's previous purchases, conversations with customer service, on-site interactions, source referral, and many more. All this data allows for a personalized customer experience. And the advantages of personalized customer service are significant! As research shows, 59% of shoppers who have experienced personalization think it has big influence on their purchase decisions.
Data is more accessible
And we're talking big data. The data you have helps you create content that appeals to your customers and makes them happy but it's also useful for your business to make informed decisions and move forward.
Using the vast amounts of data available, AI can find patterns and trends to predict what your customers will want. AI integrated into your CRM may help you move the leads down the funnel. Studying your customers behaviors allows you to find better ways to relate to them – or even call them out – which is what Spotify did a few years back in their campaign. They used the data on users' "unusual" listening habits and created billboards like this one: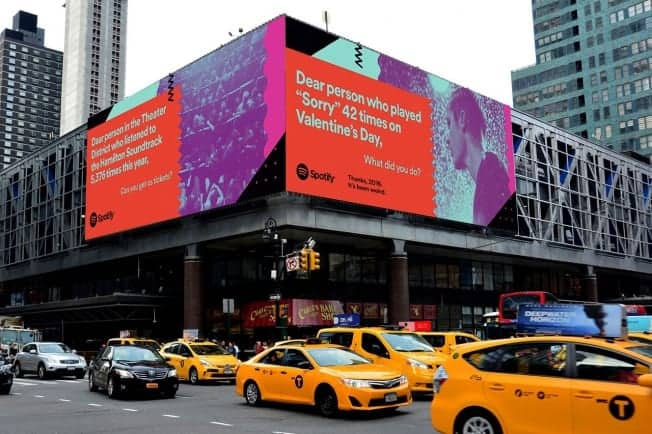 "Dear person who played Sorry 42 times on Valentine's Day, what did you do?"
There were also: "Dear 3,749 people who streamed It's the End of the World as We Know It the day of the Brexit vote, hang in there." and "To the person in NoLita who started listening to holiday music way back in June, you really jingle all the way, huh?"
All of the billboards had the same sentence at the bottom: "Thanks, 2016. It's been weird."
As this campaign shows, data on users' behaviors can also be used in creative ways. Making the data more than just numbers, stats, and patterns, giving it a more human face, and revealing the unexpected findings in such a way can attract people's attention as well. And I really do wonder how those addressed in these questions reacted…
You only train it once
Hiring people is a complicated process. Recruitment, training, trial periods – all that is not only costly but it also doesn't guarantee that the employer will end up with an awesome customer service expert. Though the need for professionals in customer service is undoubtedly there, you already know that some tasks can be given to AI. And it's only trained once to do its job. This saves time and money, especially in a situation when your customer base is growing rapidly – normally, you would have to hire more staff ASAP, but now you have AI. No need to panic.
So, how does AI improve customer experience?
As already said, customers want to be served 24/7 and, at the same time, get the help they need right away. And this is exactly what AI gives them. What else do they get? Let's take a look at some successful examples of AI in customer service!
Examples of AI in customer service
Slush: chatbot answering FAQs in real time
Slush, a worldwide startup community that aims to create and help the next generation of groundbreaking entrepreneurs, has leveraged an AI-powered chatbot to streamline customer service processes. The Jenny chatbot on their website successfully handles 2/3 of all customer support requests – helping customers get the help they need right away, 24/7.
Starbucks: service delivery personalization
The coffee giant leverages AI to drive the brand's personalization engine. It uses the information about the previous orders and preferences of customers to craft tailored recommendations which help customers find new products they enjoy. At the same time, the data about customer preferences are being used to make predictions about consumer trends and improve the offering.
Nike: computer vision reducing the number of product returns
According to the research, up to 72% of people wear the wrong size shoes. From the consumers' side, it is associated with foot pain and foot disorders. From the brands' point of view, it causes a lot of friction related to product returns. In 2019, Nike decided to address this problem by creating the Nike Fit tool.
The Nike Fit app instructs users to stand against a wall while they line up their feet with the guides on their smartphone's screen using the tool's augmented reality technology. Then, the user takes a photo, and the app uses computer vision to scan the feet and collect visual data points. Based on that data points, the app suggests which shoe model and size will be right for the consumer.
Understand your customers with AI
See more real-life cases! Learn how Disney, H&M, and Spotify use AI to boost customer experience
Read the article
AI in customer service – summary
So, is AI the future of customer service? Artificial intelligence is certainly going to keep growing in popularity. It's a cool buzzword, sure, but there's also evidence proving that it actually works. AI development services are used to increase efficiency, improve processes, or boost sales – all the things any company could appreciate.