Artificial intelligence has already entered a variety of fields and keeps expanding its use cases to other sectors. In my previous articles, I discussed example use cases, including those for healthcare, and e-commerce (among others), and today I want to focus on artificial intelligence examples that proved to be successful: instances of big companies starting their AI journey to see its potential and then implementing it to a larger extent.
There are countless examples of successful AI implementation across many industries but now, let's take a look at some of the best-known AI success stories from Disney, H&M, and Spotify.
Disney
What's the first thing that comes to your mind when you hear "Disney"? Is it a princess? A talking animal? Or perhaps Star Wars? Though their charming stories lie at the heart of their business, Disney is also very tech-forward, and they have always seen technology as an important part of their business. They support innovators with their Disney Accelerator, and they utilize an impressive number of the newest technologies to improve their offerings and customer experience. Artificial intelligence plays a significant role in this process. Below, I describe chosen examples of Disney's AI-driven solutions. So keep in mind – the list could go on!
Prediction for short story narratives
Disney Research trained artificial intelligence to recognize patterns and traits in short stories and select those that would most likely appeal to readers. Scientists at Disney Research and the University of Massachusetts Boston developer neural networks that can evaluate short narratives. One of the challenges they faced along the way was the lack of large databases of short stories rated by humans that could be used to train the AI. The team decided that Quora, a question-and-answer website, was a good data source since many of the answers were given in a story form and the upvotes under these answers measured the story's popularity which would indicate the narrative quality.
The scientists gathered more than 55 thousand answers and developed an algorithm that would classify them as stories or non-stories, ending up with about 28 thousand stories with an average of 369 words.
Boyang Li, a research scientist at Disney research said:
Our neural networks had some success in predicting the popularity of stories. You can't yet use them to pick out winners for your local writing competition, but they can be used to guide future research.
In experiments, the neural networks showed 18% improvement over a baseline text evaluation system.
Analysis of audience reactions
Disney's collaborated with Caltech and Simon Fraser University in research that involved facial recognition and deep learning technologies. In this experiment, they conducted sentiment analysis of moviegoers' facial expressions over a period of 12 months. In order to collect the required data, they viewed 9 Disney movies (titles presented in the table below) in a 400-seat theater with 4 infra-red cameras detecting the audience's facial expressions during the movie.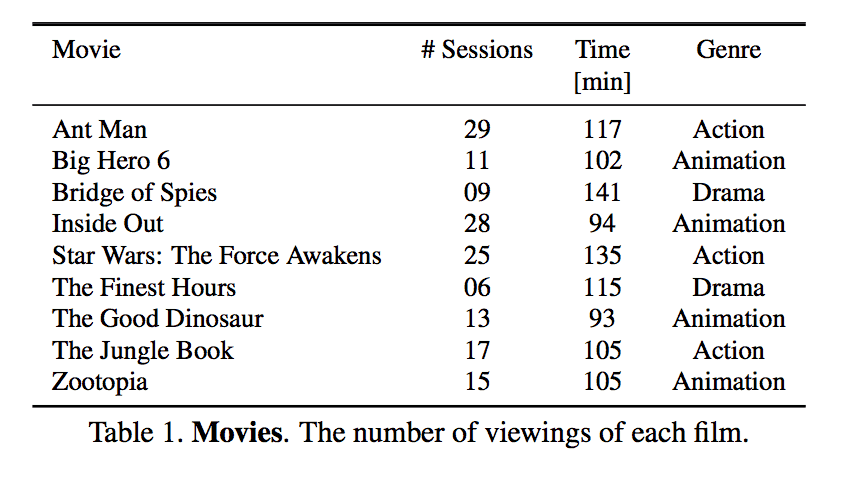 The research findings can help Disney in their future projects concerning audience analysis, group behavior, and predicting reactions. The findings help the company understand the viewer's emotions and predict what emotions the viewer will have in different parts of a movie.
Read also: What can AI do for your business?
Character chatbots
Back in 2015, Imperson developed a Miss Piggy chatbot for Disney. The fans could communicate with Miss Piggy via messenger on her Facebook fanpage. Well, obviously, it wasn't the real Miss Piggy, but AI that had the perfect responses.
Another famous chatbot they developed was one for Zootopia, Disney's 2016 animated movie, with Judy Hopps, a bunny police officer, as the main character. Judy was also the character "interacting" with users via messenger, engaging them in solving crime mysteries. Disney combined the "personality" of the character with natural language processing and deep context understanding to allow the chatbot to respond to a wide range of user input. The bot was really successful and users loved it – thanks to the amazing quality of the bot itself which was conversationally adaptive and personalized, naturally interacting with the users in real time, but also thanks to the overall Zootopia's marketing efforts and customer awareness (the movie grossed over 1 billion dollars globally in the first three months). Another thing that made Judy Hopps such a popular social media phenomenon was the fact that it was simply shareable. Users could earn badges for successfully solving cases. And not just any badge, but one with their name on it! No wonder they wanted to share the hard-earned badge on their social media.
MagicBand
Disney MagicBand is much like a band that allows you to enter festivals – with one major difference: it is smart. Now, we're witnessing some "smart" bands with many trendy festivals, with features allowing e.g. paying for food and drinks, but we can also see a lot of negative feedback since the bands fail quite a lot. The Disney MagicBand, however, does much more than payments, and it seems to actually work. Here's how Disney describe their MagicBand:
Your MagicBand enables you to travel lighter throughout your vacation. Use it to enter the parks, unlock your Disney Resort hotel room and buy food and merchandise. Plus, your MagicBand gives you FastPass+ access to all the experiences you've selected online, so you can simply concentrate on enjoying the fun with the people you care about.

MagicBands add a touch of magic to your vacation by unlocking special surprises, personalized just for you, throughout the Walt Disney World Resort. Once you've linked your MagicBand, you don't need to do anything different. Your MagicBand and My Disney Experience profile will do the rest, creating unexpected Disney moments–just like magic.
In this case, the band is a win-win situation. It makes the experience at the theme park more personalized and, at the same time, it allows Disney to collect vast amounts of data on their customers' behaviors. This helps them keep improving customer experience even further, e.g. through scheduling workers to be in places where they will be needed at a given time or informing the visitors about the waiting times for some of the busiest attractions.
H&M
After experiencing a 10-quarter same-store sales slump, H&M turned to technology trying to fix the problem. They started working with a team of data scientists to see how the data they have can help them improve their operations.
H&M analyzed the data about returns, loyalty cards, store receipts, blog posts, and search results to discover what products they should be selling in each individual store. This approach was a huge difference from what they did in the past which was stocking all the stores around the globe with similar merchandise. Thanks to the implementation of an AI solution that helps them plan the inventory for individual stores and avoid issues they were struggling with in the past, such as the need of cutting prices to clear out unsold inventory.
H&M is now trying to respond to the online customer's expectations. Their online store offers personalized product recommendations and their automation warehouses next-day delivery for 90% of the European market.
While online recommendations are already in place, H&M is planning to start an RFID powered "in-store mode" in its app, which would allow the shoppers to explore products chosen for them in a given store.
Spotify
Spotify knows your taste, maybe even better than you know it yourself. They use advanced predictive technology to find new music that the users will enjoy.
We are now used to the fact that many online services give us product recommendations: we know it from Amazon or Netflix. But have you ever thought how much effort goes into figuring out what each individual will like? Spotify offers millions of songs but with such a wide selection, choosing the right thing is not any easier. There are probably people out there who know exactly what they like and want to listen to, but I know for a fact that there are also so many people like me who sit there looking at the screen going "what do I choose?". Without the algorithmic help we receive from the app, it would be difficult for us to discover new artists – and in the past, we did it simply by listening to the radio. Listeners will likely find new tracks of their favorite artists by themselves, but they may not be able to discover new ones that will appeal to their tastes.
Spotify solves this problem for its users. It presents users with their personal Discover Weekly playlists that include new tracks they are likely to enjoy. An interesting fact here is that if you decide to let someone use your account, the algorithms will ignore short-lived (even if drastic) changes in listening habits and still provide you with accurate suggestions.
In my article about artificial intelligence for customer service, I also described the case of Spotify using data about their customers to create a special, and funny, campaign. They analyzed user data to discover unusual listening habits and some wonderful discoveries were made. And used on billboards.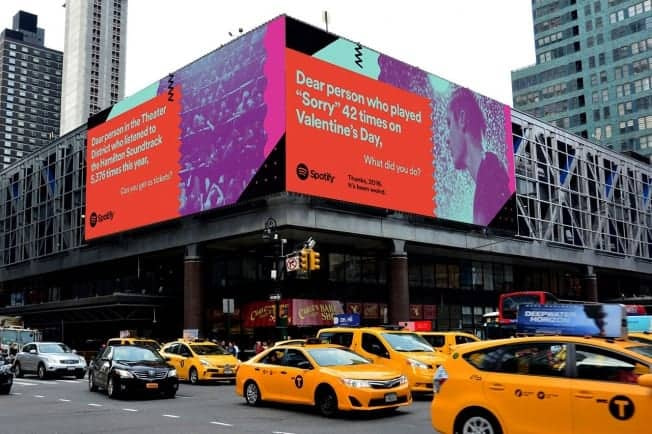 Understanding is the key
In today's very competitive world, you need to be prepared to meet the exact customers' expectations. With the vast amounts of data available, it's not a guessing game anymore. You can track your users' behaviors, analyze the data to find the answers to some of the most important questions in your business.
While humans may be best at understanding fellow humans, machines do a better job at analyzing big data. And it's a known fact that trusting data is safer than trusting your gut feeling. With the turn towards online shopping and the combination of in-store and online experiences, hiring awesome shopping assistants is not the key to success anymore. It's not to say that they aren't important: the human factor is still essential to many shoppers, and they seek advice from the people who work in the store.
Nowadays, with companies like Spotify, Disney, Amazon (and so many others) killing the game, you won't make a living without knowing your customers well. And to know them well, you need to study them. What's the best way to do it? I'll let you answer this question yourself. And I'd love to learn what your opinion is.
Read also: Software for the healthcare industry: what is it and why it's worth using?