If you ask someone from the IT world how to choose the best Software House, and what the main virtues of such a company could be, you will get at least a dozen of answers where most of them will probably be correct. Just taking a wild stab in the dark – price, location, the company's experience, its skills, and size – these would be the most common replies. And, to be honest, most of the Software Houses have already taken care of these elements, so once you ask about the details, you will get a nice and shiny presentation with all of these matters already covered.
Therefore, let's put some emphasis on the aspects hardly visible at first glance, but in my opinion crucial to building a stable and trusted relationship from day one – customer experience and business transparency. Today, let's focus on these two elements up to the moment of signing the agreement, since post-sales actions engage much more than just one sales department.
1. Proper e-mail contact
Most of our deals come from the emails funneled down through the web page, content posted on Quora, LinkedIn, and blog articles. In most cases, our future customers have already made a background check on us on that stage, but that does not mean Software Houses should give up on proper email content when replying. The whole further communication coming from the SH should be consistent with the branding and written in the same style as the posted web content. The person you're talking to should aim to make sure you are having the best possible customer experience at this highly sensitive stage. There is no place for "sent from my iPhone / Android" or any typographical mistakes that tell you that you wrote the email in a hurry. Of course, they should reply to the email as soon as possible (up to 5 minutes!), and they should still make it look flawless! The company has only one chance to make a good first impression. Business Devs should devote some time to creating a proper email footer, creating a sense of transparency where they are not anonymous anymore – they are an IT company, not a lemonade stand! And if they really feel like they won't be able to respond within the first five minutes – they should at least operate using a template with short elucidation.
Most of our leads come from abroad – such customers are very vigilant since they already made a huge leap of faith choosing a company somewhere in central-eastern Europe. We just have to make sure you land on a haystack rather than on a cobbled pavement.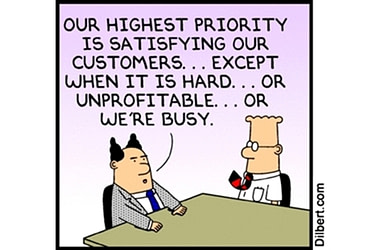 2. No lies, no over promises
This business is all about relations. SH's need to realize people know people, and eventually they will pick up the crumbles that lead to their company and then they can forget about future leads that come from such recommendations. You asked for a mobile app but the SH doesn't have the right team to do it right now (or ever)? Be alert to any fishy moves, such as: "give us a moment and we will get you a team", or "let's start today, and and the rest of the team will join us soon". In a Software Houses' world, it's a good practice to pass such business inquiry to a business partner that does that kind of works. No ifs or buts on their side – this is how it should be done. But! (pun intended) before they decide on such a maneuver, they should explain to you it's not their business line, yet they know a top-notch company that might be a perfect match for you.
3. Honest and transparent project calculations/estimations
You got to the point of calculating the costs of potential projects. If your soon-to-be business partner did not consider showing you transparency attitude towards your lead up until now – well, this might be his last call.
Project estimation is an arduous and highly complex task – repeatedly, the estimations are fraught with a large margin of error, what could result from poorly specified requirements, app mock-ups (if any!) and other quite decisive elements. It's the SH's responsibility to visualize all the unknown and biased determinants in a form that is easy to digest, through which you could draw the right conclusions. You should be sent a table where each cost would be properly described followed by the project timing and financials, not just a rough figure of how much that would cost. Since there might be an uncertainty buffer added to the estimations – SH's should always make sure you know where you might encounter financial surprises. What they should strive to achieve is a fully aware prospect with an impression of knowing every aspect of the project from their point of view. And of course, you shouldn't be waiting for it too long!
4. Scheduling meetings
Prospecting is not just about exchanging emails. At some point (if not at the very first moment), having a call or meeting a customer in person is indispensably important. You should have an impression that every meeting (through a call or in person) should be planned meticulously. SH's should verify beforehand what the leitmotif of the conversation with you would be – would it be more technical, or rather organizational? SH should gather the techies on the call, or any other people that might be helpful in getting you in the best position for further talks. Set up the date and time, and confirm the attendances. This could be quite a cumbersome task, but fortunately, there are a few tools on the market that help in quick scheduling. We use appoint.ly as it's strikingly easy to use and fairly intuitive.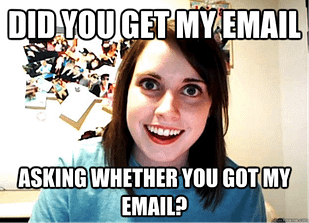 5. Agreement verification
So you initially said "yes"? Great, but you still didn't sign up a contract. At this stage, you should be provided with a draft agreement with all the previous arrangements included in it. It's vital to keep all the document's changes in the "track changes" mode. You don't want to think your soon-to-be business partner is trying to smuggle this one cheeky clause between the lines. The Document should be kept transparent on their side so you could discuss all the substantial changes. I have drafted hundreds of agreements, and trust me: when the time comes, you will be thankful for not disregarding some of the business partners' modifications. Hope this helps!