Extraordinary times for online sports
The E-fitness industry is growing and there is no doubt about it. A recent analysis by Report Ocean found the online fitness market is anticipated to reach $44.7 billion globally by 2026, compared to $6 billion globally in 2019.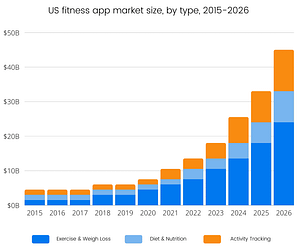 In response to the Covid-19 outbreak in 2020, downloads of fitness and health apps increased by 47% in Q2 alone, and many streaming services experienced dramatic increases in demand.
The growth on an unprecedented scale has affected both businesses that were started as offline businesses (with Covid-19 as a catalyst for digitalization, forcing them to rethink how they can reach their members) and those that were online from the very beginning (with Covid-19 as a growth accelerator).
When we interviewed Lauren Foundos, a Co-Founder of FORTË Fit last year, she said:
 "I believe the future will be a blend of the two worlds. COVID-19 has forced many more people to try apps probably faster than they would have, and the overall opinion that I am hearing is very favorable. I think this current situation sped up the evolution that was already happening, from both the studio's wanting to create a digital platform to the users demanding that from their favorite brands. 
Now, amidst the current environment, I think even more than it is a must that a gym has a digital offering. (…) Zoom, Instagram, and Facebook are great, free ways to connect to your community but they are most certainly not a long-term digital solution."
Today, when virtual space and online fitness became the new normal, building an app if you run a fitness business is no longer a question of if – it's a question of when and how.
All right, what's the catch?
The thing is – and we admit it as a team that has built over 50 digital products with clients from all over the world – building software products is not easy. It comes with a lot of challenges:
you may have no prior experience in building digital products

you need to meet your customers' needs (that you may not really know at this stage)

you need to remain competitive in a rapidly growing market

and in the online fitness market, you've got a huge competitor outside the industry, in the offline world, right in your customers' apartments: a couch.
In order to help founders design great apps that would meet their clients' expectations and prevent users from dropping their sport resolutions, together with our design team, we collected some of the best UX practices used in the top custom e-fitness applications.
Read and see:
what features top online fitness applicationss have

how they structure their courses

how they learn about their users' needs,

and how they keep users engaged.
Ready, set… stop!
Not so fast! Before we move on to discussing different types of features that these top online fitness applications have, let's stop for a moment.
The truth is that when it comes to app development, having ideas is just the beginning of a long journey. And just like with sports, starting without the right preparation can easily lead to having an injury that can effectively prevent you from finishing the race.)