Do you know Tinder? The name should ring a bell. After all, it's one of the most popular apps with more than 300 million downloads and millions of users worldwide. Even though some say it's simply an app that makes meeting people easier, let's be honest: it's a dating app.
The legends of people meeting on Tinder and falling head over heels in love, getting married, and living happily ever after flood the internet. And boy, how many times I've heard my friends say "so… I've met this guy on Tinder". Apparently, Tinder is an effective tool when it comes to looking for love. But I was skeptical: how the hell does that work? How would Tinder know who to set me up with? Or does it just show me a bunch of random dudes in hopes that one of them will be the one?
The rules of Tinder are extremely simple: you see a person and you like them – swipe right, or you don't – swipe left. This small decision takes seconds but every time you swipe, Tinder collects more and more data about you and what you're looking for in a potential partner. The vast amounts of data that the app collects could contribute to a really tailored and one-of-a-kind dating experience if the data is used in the right way. But how is the data used?
I took to Google to look for answers. There are a lot of theories as to how exactly Tinder works under the hood, but honestly – nobody really knows everything. Except for the ones working at Tinder. I was trying to get some answers from the company but this time, I wasn't successful… Tinder is just so mysterious. But I'm a persistent researcher! Not only have I started a Tinder account to give it a try, but I also kept on looking until I finally did find some answers. So here's what I learned:
ELO score
Tinder uses the ELO score to calculate how attractive you are and figure out the right people to show you as well as the right people to be shown your profile. The name "ELO score" comes from competitive chess where it's used to assess the skills of each player. Your ELO score is made up of the percentage of people who like you, the percentage of matches you get, and your matches' ELO scores. Let's say Tinder figures out you're a 7. In this case, your profile will be shown to people with a similar ELO score, between 6 and 8, and you'll also see people with a similar score. You won't see much of people with a lower or higher score. But your score can change over time! Since your overall attractiveness is evaluated with popular vote, it can change any time and many factors influence it. If you swipe right too much, sorry – looks like you're desperate – Tinder won't show you to too many users and your ratings go down. But if you're too picky, you harm your score as well since you decrease the probability of getting a match. You can change your ELO score when you edit your profile: photos matter the most. And the more attractive people like you, the more attractive you are for the app. You will never know what your ELO score is, though. And maybe that's better.
Predictive analytics for business
Learn how to use predictive analytics to drive business results and revenue
Who's shown to you?
It's not at all random who you see in the app. Of course, you establish the age range and maximum distance, but still, there are hundreds or thousands of users everywhere. Showing you a series of random people wouldn't give you much hope for finding someone you really like. There are a few elements that are taken into account when Tinder "decides" what profiles to display to you and whether your profile will be displayed often or not. Tinder knows how active you are: how many people you swipe right and left, how many of them are your matches, how many of the matches you talk with. If you are too picky or too desperate, your profile won't be favored. If you don't ever start a conversation with a match, you're also not favored. If you don't log in often, your visibility goes down, too.
When you first set up your account and start swiping, you get what is called a "noob boost". Tinder wants to figure out who you like and who likes you. The first few people you'll see may be what one may refer to as "out of your league". These most probably will not be your matches, but they're shown to you so that you know that there ARE attractive people on Tinder. Smart! Then you'll start getting actual matches, and lord, does that happen fast. The boost lasts for about a day and allows the app to calculate your ELO score. If you are a user of Tinder, you'll notice that you get a lot of matches within the first day(s) of being there and then it slows down. When you're inactive (as in you don't check your account for days), your visibility gradually goes down but there's a surprise: when you come back, it recovers. Tinder wants you to stay, so it wants you to believe that you're desired. Love is waiting for you, keep on swiping!
Smart photos
"Goodbye guesswork. Hello right swipes." – that's how Tinder introduced their smart photos feature in 2016. The feature uses machine learning to analyze user photos in terms of how often they're swiped right (or left) on by showing different people swiping on Tinder a different order of profile photos. Then, the app shows your most right-swiped picture so you get more insight into how people see your photos and help decide what photos to use in the future. Here's how Tinder describe this feature on their blog:
They say beauty is in the eye of the beholder, and it's true. We all Swipe Right for different reasons, so everyone on Tinder has a distinct swiping pattern. Smart Photos takes into account each individual's swiping pattern when selecting which of your photos they'll see first. It's a system that gets smarter with more input: the more you swipe and the more you're swiped on, the better the algorithm serves you. Yes, there's science behind the swipe.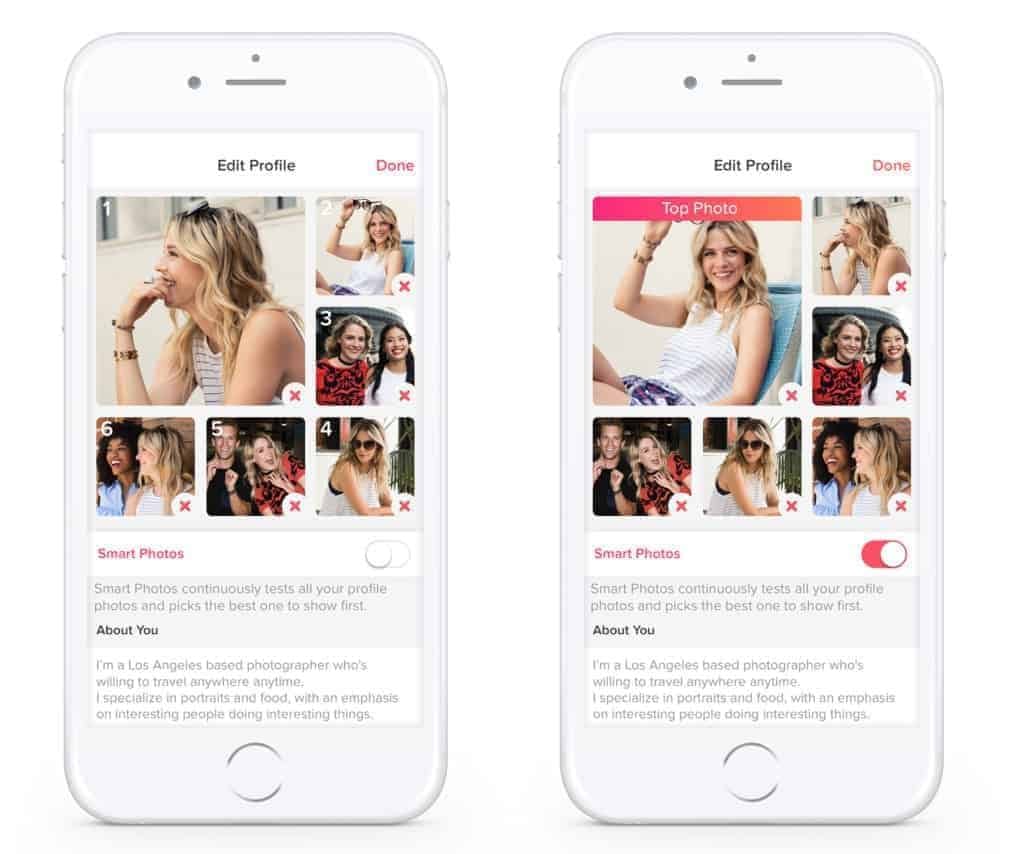 Super Likeable & Top Picks
Super Likeable was first introduced in the US in 2017 and later expanded to other countries. It's an AI-powered feature that aims to show you 4 people that will be of special interest to you – and you get one free super like to give to one of them. Super likeable analyzes your swiping patterns to figure out what people you're most interested in. You may not even realize it but swipe right on blondes mostly. Important info!
Tinder claims that sending a super like to someone increases your likelihood of matching by three times, but it's still quite a controversial feature. When you super like someone, you jump to the front of their deck, so they'll see you sooner, and they'll know you've super liked them. Regular Tinder users can only use one super like a day, which is supposed to mean something but then… I mean, it's just an app, not fate. Plus, monkey fingers and stuff. I've super liked a random dude by accident and I guess I'm not the only one on the planet. So Tinder meant well but some people think that a super like is creepy and desperate.
Another intelligent feature of Tinder is the "Picks". The Picks is a selection of "high-quality potential matches" delivered daily to Gold subscribers and available in purchase packs. Some pictures are given a tag with a unique characteristic of a given person – this is supposed to create a "richer experience that stands out".
Tinder operates on giant data volumes. Its users upload more than 10 billion pictures daily and the app ingests 40TB of data into its analytics and ML systems every day. They use AWS Rekognition in order to unlock the stories behind the photos. Tinder users are most interested in pictures, that's a fact, but an increasingly large number of people opt for writing no bio whatsoever. It's difficult and it doesn't seem to be necessary. I never wrote mine, either. They needed to find a way to get data from the pictures that users provide to power their recommendations. Tinder sees a lot of value in the tags they put alongside pictures of their recommendations, and their users do as well. To identify the right tag, such as "Foodie" or "Adventurer", they run the pictures through Rekognition's processing to get labeled data. Let's say you add a picture of yourself in a restaurant and there's a burger in front of you – Tinder sees the burger, too. Or maybe you're in the mountains. You tell people stories about yourself with the pictures you upload, and Tinder can now understand the meaning to share it with the people who will be interested.
The Tinder experience
Even though the app seems quite simple from the outside – a basic left-right swipe, a chat sometimes, the technology behind it is quite complex. Though I have to say that personally I didn't enjoy being on Tinder and I'm still more into the traditional way of meeting people face to face, it was an interesting journey to observe what's happening when I click this or that and then looking into how all of that works. There's a lot more to Tinder than you could imagine, and there's so much potential to all the data they collect. I'm looking forward to seeing what they come up with next. And is it the right place to find love? Who am I to judge, if it works – it works!
Happy Valentine's Day!