A few months ago, I wrote an article explaining why Poland is believed to be one of the best places to outsource software development. Still believing that Poland is a top one, I want to add another piece to the puzzle and take a short walk in the neighborhood.
Pathway:
Why CEE?
In the past few years, the CEE region has grown to be one of the most popular destinations for outsourcing software development. No wonder — with four countries in the top 10 of the Hackerrank (Poland, Russia, Hungary, and the Czech Republic) and another three in the next 10 (Ukraine, Bulgaria, and Romania), this is where you can find top developers in the world. With relatively low rates (especially when you compare them to the US or Western Europe), CEE has become a serious competitor for world outsourcing leaders such as India, China or the Philippines.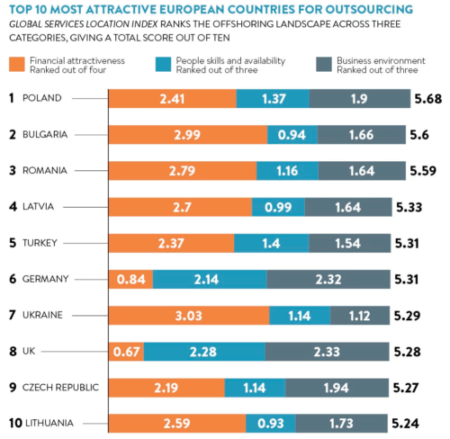 Compared to Western Europe, Central and Eastern Europe offers much lower prices for the service of the same quality. Moreover, thanks to the strong educational emphasis on STEM areas (science, technology, engineering, mathematics), the market of IT services is growing really fast there, providing good capabilities. Because countries such as Poland or Czech Republic don't have a strong IT legacy (like some longer-experienced countries, e.g. France or the UK), they're not used to the old-fashioned ways. They use the latest tools and technologies, and work with modern practices. Compared to Asian countries, they often offer a higher quality of services and thanks to the cultural similarity – better communication.
According to Kathleen Hall from Computer Weekly, there are at least 5 serious reasons which stand behind the popularity of outsourcing companies from Central and Eastern Europe. These include:
high-skilled labor (thanks to the strong educational emphasis on engineering and science in the former Soviet Union),
cultural similarities (more collaborative and less process-driven approach to projects),
time zones (especially when it comes to Central European countries such as Poland, Czech Republic, Slovakia, and Hungary – the time zone difference between these countries and US is 6–9 hours),
data protection (this applies particularly to the countries within the EU: Poland, Czech Republic, Slovakia, Hungary, Romania, and Bulgaria),
growing labor market.
Where to search
At Quora, where I try to help entrepreneurs who want to outsource their software development, many people ask for the resources where they can find and compare outsourcing companies from Eastern Europe. Mostly recommended resources are Clutch.co (or similar platforms gathering info about companies along with references from their clients), Upwork (recommended interchangeably with other sites for freelancers: Toptal, Guru etc.), or… Google. And – of course! – each of them has its pros and cons. Let's go through them:
Research & review portals (e.g. Clutch.co)
+ filters (average hourly rate, location, technology, client focus, industry focus etc.)
+ detailed references gathered directly from the company's customers
– many good companies don't promote their services there, so you may miss a lot
Job boards for freelancers (e.g. Upwork, Toptal)
+ huge market of freelancers
+ reviews from their previous clients
– they are created mainly for freelancers, so if you are looking for a company (with a CTO, project manager, and more developers in case you want to scale), it won't be easy to find them there
+ the biggest catalog of all software houses in the world
– no filters (except for choosing the right keywords)
– you need to visit a website of each software house to find any information about them
– way too many results (2 340 000 results for the phrase 'software development Poland')
How to search
If I were about to start looking for an outsourcing company to work with, I would start either with Clutch (filter the results basing on location, technology, and client focus) or try to experiment with Google using different keywords. I would visit their websites and briefly check what they do (technologies, portfolio). Once I've made my list of potential companies to work with, let's say 10-15 positions long, I would check their references, go back to their portfolio and… read their blogs. The last point is often underestimated, while in fact, it is a valuable source of information. Here is why:
A blog provides you with good insight into the company's approach to projects and their particular aspects such as communication,

collecting requirements

, or

lean production

. By reading how they deal with challenges, you get some overall idea of how they will handle your project.


It is a good place to enhance your knowledge. The aim of creating content is not (or

should

not be) only to generate traffic,

but mainly to educate potential customers. By showing how to work effectively with an app development team or what mistakes you can avoid when starting your first outsourced project, the company does not only show their approach but also gives you some useful advice that you can use later — no matter which company you will eventually choose to work with.
How to choose — different approaches
Before making the decision, I would like you to stop for a moment and think about different approaches to choosing a company to work with. As my ongoing research showed, it is common to do deep and comprehensive research about the company you intend to work with. Despite the price, the founders want to know the level of expertise of the team they are interested in, project management frameworks, they ask about the communication issues, and it is increasingly common to request code samples.
As the awareness is growing, it's easy to notice that the perspectives in which the particular factors are being prioritized tend to differ a lot. Among the most common ones, I would distinguish 4 different approaches that tend to change along with the experience gained over the sequent projects:
Price-oriented. The most common among first-time founders. Without the relevant experience, it's good to focus on something we are familiar with, and price is probably the easiest thing to compare between companies. If one company is cheaper than the other, it is clearly their advantage.
Experience-oriented. Right after the blog posts, Portfolio is the first most visited page on our website. When planning to work with a software development company, startup founders pay attention to their previous work. Due to different approaches, I distinguished 3 sub-orientations here:

Design-oriented. Focused mainly on the UX and design of the previous works. Very important for those who want to outsource front-end development of their apps.
Sector-oriented. Focused mainly on the experience in some particular sectors. It's always good to work with people with the most relevant experience who understand the needs of a particular business. Yet, it can be a bit misleading. The more experience you have, the more likely you are to use analogies and to be able to understand the needs of other sectors.
Tech-oriented. Focused mainly on the technologies used. Most common among technical founders or those who are already developing their app and need an outsourcing team to support them.
Management-oriented. Focused mainly on issues related to project management. How does the company collect the requirements? How do they run their projects? How do they react to the requests for changes? How do they handle communication with clients? What will be your role in the development process? With the stable position of Agile methodologies, I could actually call it Agile-oriented approach.
Communication-oriented. The Second Law of Outsourcing: the more projects you've done, the more attention you pay to communication issues. Once you've experienced some bad communication (mistrust, dishonesty), you understand the value of good communication. It's important that your service provider and you have a clear understanding. You need to be able to ask each other questions and explain things so there's no room for misunderstandings, but, at the same time, it's crucial that nobody sweeps anything under the carpet if a problem occurs. Though at first communication doesn't seem to be one of the key elements of software development, it actually is and it's worth to pay attention to.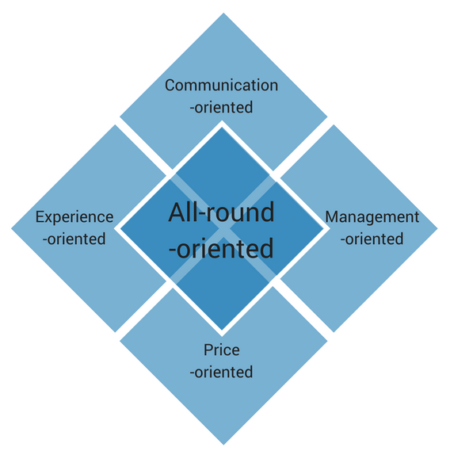 As all these perspectives are (almost) equally important, I believe that the key is to equilibrate them and try to be all-round-oriented.

How to choose — a checklist
A year ago, we've created a basic handbook with the advice on how to choose the best outsourcing provider when you have a startup. As long as they are all still up-to-date, it's time to get a bit more detailed and to reforge them into a handy checklist that will help you get the all-round-oriented perspective.
Summary
To find and choose the best IT outsourcing company in CEE (or elsewhere), you need to take some time and effort. As we derive from the wisdom of Peregrin Took – "Shortcuts make long delays". To find the best companies, you need to diversify your sources and to take an all-round approach. Despite potential cost savings, there are a few things you should take into account: business environment and engineering resources of a chosen region, programmers' skills, their experience, project management and communication skills, etc.
I really hope that this article will help you find and choose the best outsourcing company. Considering the increasing number of companies offering software development services in Central and Eastern Europe, you have a lot to choose from. Do the research, define your priorities and you will surely find a company that will fit your needs. Good luck!
Sources:
Top 100 Outsourcing Destinations in 2016 – Tholons – Tholons
The Most Attractive European Countries for Outsourcing – Raconteur
Why More Businesses Are Nearshoring in Eastern Europe – Computer Weekly